DVD PLAYERS - Reviews and Guide



Sony DVPSR510H DVD Player, with HDMI port (Upscaling)

Thin profile, connects to flat screen TV with HDMI or older TV with yellow, white, red RCA cables.

Inputs and Outputs

Analog Audio 2ch Output(s): 1 (Rear)
Composite Video Output(s): 1 (Rear)
HDMI® Connection Output(s): 1 (Rear)
Digital Audio Output(s): Coaxial Audio Output(s) - 1 (Rear)






Connection to TV using HDMI




Remember to select the DVD player's HDMI input using the TV remote.







DVD Player - front panel has power on/off button, disc tray open/close button, play/pause/stop buttons, skip forward/backward buttons and a front-panel display to show status information.

Even the lowest cost DVD players have amazing capabilities. Surround sound output, component video output, ability to play MP3 on a CD-R, audio CD, JPEG photo files on a CD-RW and DVD Audio are just some of the capabilities.

DVD releases typically include a variety of additional material, such as movie trailers, documentaries, behind the scenes footage, storyboards, deleted scenes, and alternate endings. Some include two copies of the film, both widescreen and standard.

DVDs can also include additional content that can be accessed on a computer, such as more information on the movie, games, and access to material over the Web.

Over the past years an abundance of affordable DVD players have made it to market, meaning they're now well within the price range of the average household. Also the catalog of DVD movie titles is filling up at a fantastic rate.

Stay with the name brands however, Sony, Panasonic, Toshiba, Samsung. You may be disappointed with the bargain brands.

DVD Background:

DVD stands for Digital Video Disc (or Digital Versatile Disc). It's a disc that's almost 5 inches in diameter, 1.2 mm thick, and can store 4.7 or 8.5 gigabytes of data on one side (or the equivalent of about 6,800 floppy disks).


In 1994, Sony and Phillips announced that they would jointly develop a technology that would replace CDs for data storage. The intention was also to develop a media format that could replace VHS tapes and LaserDiscs as a way of storing movies and delivering them to consumers. Meanwhile, Time-Warner and Toshiba were working on their own competing technology.

The two teams unveiled their products within weeks of each other, and the rush to market was on. Apple, Compaq, Fujitsu, Hewlett-Packard, IBM, and Microsoft collectively feared that another VHS-vs.-Beta war would ensue - these companies wanted to use DVD technology for their computers, and the last thing they wanted to worry about was adapting their product for two different formats. So they demanded that DVDs be made in only one format.

So Sony, Phillips, Toshiba, Time-Warner and a handful of other companies all got together and decided on a uniform standard for all DVDs.




DVD

How DVD works



On a CD, the data is read off the disc using an infrared laser; a DVD works in the same way, but it uses a shorter wavelength laser so that it can read smaller "pits" or little pockets in which data is stored. Smaller pits mean more of them on a disc, hence more information.

DVDs also have not one, but two layers per side that can store information. And DVDs can carry info on both sides (front and back) for a total of four data-holding layers. So while a CD can fit about 20 minutes of compressed video, a DVD can hold about 135 minutes… per layer. That means that one double-layered double-sided DVD can hold up to 9 hours of movies.
If that's not enough:
DVDs play with 480 lines of horizontal resolution. Compare that to a VHS tape, which plays with 250 lines.


DVDs sample audio at higher rates (all that means is that the sound is better).


DVDs can support multiple aspect ratios - that is, movies can be viewed in their original wide-screen versions (16:9 ratio) as opposed to their formatted-to-fit-the-screen ones that TVs use (4:3 ratio).


DVDs can hold up to 32 language tracks.


DVDs can support split screens, director's cuts, alternate endings, voiceovers, and more.
Q: What was the first movie put onto DVD?
A: The Beatles' A Hard Day's Night
Digital Video Discs (DVD's) are compact disc (CD) sized discs that contain a whole movie with a Dolby Digital soundtrack plus extras, such as interviews, behind the scene footage etc.

DVD vs. VHS
DVD players provide picture and sound quality that easily surpasses anything you can get with a video cassette recorder (VCR). This has made DVD players one of the fastest growing consumer goods ever.



What types of DVD players are available and how much do DVD players cost?

Types Of DVD Players

Single Disc DVD Players
Basic players for your DVD movies and audio CD's. Prices start at around $35.00 and up.






Multiple Disc DVD Players
These DVD players can hold anything from 2 to 300+ discs.

Progressive Scan DVD Players
If you have a High Definition or digital television, then a progressive scan dvd player will provide you with a sharper, more stable picture.


Buy from Amazon.com

Portable DVD Players
Watch your DVD movies anywhere, anytime, with a portable DVD player. These models come with their own built-in LCD screens and internal batteries to provide you with hours of on-the-road viewing.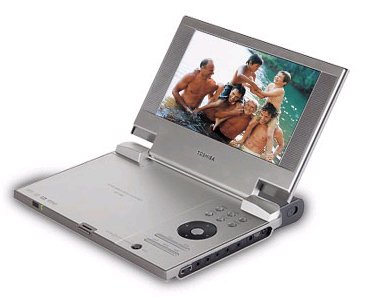 DVD/VCR Combination Player
If you'd like to save space and have one machine do it all, then get a DVD and VCR combination player.




Sony SLV-D380P Combo DVD VHS Player





DVD Recorder

Record a television show directly to DVD disc. These models can do everything a traditional VCR can do, while providing an exceptional picture quality and sound experience.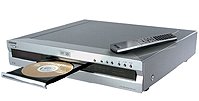 Some models have a built-in hard drive to record hours and hours of video and then you can copy off to a recordable DVD.

Sony RDR-GXD455

Sony DVD Recorder with Digital TV Tuner
RDRGXD455

* DVD Recorder with HD Tuner
* Built-in ATSC/NTSC/QAM Tuner
* Multi-Format DVD Compatible: DVD-RW/DVD-R/+RW/+R/+R DL, including DVD RAM Playback
* HDMI Output with 720p/1080i Upscaling
* DVD+R Double Layer Recording and Playback (8.5GB)
* Component. S-Video, and Composite video output for either DVD and/or VCR
* MP3 and JPEG playback on CD-R/-RW and DVD Discs

The RDR-GXD455 DVD recorder captures near-HD image quality and features an HD tuner for watching HD television programs. Even standard DVDs benefit from an improved picture with upscaling technology that enhances 480p video up to 1080p output for your compatible TV.

Dolby Digital Decoding
Records to DVD-RW, DVD-R, DVD+RW, DVD+R, DVD+R DL, Also Plays DVD-RAM
HDMI Output with 1080i Upscaling of DVD Media, Component Video Output
Optical and Coaxial Digital Audio Outputs, 2 RCA Audio Inputs/2 Outputs
S-Video Input/Output, 2 Composite Video Outputs/1 Input, i.LINK for DV/Digital8 Video Input
On-Screen Display
10-Bit, 54MHz Video Digital-to-Analog Converter
16-Bit, 96kHz Audio Digital-to-Analog Converter
Remote Control Included
Built-In HDTV Tuner (ATSC/NTSC/QAM Tuner)
One Touch Dubbing from DV/D8 via i.LINK Port
8 Recording Modes: HQ (1H), HSP (1.5H), SP (2H), LSP (2.5H), ESP (3H), LP (4H), EP (6H), SLP (8H)
CD, CD-R, CD-RW Playback, MP3 and JPEG Playback
dts Output
Noise Reduction
Background Graphics
Screen Saver
Power Requirements: AC 120V, 60Hz
Dimensions: 17" W x 2.75" H x 11.19" D
Weight: 6.81 lbs.




Compatible DVD and CD Media (discs)

Audio CD
A normal compact disc that you would purchase from a music store. All DVD players can play music CDs.

CD-R
Compact discs that can be written on only one time.

CD-RW
Compact discs that are rewritable.

DVD-Audio
A super high resolution audio only format featuring 6-channel surround sound.

Super Audio CD (SACD)
A super high resolution audio only format featuring 2-channel stereo or 6-channel surround sound. Some players such as "universal" players can play a SACD.

High Definition Compatible Digital (HDCD)
An enhanced regular audio CD providing better quality sound.



DVD Video Features

Video Digital Analog Converter (DAC)
Used to convert the digital information on the DVD to the analog information displayed by your television. Expressed as the number of bits of information and it's sampling frequency (bits/kHz).

Picture Zoom
The ability to study a scene in detail, often using multiple magnification levels.

Progressive Scan
The ability to generate a picture in one pass (compared to interlace scanning which requires two passes). This provides a sharper and more film like picture. This can only be viewed on a digital or High Definition television.

2:3 Pulldown
The ability to convert from an interlaced to a progressive scan image, effectively compensating for a films slower refresh rate.

HDMI Output
Some DVD players have HDMI output and video up-conversion for your HDTV. Only a Blu-ray player will give you better video for your HDTV.

Component Video Output
Provides the best picture quality and most accurate color reproduction from your DVD player.

S Video Output
Provides excellent picture quality, however its color reproduction is not as good as a component video output.

Composite Output
Provides a picture quality better than a VCR but not nearly as good as either an S video or Component video output.


Audio Features

Audio Digital to Analog Converter (DAC)
Expressed as a number of bits of information and its corresponding sampling frequency (bits/kHz). Most DVD players use 24bits/96kHz and this provides a good audio reproduction.

Dolby Digital (DD) Surround Sound
This is standard on all DVD players.

DTS Surround Sound
Only of use if you have a DTS receiver or pre-amplifier in your home theater.


DVD Players:

You can get a good DVD player at a budget price. Even a budget player will provide a picture clarity that VHS tape could never achieve, with sound quality that is measurably superior.

DVD players don't just play DVDs, but other formats as well.

When DVD players first appeared in 1997/98, they were designed to play DVD-Videos, Video CDs and CDs only. But since then manufacturers have added more features to DVD players allowing them to play many formats.

For example MP3 audio playback is available. A more recent feature is the ability to play digital photos in JPEG format from a CD-R as slideshows. Also most players will play CD-Rs, CD-RWs and DVD-Rs, but not other DVD recordable formats.

What features should you look for when buying a DVD player? The answer depends on what disc formats you want to play.
DVD-Video: all DVD players play DVD-Video discs, but usually only in one region. Europe is region 2 and USA region 1, but many players are available as multi-region players. In some cases the region can be changed via the remote control.
DVD-Audio: an increasing number of DVD players now play DVD-Audio discs. However, unless you have high quality amplifier and speakers, you may not notice any loss in quality using a normal DVD-Video player as most DVD-Audio discs include DVD-Video content (ie Dolby Digital audio).
SACD: SACD is not a DVD format, but some DVD players include this capability, particularly from Philips and Sony.
CD audio: all DVD players play audio CDs.
Video CD and SVCD: Most players will play Video CDs but not all play SVCDs. The latter offer near-DVD quality video but actual discs are difficult to obtain except in Asia.
DVD-R, DVD-RAM & DVD-RW: Most modern players will play DVD-R discs without any problems, allowing, for example, home movies to be played back. Some, but not all, will play DVD-RW and a few will play DVD-RAM discs. DVD+R and DVD+RW are playable only in some players.
CD-R & CD-RW: Most if not all modern DVD players will play recordable CDs. To do so requires the addition of a CD laser to the DVD laser pickup, as the dye used in CD-Rs prevents the discs being read by the DVD red laser. Note that such players will also read audio and Video CDs on CD-R.
MP3: Many players also play MP3 compressed audio files on a CD-ROM or CD-R. In the future other formats such as Microsoft's WMA may be supported.
JPEG: Some DVD players play digital photos in JPEG format stored on a CD-R. This is particularly useful for those with a digital camera or for conventional photos that are stored on a CD-R when the film is processed, for example using the Kodak Picture CD format.
DVD-VR: A few players will play recordable discs with video recorded according to the Video Recording (VR) format.
All DVD players can play DVD-Video discs and the multi-channel Dolby Digital tracks on them. They can also play CD audio discs. Plus, most budget models can play CD-R and CD-RW discs, and some can play MP3 CDs as well. (However, a few very low-end players might have trouble playing CD-R or CD-RW discs, so make a note to check that.
It's a very important consideration if you burn CDs on your home computer.) When it comes to DVD-Audio, SACD, and recordable DVD, things get trickier. Most budget models cannot decode the high-resolution audio tracks on DVD-Audio discs (however, they can play the Dolby Digital tracks found on most DVD-Audio discs). Similarly, budget models cannot decode the DSD (Direct Stream Digital) tracks on SACD discs (however, they can play the CD tracks found on some hybrid SACD discs). And recordable DVD playback on inexpensive DVD-Video players is still relatively rare with most brands.

The player's front-panel display will be pretty basic — a simple dot matrix, in a single color. But make sure it is bright and legible even from across the room where you will be sitting. The disc tray should be of reasonable quality; there might be some 'give' to it, but it should never feel like it's about to fall off. A budget player might have a remote, but most likely, that remote will only control the player itself; it will not be a universal remote that can control other components. Another feature that is hard to describe has to do with the overall feel of the player. Occasionally, a cheap player feels flimsy. There is no heft to it, as if there aren't any substantial parts inside. While many players in many price categories are compact models, they should have some weight to them and impart a sense of solidity. Unless, of course, they're portable DVD players.

Almost all players will play CD discs holding MP3 files and some will play WMA files as well. A few DVD players can play back one of the high-resolution audio formats: SACD or DVD-Audio. These are both incredible multichannel audio formats that offer pristine sound quality. You should consider buying a player that is compatible with DVD-Audio or SACD. Although there is not an abundance of titles currently available, compatibility really does not add too much to the cost of a player. A number of these players will also play some recordable DVD formats.

Some mid-price players have built-in Dolby Digital and/or DTS decoders. These decoders can be used when connecting to an A/V receiver that has no built-in decoders, but does offer six analog inputs for home theater. If your DVD player does not have decoding, that is not necessarily bad; if your receiver has a decoder, then the redundancy wastes money.

Nearly all players that have DVD-Audio or SACD capabilities include the decoders and six analog outputs for the high-res audio signal. The discrete outputs for front left, front right, center, surround left, surround right and subwoofer connect directly to an A/V receiver.

When buying a player with six analog outputs, first check to make sure that your A/V receiver has the appropriate six-channel analog audio inputs. These SACD or DVD-Audio players might also offer bass management, which lets you choose whether low frequencies are output to the satellite speakers. Without this, the same amount of bass is directed to your speakers, whether they be floorstanding towers or palm-sized satellites.

Some mid-price DVD-Video players have built-in Dolby Digital and/or DTS decoders. (Virtually all players with DVD-Audio or SACD capabilities have built-in Dolby Digital and DTS decoders.) These decoders can be used when connecting to an A/V receiver that has no built-in decoders, but does offer six analog inputs for home theater. If your DVD player does not have decoding, that is not necessarily bad; if your receiver has a decoder, then the redundancy wastes money that could be used constructively elsewhere.

In this price range, you'll also start seeing more options on the rear panel: for example, both optical and coaxial digital audio outputs instead of one or the other, for connection flexibility down the road. You'll also begin seeing a progressive-scan video output, which provides the best signal (480p) to a digital television. Another feature is 3-2 pulldown processing, which gives a smoother look to movies that were transferred from film to DVD.

Other features that you might see in a player are zoom, for getting a closer look at a specific section of the picture, and bookmarking, so you can quickly locate a particular scene.


DVD Players - popular and reviews

Samsung BD-C6900 1080p 3D Blu-ray Disc Player

* plays 3D Blu-ray discs and regular Blu-ray high-definition discs
* selectable 720p/1080i/1080p video upconversion for DVD
* built-in audio decoding to PCM for Dolby Digital, Dolby Digital Plus, Dolby TrueHD, DTS-HD and DTS-HD Master Audio Essential
* Internet@TV offers downloadable widgets and apps like Netflix, Blockbuster, Facebook, YouTube, Twitter, Flickr, Pandora
* USB port (front) for storing downloaded BD-Live material

* Wireless LAN built-in
* 1GB built-in memory
* Full 1080p Picture Quality
* High glossy finish
* Full screen, ultra fast play

Connections
* 1 HDMI
* 1 USB

Audio

* Advanced HD audio (Dolby Digital TruHD, DTS-HD Master Audio)
* 7.1 channel audio out

plays 3D Blu-ray discs, standard Blu-ray discs, DVDs, CDs, JPEG CDs, and DivX discs * Internet-ready -- plays TV shows, movies, music, and social media updates from a number of sources, including Netflix, Blockbuster, Facebook, YouTube, Twitter, Flickr, Pandora, and more (subscription required for Netflix and Blockbuster service) * streams photos/videos/music from a compatible DLNA-enabled Windows® PC * Wi-Fi capability built in * selectable output resolution: 1080p signals available through HDMI output only; 720p/1080i signals available through HDMI or component video * selectable 720p/1080i/1080p video upconversion for DVD (upconverted video available through HDMI output only) * built-in audio decoding for Dolby Digital, Dolby Digital Plus, Dolby TrueHD, DTS-HD and DTS-HD Master Audio Essential * USB port (front) for storing downloaded BD-Live material

Note: Check with Samsung to be sure your HDTV is compatible and be sure to download the latest firmware from Samsung to your player.





Sony BDP-S360 1080p Blu-ray Disc Player

* Blu-ray Disc player with Full HD 1080p output for Blu-ray Discs and upconversion of standard DVD video to 1080p
* BD Live capable for accessing bonus content from BD-Live Blu-ray Discs via Ethernet port connected to your home network
* 24p True Cinema capable lets you watch films at their intended 24 fps (frames per second); Dolby TrueHD and DTS-HD
* Outputs: 1 HDMI, 1 component, 1 composite, 1 analog audio (2-channel), 1 digital optical audio, 1 digital coaxial audio, 1 Ethernet
* Includes remote control and composite AV cable; measures 16.9 x 8.1 x 2.2 inches (WxDxH)

Key Features

* Full HD 1080p Output
* DVD Upscaling via HDMI technology: DVD Upscaling via HDMI makes your existing standard DVDs look better on your HDTV by upscaling them to near HD quality.
* Dolby TrueHD and dts HD- 7.1 Analog: In the past, most audio codecs used compression that actually removes some sound data to transmit audio from the disc to the audio circuitry. This means that what you hear is a subset of the original audio. However, newer formats allow the audio to be compressed but not discarded, allowing the original audio to come through once it's been decoded. This player allows you to stream the audio out via HDMI to a capable receiver or through analog 7.1 outputs for maximum compatibility with high end receivers.
* BD-Live Technology allows you to download and stream bonus content such as additional scenes, shorts, trailers, movie-based games, and more. And with Bonus View, you can enjoy "picture-in-picture" capability with select Blu-ray titles. External memory (sold separately) is required.
* Quick Start Mode: Quick Start Mode lets you begin operating your Sony Blu-ray Disc player approximately six seconds from the time it's powered on.
* Ethernet port lets you connect the BDP-S360 to your home's existing broadband network to access bonus features on BD-Live enabled Blu-ray Disc movies.
* Bonus View feature provides "picture-in-picture" capability with select Blu-ray Disc titles -- useful for viewing director or actor commentary while the movie plays.
* x.v.Color output plays AVCHD-format discs with support for the international xvYCC color standard, producing images with nearly twice as many viewable colors as the existing RGB color standard.
* BRAVIA Sync technology lets you enjoy the convenience of one remote control to operate and control all your compatible home entertainment devices. It utilizes the HDMI CEC function to easily turn on and control your compatible HDMI-connected components without having to use multiple remote controls.
* 24p True Cinema technology lets you watch films at their intended 24 fps (frames per second) -- the way movies are shot and mastered -- so you can enjoy cinematic picture quality.
* Precision Cinema HD Upscale circuitry delivers accurate and vivid images with clarity and detail that are faithful to the source -- whether film or video (upscaled image quality will vary). This circuitry uses advanced conversion and processing to detect image changes at the pixel level, rather than at the level of whole scan lines. Additionally, separate algorithms are used to process the moving and still parts of an image, resulting in sharp backgrounds with moving objects that are free from motion artifacts.
* Emmy-Award Winning Xross Media Bar Interface: Sony's exclusive xross media bar user interface makes it simple and intuitive to navigate television menus, controls, and user settings.
* x.v.Color output plays AVCHD-format discs with support for the international xvYCC color standard, producing images with nearly twice as many viewable colors as the existing RGB color standard.
* Dimensions: 16.9 x 8.1 x 2.2 inches (WxDxH)
* Warranty: 1 year parts and labor

Connections

* HDMI audio/video output: 1
* Component video (Y/Pb/Pr) output: 1
* Composite video output: 1
* Optical digital audio output: 1
* Coaxial digital audio output: 1
* Analog audio output: 1 (2-channel)
* Ethernet networking: 1

Video Specifications

* AVC-HD: Yes (8cm/12cm; DVD+R/RW/-R/-RW)
* BD-R/RE Read Compatibility: Yes (BDMV & BDAV)
* BD-ROM: Bonus View (Profile1.1); BD-Live (Profile2.0); BD-ROM (SL/DL)
* CD (CD-DA): Yes
* CD-R/RW: Yes (CD-DA & Data)
* DVD Playback: Yes
* DVD+R Read Compatibility: Yes (DL) (+VR)
* DVD+RW Read Compatibility: Yes (+VR) (8cm)
* DVD-R Read Compatibility: Yes (DL) (VR) (VR with CPRM) (8cm)
* DVD-RW Read Compatibility: Yes (VR) (VR with CPRM) (8cm)
* JPEG Playback: Yes (BD-R/REDVD+RW/+R/-RW/-R/CD-R,RW)
* Noise Reduction: Yes
* PhotoTV HD: Yes
* x.v.Color Technology: Yes

Audio Specifications

* Dolby: Yes and Dolby TrueHD bitstream out over HDMI (V1.3)
* Dolby Digital plus Decoding: Yes
* Dolby True HD bitstream output: Yes
* Dolby TrueHD Decoding: Yes
* LPCM: Yes (multi channel decoder): Yes (HDMI bitstream out)
* MP3 Playback: Yes (BD-R/RE/DVD+RW/+R/-RW/-R/CD-R,RW)5
* dts Decoding: Yes
* dts HD bitstream output: Yes
* dts Output: Yes, and /DTS-HD bitstream out over HDMI (V1.3)

6 Times the Picture Data on DVDs
See everything your HDTV can show you. Blu-ray Disc's Full HD 1080p resolution produces over 2 million pixels per frame to produce a razor-sharp picture with unmatched depth and clarity that takes full advantage of the capabilities of today's 1080p HDTVs. That's six times the picture data contained on DVDs, which are encoded at 480p.

RATING this Sony BD player - How do actual buyers rate this player on a scale of 5 stars being excellent and 1 star being poor.

5 star= 49%
4 star= 29% so as you can see, 78% of buyers rate this player good to excellent.
3 star = 9%
2 star = 5%
1 star = 8%

The bluray playback is Excellent. The 360 has played every disk i've put in it from bluray, to dvd, to movies burned on dvd-r's. Josey R. New Jersey




Pioneer DV-420V DVD player - Lower Cost DVD player

* 1080p Upscaling, HDMI Upscaling (to view on a 1080p display), HDMI Terminal for Digital Audio/Video Out
* USB Input for Compressed Music Playback, WMA (Windows Media Audio)/MP3/MPEG-4 AAC
* JPEG PhotoViewer*** (Fujicolor CD)
* Photo + Music Mix (JPEG Slideshow with Music)
* Dual-Layer DVD-R*/DVD/DVD-R/DVD-RW**/DVD+R/DVD+RW Compatible, SVCD/VCD/CD/CD-R/CD-RW Compatible

This player reads every disc I can throw at it, even scratched ones. I purchased this Pioneer DV-420V-K after reading its positive ratings. Great picture and sound. A bargain at the price point. Jerry M. Austin, TX





DVD Player FAQ

Q: My new widescreen TV displays the correct cinematic aspect ratio. Why am I still getting those black bars with widescreen movies?

A: The widescreen television aspect ratio is 16:9, which is not a cinematic aspect ratio, but a video standard. Films come in a variety of aspect ratios. Some of the most popular widescreen cinema formats are close to 16:9 (1.78:1), which is one reason this was chosen for televisions. Any film that is not in 16:9 aspect ratio (almost all) will display with bars. For historic reasons, nearly all films are in one of the following aspect ratios: 1.33:1 (will have side bars), 1.66:1 (small side bars), 1.85:1 (very small top/bottom bars, possibly hidden by overscan) and 2.35:1 (larger top and bottom bars). The 1.85:1 is the closest fit to your widescreen television. Please see widescreen.org for details and examples.

Using your dvd player with an older stereo system.

Q: I have an older receiver that I want to use with my just purchased DVD player. This receiver has a digital audio input (optical) for connecting to CD players. I expect to listen to DVD's on my stereo system. If I use this connection will I get digital surround sound? Or should I hook the DVD player to the analog stereo audio inputs on the receiver instead? I tried the hook-up to the "CD" optical receptor on the receiver from the DVD Optical output but got nothing but static.

A:

1. Unless your receiver is capable of decoding digital surround sound (Dolby Digital "5.1" or DTS) you will not obtain surround sound playback. Your older receiver is only capable at most of decoding Dolby Pro Logic. This is the older analog "matrix" type of surround sound, which many films offer. So yes, you can listen to the analog surround sound when available should your receiver have a decoder for it.

2. If you use the "CD digital audio" connection to a receiver with no DD/DTS capabilities you must set the DVD player output to "PCM" rather than "bitstream". Otherwise you will be sending raw digital data to your speakers (that "static" you hear), which can at loud volumes damage a speaker. You may find using the analog stereo cable more convenient to use.

You should be aware that Dolby Digital "5.1" audio may not playback with the best sound quality on a stereo system. For improved stereo sound, you may have to go to the audio options menu on the disc in order to select an alternative audio track. These are provided for improved stereo playback. Choose either "PCM" or Dolby Digital 2.0 track.

Q: I have an older DVD player with Dolby Digital capabilities, but not DTS. I can play a DTS audio CD through my DTS capable receiver, but when I play a DTS DVD I hear only white noise.

A: Your DVD player does not support DTS. It does not pass the bitstream from the DVD. Be aware that supporting DTS and decoding DTS are entirely different matters. A DVD player that supports DTS (it will display the DTS logo) passes the digital audio from the DVD through to your receiver, which decodes it (unless of course you DVD player contains a DTS decoder). The DTS CD's play because your player does not need to support DTS in order to pass the bitstream, which is why DTS CD's will work with any ordinary CD player that has a digital output. To hear DTS DVD audio, you need to upgrade to a player that supports DTS.

Q: I have a DVD that states Dolby Digital 5.1 audio on the package but turned out to be 2 channel with no 5.1 option. Is this a mislabeling problem?

A: Sometimes there is no menu option for alternate sound tracks. To access them you must press the audio button on your remote to change to the 5.1 track. Occasionally there is a menu option to select which audio track you want to hear, but the audio button is locked out so it appears as if there's only one track.



Close-up view: DVD Player back panel cable connection jacks

• Laserdiscs Introduction

• Cable Connections - hookup

• How to connect a DVD player

• See over 100 hookup diagrams



Columbia ISA
columbiaisa@yahoo.com
Empowering consumers thru information