Diagram Index


Cut the cord - How to record TV with only an Antenna.

Subscription-FREE DVR

How do I record from my HDTV?

Cord cutters DVR to record FREE TV

Cable TV and Satellite TV offer multiple channels, so many channels that you end up watching only a few good ones, but the cost can be so high, your monthly budget is busted. It seems the cost is going up and the program quality is going down. Internet TV is gaining popularity as more people cut the cord, meaning end cable/satellite TV in favor of lower cost or even free TV.

Free TV is local over the air TV using an antenna connected directly to your HDTV. You can get high definition TV, better resolution video than cable, from the networks such as CBS, NBC, ABC, FOX, CW, PBS, and (Spanish) Telemundo and Univision.

With Cable and Satellite TV, you typically get a DVR to record TV shows. These boxes work with the providers sources and schedules/guides. But how do you record from just an antenna? TIVO DVRs are one answer but TIVO charges you each month for their program guide/schedule so you can setup recordings. Who wants to pay each month? Well Channel Master has another solution. Channel Master is the longtime TV antenna maker who is now selling a DVR called the DVR Plus.




Channel Master DVR Plus

You connect the sleek, thin $249.99 Channel Master DVR+ into your TV via HDMI cable and plug your TV antenna into the DVR. The DVR scans for your over-the-air digital TV channels and puts the programming into a guide, similar to one you get via pay TV. Select a TV show and hit Record. It is that simple. You get all the traditional DVR functions — pause, fast-forward and rewind — and you can record one show while watching another.

The rear panel allows connections for TV antenna, optical digital audio, HDMI to HDTV, Ethernet jack, USB ports, and IR extension cable. The USB ports allow external hard drive/flash drive, USB WiFi adapter. The full function remote control is IR.

With ethernet or Wi-Fi you can access online content as well.

Add an external hard drive because the on-board flash memory only holds about two hours.

DVRs are driving sales of antennas for Channel Master. They're the only company that makes a standalone DVR for over-the-air TV that does not require a subscription. Cord cutters could not be happier.


BUY from AMAZON.com

Question:
Where do I get my program guide information over-the-air?
Answer:
PSIP or Program and System Information Protocol which can carry program guide information as well as channel mapping and other data for your TV. It is part of the digital TV broadcast standard ATSC. Your HDTV has an ATSC TV tuner built in and can interpret this information.

Record two shows while viewing a third.
The DVR can record two TV channels while you view another channel on the TV. A signal splitter is used to send over the air TV shows to the DVR and the TV.



Diagram - Antenna split to DVR to record and TV to view



Recording HDTV from antenna to VCR or DVD Recorder.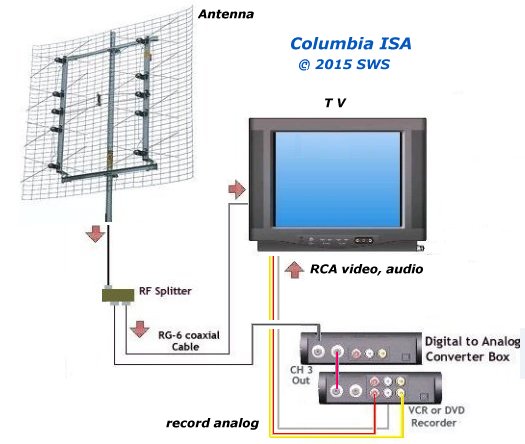 Diagram - connect antenna through splitter to DTV box to VCR for recording and viewing

View one channel on TV while recording another on VCR. Playback to TV using RCA inputs. Use tuner in TV for viewing while using tuner in digital to analog TV converter to send audio/video to VCR or DVD recorder.



The TIVO Roamio OTA DVR - $49.99


Connect the DVR up to an antenna to record shows broadcast on channels available through over-the-air digital signals. The Roamio OTA has 500 GB of storage capacity, which holds up to 75 hours of HD programming. It also has four tuners to allow customers to record multiple programs at once, while also being able to tune in live to one channel.



o How to connect HDTV with only optical audio output to stereo

See more...


• Surround Sound over HDMI
• How to hookup surround sound
• Surround Sound Glossary
• How to add great sound to HDTV - Sound Bar
• Surround Sound Speaker Hookup
• A/V Receivers Guide
• Cable hookup digital cable and TV
• Audio Video Connections
• HDMI Versions
• HDTV hookup options

Columbia ISA Audio/Video - Empowering consumers thru information.


Contact: columbiaisa@yahoo.com