Columbia ISA home – › Wiring Diagrams

Audio and Video Search
Google SEARCH Columbia ISA Audio Video Site

» Cables » USB

USB - Universal Serial Bus





USB (Universal Serial Bus) is a data transfer interface between a computer (PC) and peripherals (like audio players, digital cameras and printers), which allows you to plug in a device without adding an adapter card in the computer. Universal Serial Bus (USB) is a connectivity specification developed by the USB Implementers Forum (IF). USB is aimed at peripherals connecting outside the computer in order to eliminate the problem of opening the computer case for installing cards needed for certain devices.

USB provides for ease of use, expandability, and speed for the end user. USB is easier to use than some of the traditional internal PC buses, such as PCI and ISA. The devices that use USB are hot-pluggable, eliminating the need to shut down the PC to add or remove a device. A USB bus also has automatic device detection; once you plug in your device, the operating system software should detect, install, and configure the device automatically.



USB symbol used on cables and ports indicating Universal Serial Bus.

USB THUMB DRIVE (Flash Drive)




8GB, 16GB of data and more can be stored on these small flash drives which can be used on computers and HDTVs. Keep songs, videos, photos and files at hand, easily carried in a pocket. Connects with the built-in USB connector.





| | |
| --- | --- |
| | USB Features |
| Easy to Use | Simply plug it in - everything configures automatically. True Plug-and-Play! Connect and reconnect peripherals without rebooting your PC. |
| Expandable | Plug as many as 127 peripherals into one computer using USB multi-port hubs. |
| Speed | Hi-speed USB 2.0 runs at 480 Mbits/second, and full-speed at 12 Mbits/second. USB 3.0 superspeed can be as high as 4.8Gbit/s |




Plugable USB 2.0 10 Port Hub (with Power Adapter)
There are 8 fixed ports on this hub and two ports that swivel out. There are 6 fixed ports on one side and 4 ports on the other. The side with 4 has the two swivel ports.



Initially the Universal Serial Bus (USB) was designed to connect peripheral devices, such as keyboards and mice, to PCs. However, USB has proven useful for many other applications. The USB 1.1 specification specified a maximum throughput of 12 megabits per second (Mb/s), but later USB developments increased the potential speed to 480 megabits per second and more.

USB's main attraction is that it makes adding peripherals to your computer incredibly easy. It enables you to connect peripherals to the outside of the computer so you don't have to open your PC. Laptops benefit even more because generally the case cannot be opened. Laptops have many USB ports so multiple devices can be connected to the computer.

Introduced in 1995, the USB standard was developed by industry leaders including DEC™, IBM®, Intel®, Microsoft®, and Compaq®. Most PCs and peripherals available today feature at least one USB connection. Peripherals can include everything from modems to joysticks. Windows® 95 Rev. B, Windows 98, Windows 2000, Windows Me, Windows XP, Windows Vista, Windows 7, Windows 8 and Mac® OS 8 and higher support USB.

A USB peripheral simply plugs into the port and works. You don't need to install a card; you don't even need to turn off your computer—USB devices are completely hot-swappable. Because USB also distributes power, many USB devices don't require a separate power supply, although a bus-powered device must be attached upstream to either a host PC or a powered hub.

USB configuration happens automatically, so built-in USB means you don't have to fiddle with drivers and software when adding most peripherals. USB host controllers automatically detect when peripherals are connected to or disconnected from a port. The controllers manage and control the driver software and bandwidth required by each peripheral. They even allocate the right electrical power to each peripheral.

USB uses a tiered star topology, meaning that USB devices called hubs can serve as connection ports for other USB devices. Only one device needs to be actually plugged into your PC. USB supports hubs that can be either standalone or embedded within some other device such as a keyboard or disk drive. A single USB port can support up to 127 devices.


USB 1.1, has two data rates: 12 Mbps for devices such as disk drives that need high-speed throughput and 1.5 Mbps for devices such as joysticks that need much lower bandwidth.

In 2002, a newer specification, USB 2.0, Hi-Speed USB 2.0, gained wide acceptance in the industry. It increases the speed of the peripheral-to-PC connection from 12 Mbps to 480 Mbps, or 40 times faster than USB 1.1. This increase in bandwidth enhances the use of external peripherals, such as CD/DVD burners, scanners, digital cameras, video equipment, that require high throughput. USB 2.0 also supports demanding applications where multiple high-speed devices run simultaneously, such as Web publishing. A USB 2.0 host will work with both USB 2.0 and USB 1.1 peripherals. USB 2.0 also supports Windows® XP through a Windows update.

USB 3.0

USB 3.0 "Superspeed" (2009) is the second major revision of the USB standard. USB 3.0 has transmission speeds of up to 5 Gbit/s, which is 10 times faster than USB 2.0 (480 Mbit/s). USB 3.0 adds new cable connectors partially for backwards compatibility of USB 2.0. The connectors have dual hookups. One for USB 2.0 and one for USB 3.0. USB 3.0 adds five wires for a total of nine wires in the connectors and cabling and utilizes a unicast dual-simplex data interface that allows data to flow in two directions at the same time; an improvement over USB 2.0's unidirectional communication. USB 3.0 Standard-A receptacles are backward-compatible with USB 2.0 but add new pins for USB 3.0 signals. The new Standard-B and Micro-AB receptacles are also backward-compatible.

The USB host automatically detects when a new device has been added, queries for device identification, and appropriately configures the drivers. Due to the bus topology, up to 127 devices can run concurrently on one port. Conversely, the classic serial port supports a single device on each port. By adding hubs, more ports can be added to a USB host, creating connections for more peripherals.

Manufactured PCs are currently equipped with USB ports; therefore it is not necessary to purchase a dedicated controller to interface to a USB-based device. USB-based devices are supported by Windows XP/2000/SP/Me/98. USB delivers an inexpensive, easy-to-use connection between devices and PCs. USB provides a step up from conventional serial port technology by featuring faster performance; hot-pluggable functionality; built-in operating system configuration; and multi-drop cabling, which allows you to connect multiple devices from the same port.

USB consists of a host controller and (multiple) devices connected in a tree-like fashion using hub devices for more than one peripheral. Up to 127 devices may be connected to a single host controller, but the count must include the hub devices as well. A modern computer likely has several host controllers so the total useful number of connected devices is beyond what could reasonably be connected to a single computer. There is no need for a terminator on any USB bus. The design of USB aimed to remove the need for adding separate expansion cards into the PC's ISA or PCI bus, and improve plug-and-play capabilities by allowing devices to be hot swapped or added to the system without rebooting the computer. When the new device first plugs in, the host enumerates it and loads the device driver necessary to run it.

USB can connect peripherals such as mice, keyboards, scanners, digital cameras, printers, hard disks, and networking components. For multimedia devices such as scanners and digital cameras, USB has become the standard connection method. For printers, USB has also grown in popularity and started displacing parallel ports because USB makes it simple to add more than one printer to a computer.

The speed makes it adequate for digital music and digital still image transfers. USB 1.1, the prior USB standard, supports a data transfer speed of 12 Mbps (megabits per second), significantly faster than a serial connection. Though USB 1.1 can't compete with Firewire - i.LINK (up to 400 Mbps), the USB 2.0 standard is faster, at 480 Mbps. Currently, the USB Specification, Revision 2.0, covers three speeds 480 Mbps, 12 Mbps, and 1.5 Mbps. The term "Hi-Speed USB" refers to just the 480 Mbps portion of the USB Specification. We now use the term "USB" to refer to the 12Mbps and 1.5Mbps speeds.




Digital camera image transfer to computer using a USB cable. Once on the computer, you can edit the photo, print it or upload to the world-wide web to share with anyone in the world. The USB cable consists of a Type "A" connector at the computer end and a Type "mini-B" at the digital camera end.


| | |
| --- | --- |
| | |
| USB cable Type "A" connector plugs in to the computer. | USB cable Type "B" connector plugs in to the device. |
USB supports three data rates. A Low Speed rate of 1.5 Mbit per second that is mostly used for Human Input Devices (HID) such as keyboards, mice, joysticks and often the buttons on higher speed devices such as printers or scanners.
USB has a Full Speed rate of 12 Mbit per second. Full Speed was the fastest rate before the USB 2.0 specification and many devices fall back to Full Speed. Full Speed devices divide the USB bandwidth between them in a first-come first-serve basis and it is not uncommon to run out of bandwidth with several isynchronous devices. All USB Hubs support Full Speed.
USB 2.0 added a Hi-Speed rate of 480 Mbit per second. Not all USB 2.0 devices are Hi-Speed. A USB device should specify the speed it will use by correct labeling on the box it came in or sometimes on the device itself.
Hi-Speed devices should fall back to the slower data rate of Full Speed when plugged into a Full Speed hub. Hi-Speed hubs have a special function called the Transaction Translator that segregates Full Speed and Low Speed bus traffic from Hi-Speed traffic. The Transaction Translator in a Hi-Speed hub (or possibly each port depending on the electrical design) will function as a completely separate Full Speed bus to Full Speed and Low Speed devices attached to it. This segregation is for bandwidth only; bus rules about power and hub depth still apply.

Thousands of devices have passed compliance testing, and they continue to be some of the best-selling products in many categories. Also, the USB installed base of USB-capable PCs grew from 6 million PC's in 1996 to over 700 million by 2003.

The current version of USB, revision 2.0, is a higher speed (480Mbs) version that is also fully compatible with USB 1.1. It provides up to 40 times the bandwidth of the old USB 1.1 and is completely backward compatible with older USB hosts. New hi-speed USB 2.0 hosts also support the older USB 1.1 devices in the same tree as the new hi-speed products.

Most new personal computers (both IBM-compatible PCs and Macs) and many peripheral devices such as printers are equipped with USB; for example, USB support is integrated into Windows® 98, 98SE, 2000, 2000SE, ME and Windows XP, as well as Mac OS 8.6 and up.

USB ports are expandable with the addition of hubs, which allow you to connect several peripherals simultaneously through a single USB port. Many PCs offer multiple USB ports, often placing one in the front for easy access.
An even newer USB standard, USB On-The-Go (USB OTG) is also being developed. USB OTG enables devices other than a PC to act as a host. Use it to connect portable equipment, such as PDAs, cell phones, and digital cameras, to each other without using a PC host.
USB connectors: Type A, Type B, Mini B, Mini A, Micro-B.
USB 1.1 specifies the Type A and Type B.
USB 2.0 specifies the Type A, Type B, and Mini B. The Mini A connector was developed as part of the USB OTG specification and is used for smaller peripherals, such as cell phones.

There are at least 7 main types of USB connectors commonly found on devices. (the new mini-AB is used on USB On-The-Go devices.)

1) The USB Type A connector plugs into the USB Type "A" port on the computer. This is a rectangular four-pin connector.

2) The USB Type B connector plugs into a USB Type "B" port on a peripheral device (such as a printer).

3) Some smaller devices such as digital cameras, Minidisc recorders and USB audio adapters, use a smaller version of the USB Type B, known as Mini-B. These devices typically include a Type "A" to mini-B cable.

4) USB 2.0 Mini-A
5) USB 2.0 Micro-B The micro-B is flatter than the mini-B, and was designed to work better with smaller form-factor devices.
6) USB 3.0 B-Type
7) USB 3.0 Micro-B
The USB 3.0 micro-B connector

Typical USB Cable - Type "A" connector and Type "B" connector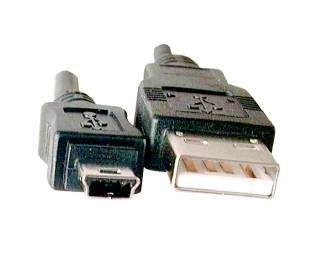 USB cable Type Mini-B and Type "A" male for connecting a device such as a digital camera to a computer. The Type "A" end plugs into the computer USB Type "A" port and the Mini-B end plugs into the device. Communication between the device and the computer can then take place. Data can then be transferred between the two.


USB pin assignments



4-pin USB female jack (Type A, Type B, Type mini-B)





4-pin USB male connector (Type A and Type B)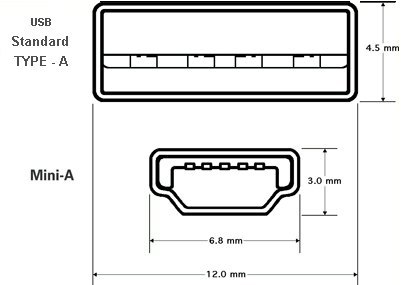 | | |
| --- | --- |
| USB port (Type A) | USB connector (Type A) |
| USB port (Type Mini-B) | USB connector (Type Mini-B) |
| USB port (Type B) | USB connector (Type B) |

USB logo symbol found on cables and jacks designating USB interface.


Cable USB Type A to Type Mini-B ( male/male )

Connects your computer to any USB device with Type Mini B female port. This cable allows you to connect peripherals such as digital cameras, MP3 players, and storage drives. It is USB 2.0 certified and supports USB speed up to 480Mbps. (Connectors: Type A Male to Mini B Male) 6 ft cable.





Cable USB Type A to Type B ( male/male )
Connects your computer to any USB device with Type B female port. It allows you to connect peripherals such as printers, scanners, and storage drives. Supports USB speeds up to 480Mbps. (Connectors: Type A Male to B Male) 6 ft cable shown.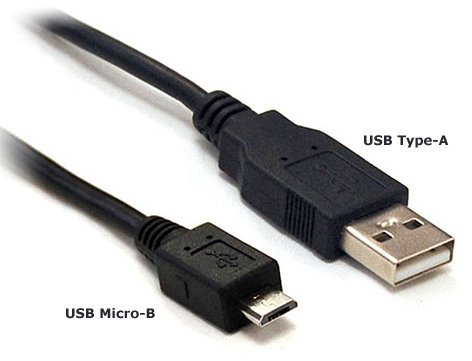 USB 2.0 Type-A and USB 2.0 Micro-B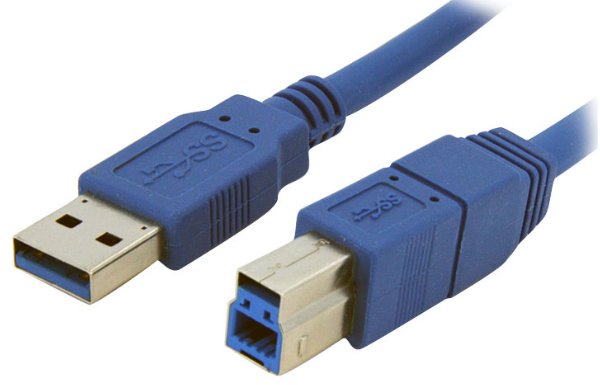 USB 3.0 Type-A and USB 3.0 Type-B

USB 3.0 cables are bright blue and have SS for Superspeed with the logo. A USB 3.0 Type-B male cable connector cannot fit into a USB 2.0 device port. But the 3.0 Type-A male connector will fit into a USB 2.0 host port. So using a 3.0 device with a 2.0 host is possible if you use the 3.0 cable. Your speed will not be 3.0 however, just 2.0 speed because the 2.0 host has only a USB 2.0 controller. The host would need a USB 3.0 controller onboard also in order to get USB 3.0 speeds.