Home : RF Modulator : HDMI Switch box

Switch box video / audio - HDMI, Component video,
RCA Composite video audio switcher

• HDMI Switch Box



There are many kinds of audio/video switch boxes. Some are just passive switches, meaning there is basically no electronics inside the box. The more expensive boxes have the capability to do more than the simple signal connection. Some are designed for composite video and audio and work well with VCRs, analog TV and standard DVD devices, but when you want to move up to High Definition video and digital audio, you need a different switchbox, one with component or HDMI inputs and outputs and possibly digital audio inputs and outputs.

Composite Video and Audio Switch boxes

Composite switchers are the most basic, usually cost the least and are designed to work with your yellow video and white and red audio RCA cables. DVD players, video game consoles and TV sets are usually used with these boxes. A typical RCA composite switch box has 2, 3 or 4 inputs and 1 or 2 outputs. This allows you to connect several devices to the switch and your TV to the switch and then select which device you want to use.

RCA Phono cable selector switch boxes - Composite Video and stereo audio

Philips Audio/Video Switchbox With RF Modulator (PH61153)

Source: Wal-Mart Stores, online at www.amazon.com and several other online dealers
Price: $24.88

o Connects up to 4 video devices, such as DVD players, VCRs, video game systems, camcorders, satellite TV systems or cable boxes, to any TV or audio system.
o Works with any device that has an RF, composite video, S-video or audio output
o Automatically switches to the input that has a signal
o RF modulator allows you to connect DVD players, VCRs and video game systems to older TVs that only have a 75-ohm RF antenna connection.
o Front inputs are especially convenient for quick connection of a camcorder, digital camera or video game system
o 4 composite video inputs (RCA-type connections)
o 4 S-video inputs
o RF input
o 4 pairs of stereo inputs (RCA-type connections)
o Composite video output
o S-video output
o RF output
o 1 pair of stereo outputs

o Plastic stand with suction cups for horizontal or vertical mounting of the switchbox
o External AC adapter

Philips PH61153 switcher and RF Modulator

USER REVIEWS

I am using this to automatically switch input between the following:
* Cable TV (on the coaxial input)
* A ReplayTV 5040 (device 1) - using RCA A/V cables
* A VCR (device 2) - using RCA A/V cables
* A DVD Player (device 3) - using RCA Audio and a S-Video cable
* A Nintendo GameCube (device 4) - using RCA A/V cables

The output is going to the following devices:
* A stereo system - using RCA cables
* A TV that only has a co-axial (RF) input - using coaxial cable on Channel 3

This device does the above perfectly for me.

Notes about automatic switching:
* If you use the automatic switching, the switch will automatically use the highest numbered input on which it is receiving a signal.
For example, if I turn on BOTH my Replay TV (on input 1) and my DVD player (on input 3), it will switch to my DVD player
* If no inputs (1-4) are receiving a signal, it routes the co-axial input straight to the co-axial output, meaning you can watch regular cable TV with your TV tuner
* If no inputs (1-4) are receiving a signal, no audio output is sent to the RCA Audio output.

Pros:
* I have automatic input switching simply by turning devices on or off my remote control(s)
* I can manually override the automatic input switching with the buttons on the front panel
* I can prioritize which devices have input priority for automatic switching by putting the devices with higher priority on higher numbered inputs.
* (BONUS) - The devices on the numbered inputs are now wired to my stereo (on a single input), and I can listen to them with my stereo system, with automatic switching!
* This device is an inexpensive alternative to VERY EXPENSIVE infra-red controlled audio and video MUXing devices.

Cons: * The suction cups are too weak to support the weight of the device when you attach all the cables (because of the new center of gravity created by the cables). Secure this device the best you can.
* No audio output when the ONLY input is the co-axial cable.

Review 2:
I purchased this rather than purchasing a selector switch and RF modulator separately and have to say I've been very impressed with it's quality. I've had no problems with it and found the automatic selector to be very easy and convenient (it switches to the input that is turned on automatically). I'd recommend this to anyone looking for such a device.

Review 3:
Great Item, NOT for HD.
I have used this item and recommended it to several people. Its automatic switching feature is excellent. However this product cannot process 1080i or p type resolution.







RCA VH915 Audio / Video Source Selector Switch Box with remote control

Source: Amazon.com
Price: $50

4 sources to 1 destination switcher, Allows for switching between components without disconnecting equipment
Used for connecting up to 4 audio/video components to a TV
Back panel is labeled for easy identification, Includes remote control

Reviews:
I received my switch box within a very short time after placing my order and had it installed in about 15 seconds. It was very easy to install and works perfectly with my digital cable box, DVR and PS2. I still have a couple of ports available to add on later. The box is easy to use and the remote control is a cool feature. I didn't even realize this unit had a remote control when I ordered it, so it's even better than I expected. Overall, this is an excellent source selector box.

Sony SB-V40S A/V selector switch

Source: Amazon.com
Price: $44

Simplify your Audio/Video experience with this Sony SB-V40S A/V selector. This sleek and modern device will support four components. The key feature to the SB-V40S is its ability to accommodate both S-video and composite video connections. All four inputs have an S-video jack, plus a composite video phone jacks, with L/R audio phono jacks. There are also two types of output. The first is an S-video jack, plus a composite video phone jack with L/R audio phone jacks. The second output is an audio, with two, stereo mini-jacks. Because the SB-V40S works on a passive system, there are no power requirements; you can therefore use this device wherever it is most convenient, without considering an available power source. There are also no cable re-connection requirements. Simply plug in your components properly and the system is ready to function. To make switching components an easy process, Sony has put four input selector buttons on the selector. The selector is sleek and compact and can fit on top of your components or on a small shelf. If you are looking for a clean way to consolidate a few of your A/V components, this selector is a proper choice.

4 A/V inputs with S-video, composite video, and stereo audio jacks *
1 A/V output with S-video, composite video, and stereo audio jacks *
stereo mini jack output for connecting a portable recorder or powered speakers *
no conversion between composite and S-video signals *
7-1/16"W x 1-3/4"H x 4"D *
warranty: 1 year parts, 90 days labor

Sima SVS-14 4 Input Manual A/V Selector

Amazon.com
Price: $19

Sima SVS-14 4 Input Manual A/V Selector
This is a passive, four-input audio-video switcher. Includes stereo analog audio (RCA), composite-video, and S-video.

The Model SVS-14 Audio Video Switcher lets you add additional components to your TV and home theater system by providing additional A/V inputs to your system. The Model SVS-14 has four Audio/Video inputs including left and right audio, composite video and S-Video.

Reviews:
Grab this while you can - it's does what it does well for a great price. I have it setup with my DVD player, VCR and SVIDEO out on my Prolink FX5200 Ultra nvidia card and it works like a charm! Not only can you watch your DVD's on your home DVD player, but you can also play them back through your computer if your video card has SVIDEO out - heck playback anything you want from your computer - great product - you could even rip your videos and compress them to have your whole video library on your HD - remove the clutter and have your own video on demand setup on your PC. You can either get the Remote Control ATI All in one Wonder video card, or like myself, get a remote mouse and keyboard for control over the PC while you watch it on the TV. It's also self-powered, so you won't have the added cost of using power to get this working. The workmanship is done well - a solid product in design.

My setup:
Recoton 25 FT SVIDEO out from Prolink FX5200 Ultra to SIMA
Sound Blaster Audigy line out to Yamaha Reciever (I connect to the reciever because the line out to the reciever allows me to playback stuff on the home stereo as well as the TV.)
Panasonic DVD to SIMA
Sony VCR to SIMA.

As for video quality, the Recoton 25FT gold tipped SVIDEO cable works great - I don't understand the hoopla over the $79 monster cable vs. the $12.00 Recoton cable.
Stick with the Recoton for value/performance. Just DONT forget to buy an EXTRA SVIDEO/RCA OUT connector like I did or you'll find yourself all setup but not able to connect the SIMA out to the TV!
FYI: Keep in mind that video quality of general pc output will not be sharp on the TV since it was not designed for playback on the TV - so you'll lose sharpness. However DVD video looks just as good on the TV as it does directly from the DVD player.

This product does not alter the signal so what goes in is what comes out. However it does its switching without degrading the signal. It also works in either direction, so it can take a single input and switch it to 4 different outputs (only one output at a time, however) or take four inputs and switch any one of them to the single output. Should solve many switching problems cheaply.

AUG. 2009
SVID410IR 4-to-1 Composite/S-Video and RCA Audio switch box from StarTech

Switch Box Video Audio
Video Switch
4-to-1 Composite/S-Video and RCA Audio Switch box with Remote Control

This product allows you to connect up to four A/V devices that have composite video or S-Video output to a display using a single set of inputs. You can use either the front panel selection button or the included remote control to switch between devices. This product is perfect for use with DVD players, VCRs, game consoles and other video devices when you have a limited number of inputs available on your TV.

Features
• Connect up to four devices to your TV using a single set of inputs
• Includes an easy-to-use remote control for easy switching between devices
• You can program the video switch to work with your existing universal remote
• Maintains clear audio and video signals for excellent performance

Interfaces
4 x video - S-video input - 4 pin mini-DIN female ¦ 4 x video - composite video input - RCA female ¦ 4 x audio - line-in - RCA female x 2
Connections
1 x video - S-video output - 4 pin mini-DIN female ¦ 1 x video - composite video output - RCA female ¦ 1 x audio - line-out - RCA female - 2
Miscellaneous
Included Accessories: Wireless remote control

Compliant Standards CE, FCC, RoHS
Power:
Power Device Power adapter - external
Manufacturer Warranty
Service & Support 1 year warranty

Service & Support Details Limited warranty - 1 year

Prices:

$22 from DELL.com
$24 from CDW.com
$19 from PCCONNECTION.com
$23 from STARTECH.com

The SVID410IR 4-to-1 Composite/S-Video and RCA Audio switch from StarTech relieves you from swapping cables to connect various devices to your TV.
www.startech.com

Technical Specifications
Warranty 1 Year warranty
Color Black
Product Height 1.85 in [47 mm]
Product Length 7.68 in [195 mm]
Number of Ports 4
Shipping (Package) Weight 1.64 lb [0.74 kg]
Product Weight 20.02 oz [567 g]
Product Width 5.12 in [130 mm]

Connectors : Input S-Video (4), Composite Video (4), Audio RCA (4)
Output S-Video (1), Composite Video (1), RCA Audio (1)
Remote Control Infra-red
Power Adapter 9V DC, 100 mA, center positive (included)

Main Features
4-to-1 Composite/S-Video & RCA Audio Switch
Tired of swapping cables to connect all your devices to your TV? StarTech.com has the answer: the SVID410IR 4-to-1 Composite/S-Video and RCA Audio switch. Using a single input on your television or other display, you can connect up to 4 video devices that have Composite or S-Video output and RCA audio connectors. Switching between devices is as easy as pushing a button on the included remote control or the front panel. Perfect for multiple devices like VCRs, camcorders, and DVD players as well as game consoles like Xbox®, Playstation 2®, GAMECUBE™, and Dreamcast™. Quality construction means sharp images and clear audio, so you don't have to make any sacrifices for convenience you want.


Product Summary
Manufacturer: RCA
Mfg Part#: CRF940
UPC: 00079000323020

RCA CRF940 RF Modulator & Video Switcher

Features
Interfaces/Ports S-Video In
RCA Stereo Audio Line In
RCA Composite Video In
RF RF Out
Channel Support CATV
Manufacturer Thomson, Inc
Additional Information Connects up to 4 components to one TV
Gold-plated audio and video connectors
Manufacturer Part Number CRF940
Manufacturer Website Address www.thomson.net
Product Model CRF940
Product Name RCA CRF940 S-Video Switcher with RF Modulator
Product Type RF Modulator
Brand Name Thomson

Product Summary
Manufacturer: Philips
Mfg Part#: US2-PH61153
UPC: 00026616911530

Connects up to 4 AV components to TV or home theater system
Automatically selects active component
Built-in RF modulator converts signal to channel 3/4 for universal TV use
Compatible with S-Video and coaxial cables

Features
Interfaces/Ports 4 x Component Video In
Compatible Devices TV
Home Theater
Manufacturer Philips Electronics
Manufacturer Part Number PH61153
Manufacturer Website Address www.usa.philips.com
Product Name PH61153 S-Video/Audio Selector and RF Modulator
Product Model PH61153
Product Name PH61153 S-Video/Audio Selector and RF Modulator
Product Type A/V Selector

SEARCH

Google Search Composite Video Switch
Google Search 4-way audio switch box
Google Search RCA Video Switch Box
www.buy.com Switcher



Some TV sets only have a single component video or HDMI input. If you have a DVD player or High-Definition Blu-ray or HD-DVD player and want to use the component video OUT but also want to use your satellite TV High-Def output connection to the TV, what can you do? Answer: Get a Video switch box with multiple component video and audio inputs and outputs. These switch boxes tend to cost more than a composite video switch box and if you get one with a remote control to switch your devices from your easy chair, the cost is even higher.




Switch box - Component Video and Digital Audio - Rear Panel

This switch box has four inputs and two outputs to connect HD Cable TV/Satellite TV, DVD, Playstation or XBox to your HDTV using the 3 cable Component Video and coax digital audio hookups.

What to look for in a component video switch box:

• 1080p rated component video matrix switcher
• digital audio and analog right and left audio switching
• matrix switcher allows any input to be routed to any output; or the same input to be routed to all outputs or any combination.

EXAMPLE: Watch a DVD in your den while someone else simultaneously watches high definition cable or satellite in the bedroom.

What devices can I switch?

• Any high definition Dish Network and DirecTV receiver with component outputs
• High definition TiVo's with component outputs
• Any high definition cable receiver with component outputs
• Canadian Rogers, Shaw, Bell ExpressVu and Star Choice receivers with component out
• Any "Over The Air" (OTA) high definition receiver with component outputs
• Sony PS3, Blu-ray DVD players with component outputs
• Any Xbox360 with component outputs
• Any upconverting DVD player with component outputs
• Any DVHS VCR with component outputs
• An APPLE TV with component outputs
• Any PC video card with component outputs
• A/V surround sound receiver / preamp with component switching


The component video matrix switcher is capable of switching component video, SPDIF and stereo audio signals between multiple sources and displays with compatible inputs. A maximum bandwidth of 325 MHz will support sharp video in multiple resolutions of up to 1080p.

Allows any input to be routed to any output; or the same input to be routed to all outputs or any combination. It completely eliminates the need to constantly move around video input and output cables.

An RS-232 control allows a switch to be controlled by a computerized system such as HTPC and in this case eliminates the need for an infrared remote control.

Component Video Matrix Switcher Specifications:

Video Amplifier Bandwidth: >325MHz
Resolutions: up to 1080p
Video Input Connectors: 6-RCA (Y-Pb-Pr, left/right and PCM audio) or Toslink optical digital audio
Video Output Connectors: 6-RCA (Y-Pb-Pr, left/right and PCM audio) or Toslink optical digital audio


Power Supply: 12VDC; 1000mA~3000mA

Switches Component Video and Digital/Analog Audio between multiple sources and displays

Video resolutions up to 1080p


Matrix Switcher
IR Remote Control
Instruction Manual
AC/DC Adapter



Some Video / Audio Switch boxes you can buy (Aug 2009):

Source: StarTech.com
Part ID : ST123HDA
Description: 3 Port Component Video Splitter with Digital Audio
Technical Specifications:
Warranty 1 Year
Max Resolution 1080p
Color Black
Product Height 4.13 in [105 mm]
Product Length 5.55 in [141 mm]
Number of Ports 3
Product Weight 34.24 oz [970 g]
Product Width 1.5 in [3.8 cm]
Power Adapter 5V DC, 1Amp
Video Signals Supported Component (YPbPr), Composite
Audio Signals Supported Digital (5.1 channel), Stereo (2 channel)
Component Video Distribution 1x3, one source to 3 displays
Composite Video Distribution 3x3, 3 sources to 3 displays
Audio Distribution 1x3, audio distribution only supported with component signal


Source: StarTech.com
Part ID: CPNT410IR
Description: 4 Port Component Video Switch with Digital Audio and Remote Control
Price: $40 at DELL.com
(StarTech Products are sold at several outlets including DELL, CDW, PCCONNECTION and more)

StarTech.com's 4-Port Component Video Switch lets you switch between up to four A/V devices as well as the corresponding audio signals, eliminating the need to swap out cables to make use of multiple audio/video devices.

A versatile solution for home theater applications requiring digital or analog audio connections with the use of standard and HD component devices, the 4-port Component Video switch supports display resolutions ranging from 480i to 1080i, providing the signal quality necessary to bring out the best results from your input devices. A convenient, time-saving A/V solution, the Component Video switch can be installed in minutes and offers a remote learning feature that allows you to use existing device remotes to toggle between inputs, in addition to the IR remote control that is included with the Component switcher. This compact unit can be installed in minutes, and is backed by a 1-year warranty as well as free lifetime technical support.

Technical Specifications
Warranty 1 Year
Input Connectors 4 x Component (YPbPr)
4 x Digital Coaxial Audio
4 x RCA Analog Stereo
Output Connectors 1 x Component (YPbPr)
1 x Digital Coaxial Audio
1 x RCA Analog Stereo
Color Silver
Enclosure Type Plastic
Product Height 1.73 in [44 mm]
Input Voltage 9 DC
Product Length 9.17 in [233 mm]
Maximum Analog Resolutions Supports standard and high definition video resolutions. 480i to 1080i.
Number of Ports 4
Power Adapter Included Yes
Power Adapter - DC Voltage 9V
Center Tip Polarity Positive
Product Weight 21.89 oz [620 g]
Product Width 6.38 in [16.2 cm]

Features

• Connect up to four devices to your TV using a single set of inputs
• Maintains clear audio and video signals for excellent performance
• With the Remote Learning feature, program the video switch to work with your existing universal remote

Review:

Pros
It's inexpensive and supports switching between four component inputs with their associated analog and coaxial digital sound. It does that, and it does it well. The remote control features work nicely. The switch button is responsive and so is the remote control (i.e., no real noticeable delay between pressing the remote button and it switching). The remote supports discrete switching so you don't have to cycle through all the inputs when you use it. Everything is labeled well and the manual is thorough and well written.

Cons
It looks and feels very light and cheap. The red input indicator is always on, even if you're not using it (there's no power switch). It does degrade the signal a bit (a little more bleeding than just connecting directly).

I bought this because I had a need to switch all my video sources to component connections. This required a switch because my DVD player was already on my TV's only component video input.
My requirements were:
1.) component switching,
2.) some form of digital audio switching,
3.) remote control,
4.) signal not degraded to look worse than s-video,
5.) not cost over $50.
This unit met all those requirements.
You definitely will get what you're paying for. I'm using the unit with a 32" analog TV. If I had a very high-end system, I would have purchased something more expensive and higher quality. This switch is passable for a quick-and-cheap solution, however it would not be acceptable for anything more demanding.

Connections
Connector Type
4 x component video input ( RCA phono x 3 ) - rear
4 x audio line-in ( RCA phono x 2 ) - rear
4 x digital audio input (coaxial) ( RCA phono ) - rear
1 x component video output ( RCA phono x 3 ) - rear
1 x audio line-out ( RCA phono x 2 ) - rear
1 x digital audio output (coaxial) ( RCA phono ) - rear
Power :
Power Device Power adapter - external
Manufacturer Warranty :
Service and Support 1 year warranty
Order from StarTech.com 1-800-265-1844






Switch Box - 3 Inputs and 1 Output with Remote Control




Audio Authority Model 1154A

Automatic 4-input multi-source component video, analog audio, and digital audio (coaxial and optical) switch. The Audio Authority Model 1154A is an enhanced version of the Model 1154, with improved shielding, input circuitry and signal sensor adjustment features. Signal Sensing component video and audio switch. Integrate multiple component video sources!

If you own a receiver and/or TV with limited inputs, you can use the 1154 to add multiple A/V sources. The high bandwidth circuitry accepts Y Pb Pr component video, stereo analog audio, and digital audio in both optical and coaxial formats, and switches all audio and video signals simultaneously when a new source becomes active.

Digital audio signals are converted automatically to the desired format. Up to four sources may be connected to one receiver/video display system through the 1154A. Another feature allows the user to assign a priority level to each source. A typical example could involve both a satellite receiver and a DVD player connected to the Model 1154A. If the power on the satellite receiver is left on, its signal will be detected constantly by the 1154A. But by assigning the DVD player a higher priority, the 1154A would automatically select the DVD whenever its signal is detected, even though there is also signal present from the satellite receiver. A manual select button is provided to override the 1154A's automatic selection. Multi-color front panel LEDs indicate source availability.

AUDIO AUTHORITY 1154A Component Video Switchbox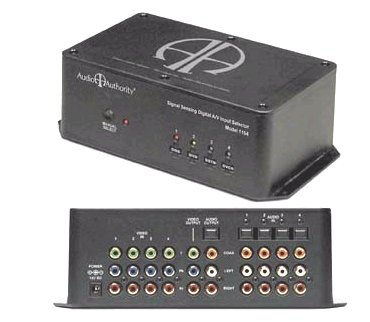 High-end audio/video switch boxes
www.zektor.com
www.hdtvsupply.com
www.lenexpo-electronics.com



Hookup Diagram for Component Video Switch Box






HDMI Switch Box

5X1 1.3b Certified HDMI Switch with built-in Equalizer (REV.3.0) w/ Remote
price: $33 from www.monoprice.com

The HDX-501E has been critically acclaimed for being among the best values among HDMI interconnect solutions. It is a proven device that has shown to be compatible with a wide variety of devices including those that are HDMI 1.3 certified. This model is 1.3 certified. It will function well with most of the latest high definition features like 120Hz picture and new multi-channel formats like Dobly TrueHD and DTS-HD Master Audio. The built-in equalizer compensates for signal degredation and provides maximum range and signal integrity. The included IR remote allows you to switch the input from the comfort of your viewing position.

The switch features:
Support for up to 5 HDMI source devices
Support for HD resolutions up to 1080p
Support for Multi-channel PCM digital audio formats
Compatible with new 120Hz and higher picture features
Bright, easy to read LED front panel display
Sleek, low profile design
Built-in signal equalizer for maximum effective range and signal integrity
IR remote control
Front panel toggle button
Plug-and-play. No software installation. Super-quick set-up
Low cost solution for home theater integration
Supports DDWG standard for HDMI compliant monitors

(*)This switch does not include any cables. You need to buy cables separately if you need them.

Amplifier Bandwidth: 1.65 Gbps
Dimensions: 7 1/8" x 3" x 1 1/16"
Weight: 360g
Power Consumption: 3.0W Max
Power Supply: Input 100-240VAC, 50-60Hz.
Output 6VDC, 1000mA
Certified to perform at standards set by HDMI™

(The switcher has successfully completed ATC Compliance Testing in accordance with the HDMI Compliance Test Specification, revision 1.3b at the HDMI Authorized Testing Center, Silicon Image.)

The problem with HDMI switchers is there is no one switch that is compatible with every device out there. In fact, even with the same brands, one model of DVD player may work with a particular switch but a different model will not. Also, compatibility is not specific to a single device. Instead it is a 3 way relationship between the source, the switch and the display. So, a particular dvd may work through a particular switch to a certain TV, but not to another TV, but that TV may work through the switch with another DVD player.

Given that, you end up with infinite number of possible combinations so it is impossible to know based on brands what devices with work with a particular switch and what won't. The trick is to find a switch that will work with your particular combination of devices. In theory, a switch will work with every device but only if it's connect in turn to another device that it is compatible with. Unfortunately, finding the right switch is a bit of trial and error. The other vendors weren't lying but they didn't give you a complete picture.

REVIEWS:

5X1 1.3b Certified HDMI Switch with built-in Equalizer (REV.3.0) w/ Remote .
Average User Satisfaction Rate
(93.53%) rated by 17 user(s)

Rating: (10 out of 10) 8/18/2009
This is a great HDMI switch. I'm glad I saved 60 bucks and went with this over the Oppo HM-31. The remote is simple and effective. I can easily switch inputs from my couch 10 feet away without having to push any of the buttons multiple times. Works flawlessly with my Pioneer DV-600 DVD player, Sony S-350 Blu-ray player, Xbox 360 and Apple TV. Highly recommended!

Rating: (10 out of 10) 7/16/2009
Works well with the following equipment:
Samsung PD50B450
Toshiba HD-A3 HDDVD
Apple Mac Mini Mini DisplayPort - HDMI
Verizon FIOS QIP-7216

Passes through 480i, 480p, 720p, 1080i great, with audio too.

Rating: (10 out of 10) 7/8/2009
Can't be beat For this price??!! A way to switch all my HDMI components through a HDMI/DVI cable to my old 2004 Mitsubishi Projection HDTV Monitor? Here's my system.
LG BD370 Blu Ray
Toshiba HD-A2 HD-DVD
DirecTV HR22 HD-DVR
DirecTV H20 HD Receiver (I like watching a couple NFL games at once)
Mitsubishi WS65315 HDTV Projection Monitor (1080i) Still a great picture on this TV.
Pioneer VSX-D514
Infinity 5.1 surround speakers

The lights on the switcher aren't even noticeable. No degradation in picture quality.

Rating: (10 out of 10) 7/4/2009
Improvement over the 4x1 HDMI Switch 4088
I first bought the Monoprice 4x1 switch (Item ID 4088) but had two problems with it. My Apple TV audio stream would hesitate for a second or two every few minutes - not a show-stopper, but mildly annoying. The second issue I had was that my Onkyo DVD player would fail to transmit signals via any of the switcher HDMI ports. Also not a show stopper as my Onkyo A/V Receiver had two HDMI inputs. But it did cramp my style and gave me reason to contact tech support. As usual, Monoprice Tech Support did a sterling job of pointing out options I had not considered, but in the long run, we failed to correct the problems. I returned the 4x1 via the RMA process, and ordered a 5x1 switch which had more favorable reviews. This time all the problems disappeared. And I have a spare HDMI port for the inevitable Next New Toy bound to appear sooner rather than later.

Rating: (10 out of 10) 6/18/2009
what a great product, work right out of the box. delivery arrived as promised and in A+ condition.

Rating: (10 out of 10) 6/7/2009
works great! Works great with my dish network vip 722 Dvr and my HTPC. For the price it can't be beat!

Rating: (10 out of 10) 6/1/2009
Used this with HDMI-DVI adapters to hook up my 23" monitor. Works like a charm.

Rating: (10 out of 10) 5/16/2009
5X1 Enhanced 1.3b Certified HDMI Switch with built-in Equalizer (REV.3.0) w/ Remote This is the third HDMI switcher that I ordered in an attempt to make my PS3 work with my Sony XBR6 TV...SUCCESS! This item is made of metal, & it comes with a substantial remote, not like those "credit-card" style remotes, or NO remotes from the other manufacturers. I'm totally satisfied with this product. And yes, port #5 seems to be dedicated to PS3 operation.

Rating: (10 out of 10) 5/9/2009
Very good item. I use it to plug my Xbox 360 and Bravo D1 dvd player to my infocus SP4805 projector. Nice. And it works with my Harmony 550 remote too! Awesome. Its all good.

Rating: (10 out of 10) 5/6/2009
I recently bought this switcher and I must say I am extremely happy with it. Its very sturdy and actually smaller than I expected. It works very well and I have so far not had a single issue with it. The devices Ive got connected to it are
- OUT Yamaha RX-V663 home theater receiver
- IN1 Philips upconverting DVD player
- IN2 Sony Blu-ray player
- IN3 Sony PS3

The only drawback is that the LED lights on the front really are a bit bright as another reviewer mentioned. But its not that distracting if you can keep it down low in your equipment cabinet. All-in-all an excellent product at an even more excellent price!!

Rating: (10 out of 10) 3/12/2009
HDMI Switch That Works! I finally got a winner. I tried the Monoprice 4088 4X1 HDMI switch in December and it did not work with my devices. I read the reviews on the 4088 and quite a number of people had problems with the switch but I figured I would take a chance. The switch only worked with 1 out of 3 of my devices. I had to pay shipping to send it back to Monoprice. I did not like that and hesitated to try the recommended 5088 but I think Monoprice has finally got an HDMI switch that works. This switch is certified with devices compliant up to 1.3a. I think the certification process that Monoprice is now implementing with their new switches is producing products that work. It works with my Harmony One Remote which is a bonus. For under $40 you get a switch that works.

The devices I have in my Home Theater setup are
1 - A/V Receiver Pioneer VSX1016TXV
1 - Television Panasonic TH-50PX60U 50 HD Plasma 720/1080i Flat Panel HDTV
1 - Blu-ray Player Sony BDP-S550 Blu-ray Player
1 - Cable DVR Motorola DCH6416 Charter Cable DVR set top w/ HDMI output Manual
1 - DVD Recorder Panasonic DMR-ES25 DVD/CD Recorder with upconversion & HDMI output Manual 1 - Laptop Hewlett Packard HDX16 HP 16 169 1920x1080 Display, 2.26 Ghz CPU, 4 GB RAM, blu-ray drive, HDMI 1.3 port, Windows Vista 64-bit Home Premium Info
1 - Universal Remote Control Logitech Harmony One Universal Remote with LCD touchscreen URL
1 HDMI Switch Monoprice 5081 5X1 1.3a Certified HDMI switch w/ Equalizer URL

Rating: (9 out of 10) 4/30/2009
So far so good. PROs 1) The unit is very small, so it doesnt take up much room in the AV cabinet. 2) The lights arent as bright as others have reported. Granted, I only have 2 items plugged in currently. 3) The remote is pretty responsive. I plan to add the commands to my Harmony remote, so hopefully that will go well. If the remote cannot learn the IR commands, then this will be a big negative. 4) From a non-techi perspective, there does not seem to be any loss of signal to the projector or the TV. 5) This is a plug in unit, so it doesnt draw its power from the periperals.
CONs 1) There is no on/off switch on the remote or on the unit. 2) The small unit size makes it prone to being pulled by wiring in the back.

1) Power switch (on/off) The 5x1 (rev3) has NO power switch or "hold" method to turn it off. In order to reset the 5x1 you'll have to either unplug the power from the rear of the unit or unplug from the wall outlet.
2) Front LEDs The 4x1 had one green LED for each HDMI input as well as power (5 LEDs total). When you selected a source ONLY one LED would light up and the others would remain off (except power of course), so you would at MOST have 2 green LEDs on at any given time.
The 5x1 does this too, but now there is both a green and red LED for each HDMI source. If the HDMI source is powered down or its not connected then the red LEDs remains off, but if the source is turned on and connected the RED LED is on if you're using another source. So now instead of having only two green LEDs on when I'm using a source, I now have 2 greens and up to four more red LEDs turned on for my other sources.
Both of these issues are just personal opinion and in no way affect the working of the product. I could care less about the LEDs, but being able to reset the 5x1 via a power button and/or the power toggle via my Harmony remote would be nice as sometimes the only way to fix an HDCP issue is to power toggle all the HDMI devices in the chain. I can see crawling to the rear of my setup to unplug the wall adapter for the 5x1 as being a bit annoying.

Rating: (8 out of 10) 7/10/2009
Works flawlessly and was exactly what I was looking for. I only found the instuctions a little lacking detail and the remote scratches just by touching it. Once you figure out the light sequence it is perfection as far as operation goes.





Cable Types and connections




For a hookup diagram see: HDTV basic setup

• See Over 100 Hookup Diagrams









See also:
• PC stereo hookup
• Windows Sound Recorder
• VCR Recording







• HDTV Hookup Diagrams

• TV input select

• Timer Record Radio Shows on a VCR

• TV too loud?

• FM transmitter for TV sound

• Camcorder hookup to TV, DVD

• Camcorder Buying Guide

• Compare video editing software

• Audio Video Connections
• Video Cables Connections
• Hookup Diagrams



Contact Columbia ISA