Connect Wii game console to a TV.

Nintendo Wii game console hookup and audio/video setup:

Components:

o Nintendo Wii game system.
o Wii Audio/Video cable.
o TV.


The Wii game console can connect to your standard TV, High Definition TV and to the internet.

The rear panel of the Wii has several ports including connections for USB cables, a multi-pin audio/video port, the sensor bar and the power connection.



The audio/video port is the larger of the ports and accepts the specific Wii audio/video cables of which there are several choices depending on your TV and audio setup. You can connect a composite video (yellow), S-video or component video (red, green, blue) cable to your TV and stereo audio.




Composite Audio/Video cable to connect TV to Wii



TV connections

Connect composite video (yellow) to your TV video input.

If your TV has stereo speakers, connect the red and white audio plugs to your TV audio inputs.
Connect red to red and white to white. If your TV is only mono-audio (one speaker) then connect only the white plug for sound.

Nintendo Wii Hookup




Nintendo Wii Console
Featuring a compact design, the Wii console is white in color and can be displayed either vertically or horizontally.

SIZE
About 8.5 inches long, 6 inches wide and less than 2 inches thick.

NETWORK
The Wii console communicates wirelessly with the Internet via wireless or a Wii LAN adaptor. Wii also can connect wirelessly with Nintendo DS.

CPU / GPU
PowerPC CPU (code-named "Broadway"), made with a 90nm SOI CMOS process, jointly developed with and manufactured by IBM; GPU developed with ATI.

MEDIA
A single self-loading media bay plays single- or double-layered 12-cm optical discs for the Wii console, as well as 8-cm Nintendo GameCube discs.

INPUT / OUTPUT
Input: Four Wii Remotes can communicate with Wii, which features a bay for an SD memory card.

Output: An Audio/Video Multi-output port for component video, composite video or S-video.

WII CONNECT 24 The Wii console can communicate with the Internet even when the power is turned off. The WiiConnect24 service delivers a new surprise or game update, even if the system is idle. Users can connect wirelessly or by using a Wii LAN adaptor.

Manufacturer: Nintendo

The AV Multi Out plug that is included with the Wii will allow you to connect the console to most televisions or video cassette recorders (VCR). First, look at the back of your television AND your VCR and see if you have colored ports label "Input". Though most TVs have them, almost all VCRs do as well.

• Audio/Video (AV) inputs are located on the front or back of the TV or VCR.
• They are smooth silver posts with the inside showing a color, usually red, white and yellow.
• Look for inputs marked Audio and Video IN.
• The image on the left features stereo audio inputs. Some televisions have only one audio input.
• Do NOT connect your system to anything marked OUT.




Connecting Wii to a TV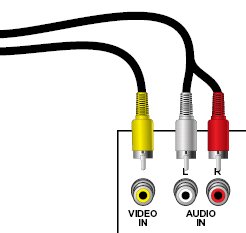 1.) Insert the Audio/Video (AV) Multi Out plug on the Wii AV Cable into the Multi Out connector on the back of the Wii console.

2.) Insert the RCA plugs on the Wii AV Cable into the input connectors on the TV. Plug the colored connectors into the following inputs:

Yellow = Video Input
White = Audio Input - Left Channel (or Mono)
Red = Audio Input - Right Channel






Once the cables are inserted and the Wii is powered on, you must find the Input Select for your TV to view the game (it is not going to be seen on Channel 3 or 4). Typically this is found by pressing the TV/Video button on the Television's front panel or remote control. If you have more than one input channel, keep pressing TV/Video until you see the display from the Wii.

If you do not have a TV/Video button, then the input could be labeled something different. Some other common input selects to look for on the TV or remote are:
Input, Input Select, EXT, AUX, or a channel such as 00 or 99.



The big flat end plugs into the back of the game console and the smaller plugs connect into your TV inputs.


TV connections




What can you do with this configuration?
o Play video games,
o Listen to audio thru high-end loudspeakers



What if my TV has nothing but an antenna input jack?

If your TV is an older model without A/V inputs, you need to get a small device called an RF Modulator. This device accepts the Wii cable and outputs to your TV on channel 3 or 4.




Wii hookup to TV without Audio/Video input jacks using an RF Modulator available at Radio Shack or Wal-Mart for about $20.



• Blu-ray players
• Audio / video cables

Cable Connections Diagrams


see also:

Audio Video Connections

Cable Connections Diagrams

Video Connections Diagrams

Cable TV, Satellite TV, OTA Tuners Receivers



Got a question? Audio Video Forum


Internet connection for Wii

Connect online with players from around the world. Play games or chat with friends. Compete worldwide via Nintendo Wi-Fi connection. If you already have internet service, such as from your cable TV provider, usually called broadband, you know that you connect your computer to a "cable modem" which connects to the internet. Contact your local cable TV provider or phone company for information about setting up high speed internet service. For Wii internet access, you may want to be able to connect the Wii and your computer at the same time so you won't have to re-wire all the time. There is a device called a router which allows you to connect multiple devices to it and then connect the cable modem also, allowing several devices to share your internet access. Routers can provide a wireless connection for your devices such as the Wii.

A good wireless broadband router costs around $50. Think of it like a cordless phone. Operation is local in the 2 GHz radio frequency range giving you portability and no wires.




Compatible wireless router for Wii
Nintendo Wi-Fi

Nintendo Support

Wii internet access

Choosing a Wireless Router

The Wii is designed to be compatible with most home wireless routers and security standards. Checking for the following features on a router can help ensure you pick one that is compatible with the Wii. Remember that you must have a highspeed Cable or DSL internet connection in order to connect your Wii online.

What to look for:

802.11G/ 802.11B (or mixed)
Most routers currently sold offer these settings. Check the box to make sure the router supports these broadcast standards. Routers that mention 802.11N or pre-N (as well MIMO) may not be compatible with the Wii.

WEP and WPA/WPA2 encryption
The Wii is compatible with WEP, WPA and WPA2 encryption methods if you wish to enable wireless security on your router.
There are several different WPA variations. The Wii is compatible with:
WPA - PSK (TKIP)
WPA - PSK (AES)
WPA2 - PSK (AES)

Router manufacturers:

• Netgear wireless routers

• Linksys a division of Cisco Systems, Inc. is the global leader in Wireless and Ethernet networking for consumers.

Home users may want to set-up a LAN (Local Area Network) or WLAN (wireless LAN) and connect all computers to the Internet. In many instances, an Internet Service Provider or ISP will allow you to use a router and connect multiple computers to a single Internet connection and pay a nominal fee for each additional computer sharing the connection. This is when home users will want to look at smaller routers, often called broadband routers that enable two or more computers to share an Internet connection.

Not all routers are the same since their job will differ slightly from network to network. Additionally, you may look at a piece of hardware and not even realize it is a router. What defines a router is not its shape, color, size or manufacturer, but its job function of routing data packets between computers. A cable modem which routes data between your PC and your ISP can be considered a router.

Wireless broadband routers look much the same as a wired router, with the obvious exception of the antenna on top, and the lack of cable running from the PCs to the router when it is all set up. Creating a wireless network adds a bit more security concerns as opposed to wired networks, but wireless broadband routers do have extra levels of embedded security.

Along with the features found in wired routers, wireless routers also provide features relevant to wireless security such as Wi-Fi Protected Access (WPA) and wireless MAC (Media Access Control) address filtering. Additionally, most wireless routers can be configured for "invisible mode" so that your wireless network cannot be scanned by outside wireless clients. Wireless routers will often include ports for Ethernet connections as well.


| | |
| --- | --- |
| | |
| Router - wired | Router - wireless |



Wii Internet Setup

You need to navigate thru the Wii on-screen menus in order to setup your internet access. Start with Wii Options in the lower left hand corner of the main menu. Then click on Wii Settings and follow the sub-menus to setup, test and save your system settings.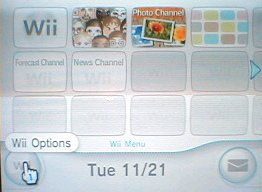 Main menu - Wii Options





Wii Settings - the Wrench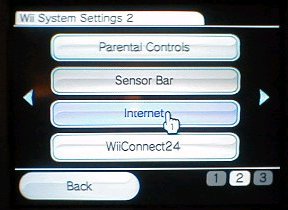 Wii System Settings 2 - Internet




Wireless Connection




Search for an Access Point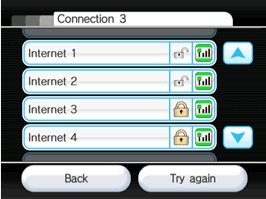 Look for a good signal (Green)

TEST the connection.

If all looks good, save system settings.

Wireless Router Troubleshooting

If you are unable to get your home router working, try adjusting the following settings. If you are not sure how to change the settings, please consult your router's manual, your router's manufacturer or your ISP.

Firmware Updates for Your Router

If you are unable to get connected using your router, check to see if you have installed the latest firmware updates for your router. In many cases, downloading a firmware update can get the router capable of connecting the Wii console to the internet. If you have not done any firmware updates, please visit your router manufacturer's website to see if any updates are available. Install the firmware update and trying your connection again.

Does your router have any known compatibility issues with the Wii console?
Some routers or Internet Service Providers may not be compatible with the Wii console's online features.

Experiencing Slow Download times or receiving errors while connecting?
This is typically caused by Wireless interference. Use a different channel or move to a different location.

Can't Detect Router's Signal (SSID)

Your access point will not show up when you Search for An Access Point if you have your Broadcasting set to "No" or "Disable."

Some routers also refer to this security as "Stealth" mode. You can either change your broadcast setting to "Yes" or "Enable," or you can manually enter the SSID in the manual setup screen of your Wii console.

MAC Filtering

Check your router's settings to see if MAC Filtering is turned on. It's often listed in the "Wireless" tab on your router's setup utility.
If you are unable to determine if the setting is on or off on your wireless router, it is likely that MAC Filtering is not being used. If MAC filtering is turned on, you will need to enter the Wii console's MAC Address into one of the available fields. The MAC address of the Wii can be found by:

From the Wii Channel menu, select "Wii Settings" (the round button on the bottom-left of the screen with "Wii" on it).

Select "Internet," then "Console Settings."
The MAC address of the Wii console is displayed on the first line.

Is your wireless router a "Pre-N" model?

If your router is designated as a "Pre-N" router, it may default to only the "N" band. This setting will not work with the Wii. Check your router's settings (typically in the "Wireless" tab) and make sure that it is set to "Auto," "Mixed," or something similar.

Wireless Channel

If there are other wireless devices in the area, they can interfere with the signal so much that the Wii console will not be able to connect to the router. Changing the wireless channel on your router may help. Most wireless routers have a channel range of 1 through 11. The best channels to try are usually 1, and 11, as they do not overlap with other channels. Typically, the channel settings for your router will be found in the router's main "Wireless" tab.

If the above options do not help, you may need to use the "Manual Settings" and change your Wii console's settings to "Static IP"
Try assigning the Wii a static IP address.

Access your router's settings and find the available range of IP addresses. (This is typically found within the DHCP information.)
When you find this information, select one of the available IP addresses and enter this, along with the Subnet and Gateway addresses, through the manual settings on the Wii.

If you can't find the range of IP Addresses in the router settings, you can usually view them through your computer's IP configuration settings. Add "10" to the number in the last slot and enter the IP address in the manual settings of the Wii.

You will then need to enter the DNS server information of your computer into the Wii as well. To do this you will need to determine your IP configuration settings. This will give you the basic information for all network devices installed on the PC. Included in this will be the DNS Servers information you will need to enter through the manual settings on the Wii. If only a primary DNS is listed, use that number in both the primary and secondary slots of the Wii's system settings. Once this information is entered, try to test the connection again.

To View Your IP Configuration Settings:

Click the "Start" button in the lower left-hand corner of your computer (Windows PC).
Click "Run."
Type "CMD" into the box and press Enter. (CMD means Command)
Type "IPCONFIG/ALL" and press Enter.
You should see information detailing your IP configuration.
To close the command window when finished reading the data, type EXIT

If the above information does not solve your problem:
If you have contacted your router manufacturer and they are not able to help get your router settings to work with the Wii console, send an email to Nintendo through this online form.

e-mail Nintendo

Wireless Routers/Gateways provided by Internet Service Providers (such as Comcast, Time Warner, Road Runner, Charter, etc.):

Due to the way the Wii console interacts with routers' firewalls, it may not be able to connect online, even when using the Nintendo Wi-Fi USB Connector or the Wii LAN Adapter. If you are able to log in and disable the router's firewall (you may need to get a "super user" password from your ISP), you may be able to get the Wii console connected online.



To download a system update to your Wii console, you will need to successfully connect your Wii console online. If your current connection through your ISP-provided router is preventing a connection, you will need to find an alternative online connection, such as taking your Wii console to a friend's house where there is a compatible internet connection. Once you have connected the Wii console online, the system update will download and install.

Netgear Routers

NETGEAR
4500 Great America Parkway
Santa Clara, CA 95054 USA
1-888-NETGEAR (638-4327)
E-mail: info@NETGEAR.com
www.NETGEAR.com

FR114W
FVM318
FWAG114
FWG114Pv2
MR814v3
WGM124
WGR101
WGR614
WGR614V6
WGR826
WGT634U

Router Default Info

Config Info - Launch Browser, Enter default IP
Default IP - http://192.168.0.1
User Name - admin
Password - password

----------------
Where to Find the Router's Settings

SSID NETGEAR -
Found in "Wireless 11b/g" of the "Setup" tab
WEP/WPA Found in "Wireless 11b/g" of the "Setup" tab
DHCP Found in the "LAN IP Setup" section of the "Advanced" tab.
DNS Info Found in the "Basic Settings " section of the "Setup" tab.
Broadcast Found in "Wireless 11b/g" of the "Setup" tab

Games for Wii

• Gamespot.com
• Wii games


Columbia ISA - Empowering consumers thru information.

CONTACT:
columbiaisa@yahoo.com