Home
SOUNDBARS
Slim speakers for your TV

TV sets used to be fat, cube shaped boxes with room for a fairly good speaker but today are flat and wide with less and less room for speakers as the TV displays get thinner. This means the flat screen's built-in TV speaker is not the best at producing quality audio. One solution to the less than stellar sound from TV speakers today is the soundbar. These wide, elongated speaker systems often match your TV style and lessen the wiring around your room for surround sound speakers.






Soundbars are available with all kinds of features and options. They can cost more than your TV. Soundbars often come with a remote control and many can be mounted on a wall. Most soundbars contain multiple speakers and some models come with a subwoofer, often wireless, for really boosting your audio enjoyment.

A good sound bar will have a front panel display so you can see which input you are on and what the volume level is set to and other status indicators.

Don't expect a soundbar to give you the audio quality of a full surround setup (audio/video receiver plus six full-sized loudspeakers) because full surround systems have higher quality loudspeakers and better electronics and connections. The soundbar can produce what is known as Virtual Surround Sound which can be quite good but not as good as a full surround system. The benefit of a soundbar is that you get better sound than from the TV speakers without the more complex wiring and space requirements of a home theater setup.

The soundbar you choose should have all the inputs you may want to use, including HDMI, optical, analog RCA, coaxial digital audio, USB and ideally, multiple inputs for each.

When choosing a sound bar you really have a wide range of choices from many manufacturers including:

Sony HT-CT550: $400




Sony Black 3D Sound Bar Home Theater System With Wireless Subwoofer - HTCT550W/ 400 Watts Total Power/ 2.1-Channel Sound Bar/ Wireless Subwoofer/ Three HDMI Inputs/ HDMI 3D Pass-Through/ Dolby TrueHD And DTS Master Audio Decoding/ 3D Surround Sound/ BRAVIA Widget Control/ Audio Return Channel/ HDMI Standby Pass-Through/ BRAVIA Sync Capable/ Black Finish



Decoding Format(s)
96k/24Bit PCM: Yes

DTS 96/24: Yes

DTS HD/DolbyTruHD/Dolby Digital+: Yes/Yes/Yes

Dolby Digital/DTS: Yes/Yes

Dolby Dual Mono: Yes

LPCM (2CH/5.1CH/7.1CH) thru HDMI: Yes/Yes/Yes 192kHz


Analog Audio In(Inc TV CEC)/Out(excl. tuner)/TV(CEC): Single Line In Coax.: 1 Input HDMI In/Out: (Front input): 3 In / 1 Out Opt. In/Out/TV(CEC): incl Front input & TV (CEC): 2 In

Soundbar Height: 3" Width: 37-3/8" Depth: 1-5/8"




LG LSB316: $300


Bluetooth - stream music from your Smartphone.
Wireless Subwoofer
2.1 channel virtual surround sound
Wall mountable
Two optical inputs



Stylish, low profile sound system for your TV and smart devices.



















Diagram - Sound Bar connections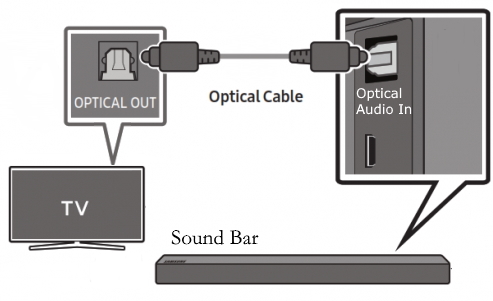 Soundbar Hookup FAQ



Q: Can I use my TV as a switch? So hookup everything to the TV; PS3, cable box, Blu-ray player and run an optical audio cable from TV audio output to the soundbar input?

A: Yes, but only if your TV supports this. Some TVs may only allow the built-in tuner audio to be sent out and not other HDMI inputs.

Q: I have a soundbar with HDMI input. If I connect a Bluray player with built-in decoding using HDMI to the soundbar, will I get surround sound?

A: Soundbar systems do not have the left surround or right surround speakers located around the listener. So although they come close, by definition a soundbar setup cannot provide the 6 channel effect even if provided the input. At best you could get 4 of the typical 6 surround sound audio streams available.

Q: Can I connect an older TV to a soundbar?

A: Any older TV with a headphone jack or RCA stereo audio output can be connected to a soundbar with 3.5mm or RCA stereo inputs.

• Turntable to PC hookup / record vinyl LPs to computer
• PC to Stereo hookup - how to play computer thru sound system
• Audio cassette to computer hookup - how to record audio cassettes to PC







Contact: columbiaisa@yahoo.com

• See over 100 Hookup Diagrams



• Camcorder Buying Guide