Home > Hookup Diagrams Index

Columbia ISA home – › Wiring Diagrams

Audio and Video Search
Google SEARCH Columbia ISA Audio Video Site

• How to spot fake silver coins or bars

iPad Mini Guide

iPad Mini 2013



How to Buy Apple iPad Mini



The iPad Mini, announced in the Fall of 2012, is the smaller version of the Apple iPad which is a tablet computer. A tablet computer or simply tablet, is a flat screen hand-held device which allows the user to do much of which you can do using a larger personal computer only doing it mobile, outside the home, on the go. The iPad also has built-in capabilities such as cameras and wireless communications, which make all the traditional computer features available on the go. You can take photos, videos, surf the web, and much more all in a hand-held computer. The screen will rotate to portrait or landscape mode automatically depending on how you hold the iPad. Just touch the screen or move your finger across the screen to execute programs or type text, move things around, change settings, enter data, take photos, videos, listen to music or chat online with friends.

The iPad Mini falls between the full size iPad (9.7 inch screen) and the iPhone as far as screen size. The iPad Mini (7.9 inch screen) fits in a smaller carry case than the iPad, is thinner and weighs less to carry around. The iPad does have the Retina display while iPad Mini does not, so the full-sized iPad has better resolution for images.






Colors:



You can get the iPad Mini in Black or White (White and Silver). All the visible portions of the computer are color coordinated for a pleasing look.

Price:

The iPad Mini is available in several models. The lowest price model is around $300 and gives you 16GB of memory and Wi-Fi only communication. You can get the cellular data communication model for about $100 more. The 32GB model adds $100 and the 64GB model, another $100.

The iPad Mini has a microphone, stereo speakers, headset jack, volume control, home button, two cameras, multi-pin connection port for charging the battery and connecting to other devices, touch screen and sleep/wake button.






Wireless communication:



Wi-Fi and cellular are available. With Wi-Fi (802.11a/b/g/n; 802.11n on 2.4GHz and 5GHz), you can surf the web in hot spots or on your home broadband setup. Hotels, airports, libraries, shops all offer Wi-Fi hot spots, but for trips outside these hot spots, cell data wireless is available with a data plan from AT&T, Verizon or Sprint. These are data only, not voice. Plans start at $15 per month for around 250MB and go up. $50 per month gets you 5 or 6GB of data.

4G, 3G - With the ongoing wireless technology race, 4G LTE is the latest cellular standard. The iPad Mini supports 3G and 4G standards. Check your carrier's coverage map to see if your location has 4G or 3G. The iPad will show a status icon indicating 3G or 4G when connected to the internet. The iPad Mini also has Bluetooth connectivity.

www.verizonwireless.com
www.att.com
www.sprint.com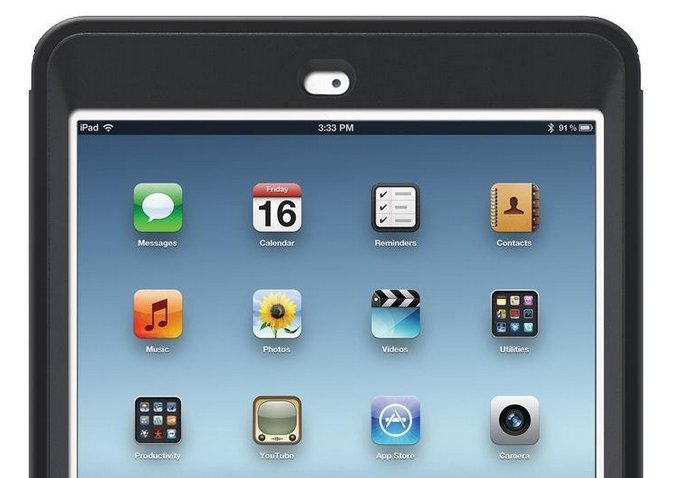 iCloud:



Apple's iCloud stores your content, music, videos, calendar, contacts for you so you have a backup and portability to other compatible devices. With Apple products you live in Apple's world so compatibility usually means other Apple products and devices. The good thing is if you buy a song on iTunes with your iPhone, iCloud makes it available on your iPad or other Apple device through the internet.

Keyboards:

The iPad Mini has an on-screen keyboard for typing text or you can use a wireless keyboard.

Most of the interaction with iPad is done with your fingers touching the screen.



Siri:



Siri is an assistant that recognizes speech. When you stop talking Siri displays what it heard. Setup a meeting, set a timer or any question you might ask. You must be connected to the internet. You can also dictate text so you could speak an email instead of typing.



Apps:



Apps are computer applications or programs and there are an almost limitless number (over 300,000) of them, many free. Twitter for example allows you to interact online with friends or family. The iPad Mini can contain apps you download and then execute.



TV Hookup:



With optional cables, the iPad Mini can connect to your TV so you can view photos or videos on the big screen.



Calendar:



It is easy to set and view events. Keep track of activity and future tasks.



Clock:



Local or worldwide clocks are available for displaying the time.



Contacts:



Store your contact information on the iPad Mini.

Notes and reminders:

Play different sounds to remind you of upcoming events.



Books: EReader



eRead books on the iPad Mini. You can organize all your electronic books.



Games:



It is possible to play games with your friends online.



Specifications:



Battery Type Lithium polymer
Battery Run Time Up to 10 hours

Installed RAM 1GB

Digital Camera
Rear Camera Resolution 5 megapixel
Front Camera Resolution 1.2 megapixel

Display Technology LED
Display Max. Resolution 1024 x 768
Touch Screen Technology Multi-Touch

Processor Manufacturer Apple
Processor Type A5
Processor Speed 1 GHz

Supported File Types: AAC, AAC-LC, AAX, AAX Plus (AAX+), AIFF, AVI, Apple Lossless, Audible Enhanced Audio, Audible Format 2, Audible Format 3, Audible Format 4, DOC, DOCX, GIF, H.264, HE-AAC, HTM, HTML, JPG, Key, M4V, MOV, MP3, MP3 VBR, MP4, MPEG-4, Numbers, PDF, PPT, PPTX, Pages, Protected AAC, RTF, TIFF, TXT, VCF, WAV, XLS, XLSX





FAQ:





Can I make phone calls with the ipad?


No, not in the sense that an iPhone makes and receives phone calls, however you can use the internet and apps to send text messages, chat, voice and video over a networked IP connection. There are many software tools available to communicate with people, just not using standard cellular voice.



Can I connect my iPad Mini to my HDTV to view screen content?


YES. You need an adapter cable available from Apple, Amazon.com or others (cost $39) which plugs into the iPad's Lightning port and on the other end of the cable, plug in an HDMI cable. Then plug the HDMI cable into your HDTV's HDMI input. On the TV select the HDMI source and you can view the iPad's screen on the HDTV. Also works with iPhone5, late model iPods and iPads.



iPad Mini Protective Case:





When you are out on the go you need some protection for your iPad Mini so the bumps you encounter do not damage your iPad. In addition, the case will allow you to prop up the screen at a viewing angle so you do not have to hold the iPad in your hand all the time. The case will help protect the iPad from rain, dust, and spills. Cases are available in all colors and styles with some even customized with your personal images.



Competitors:
The Amazon Kindle Fire, the Samsung Galaxy and the Google Nexus 7 are all tablet computers like the Apple iPad. Android is the operating system on the competitors while Apple runs iOS 6 as its OS.



Android

is a Linux-based operating system designed primarily for touchscreen mobile devices such as smartphones and tablet computers. Initially developed by Android, Inc., which Google backed financially and later bought in 2005, Android was unveiled in 2007. Android is open source and Google releases the code under the Apache License. This open source code and permissive licensing allows the software to be freely modified and distributed by device manufacturers, wireless carriers and enthusiast developers. Additionally, Android has a large community of developers writing applications ("apps") that extend the functionality of devices.



iOS

is a mobile operating system developed and distributed by Apple Inc. Originally released in 2007 for the iPhone and iPod Touch platforms, it has been extended to support other Apple devices such as the iPad and Apple TV. Unlike Google's Android, Apple does not license iOS for installation on non-Apple hardware. The current version of the operating system is iOS 6.1.3. iOS currently runs on iPhone, iPad, iPod touch and Apple TV.




• Hookup diagram - cablebox to stereo

• How to hookup a TIVO