DVD Media Hardware Software:




How to setup broadband wireless internet at home

• Look for HDTV CABLES

• Internet-Ready HDTV has arrived

• Internet TV Media Players compared
ROKU, Sony, WD, Boxee box, Apple, Netflix, Hulu

• Kindle Fire - new for 2012 e-book reader, Wi-Fi, and more from Amazon


• How to setup wireless USB adapter for a desktop PC

• Blu-ray Players - 2009 Sony, Samsung with Internet capability.
Get NetFlix, YouTube, BD Live and more. Wireless connectivity to your broadband service.

• Bluray Disc and HDTV

• How much does it cost to run my TV?

º What you need to know about jewelry before shopping

º How to hookup TV or laptop to powered speakers

• How to tell if your Diamond is real








• Hook up diagram for old portable TV sets using a TV converter box

• DTV converter boxes for 2009, the switch to Digital TV

• DTV converter boxes reviewed



click on the DONATE button and make a donation. You do not have to have a PAYPAL account to send money.

• What is HDMI?

• What is USB?

• HDTV BUYING GUIDE

• Converter box and VCR to TV hookup
• DVD player to TV hookup
• Digital Cable TV box to TV hookup
• Satellite TV box and converter box to TV hookup
• Home Theater hookup
• Audio/Video Receiver hookup

• RF Modulator for DVD hookup to TV

Apple iPod Touch








Apple iPod Touch, iPhone4, iPad2


How to connect iPod Touch 4 to HDTV





Put your slides, movies, photos, and everything else that fills your iPad 2 screen on an even bigger screen. Apple Digital AV Adapter also supports HD video out for iPad, iPhone 4 and iPod touch (4th generation). Apple Digital AV Adapter mirrors exactly what you see on iPad 2. If you have an iPad, an iPhone 4, or a fourth-generation iPod touch, Apple's Digital AV Adapter finally makes it possible to output HD video (with audio) from your iOS device to your HDTV.

The Apple Digital AV Adapter mirrors exactly what you see on iPad 2 so that everyone in the room can enjoy it on your widescreen TV, video projection screen, or other HDMI-compatible display.

The Apple Digital AV Adapter also supports video out for iPad, iPhone 4, or iPod touch (4th generation). The adapter itself has two ports, one HDMI female port and one standard female iPod connector port. This permits you to power/charge the iPad or iPhone while simultaneously outputting video and audio.


Connect the Apple Digital AV Adapter to your iPad, iPad 2, iPhone 4, iPhone 4S or iPod touch (4th generation) via the 30-pin dock connector and to your HDMI-compatible display using an HDMI cable (sold separately).

A second 30-pin connector built into the AV adapter lets you charge and sync your device while it's connected to your HDMI-compatible display.








For hookup to standard TV, use the Apple composite AV adapter

Compatibility: iPod nano 3G, 4G, 5G; iPod classic 4G, 5G, 5.5G, 6G; iPod touch 1G, 2G, 3G, 4G; iPhone, iPhone 3G/3GS, iPhone 4; iPad
Enjoy slideshows or videos from your iPhone or video-enabled iPod on your TV or other video devices
AV cable connects to iPod universal dock or directly to your iPod/iPhone
Composite AV connectors: analog audio (red/white) and video (yellow)
Also includes USB connector for plugging into power sources





Columbia ISA - Empowering consumers thru information.

Contact: columbiaisa@yahoo.com



• Ask a question on Columbia ISA - BLOG

• Satellite TV home installation guide

• DVR - Digital Video Recorder

• DVD Recorder Buying Guide

• HDTV Buying Guide

• How to hook up a cable TV box

• How to hook up a SA4250HDC digital cable TV box

• How to ground your TV antenna

• Broadcast TV reception

• Insignia ns-dxa1 - TV converter box for digital TV on your old analog TV set

• Surround Sound

• Switch boxes video audio RCA phono and more

• Audio Video selector switches including Toslink

• All About HDMI - HDMI Cables



DVD Media, Hardware, Software



DVD is an optical disc storage media format invented in 1995. DVDs offer higher storage capacity than CD (Compact Disc) while having the same physical dimensions. The round, flat disc is typically 12 cm (4.75 in.) in diameter and 1.2mm (0.05 in.) thick with a hole in the center of the disc. Information is stored on the surface area as binary data. An optical laser reads the bits as the disc turns at 200 to 4000 revolutions per minute. Data is read from the center of the disc and tracks outward to the edge of the disc. To keep a constant data rate, the disc must spin slower as the read head moves towards the edge of the disc.

DVD is used primarily for video and audio while CD is used for audio information or data. Stamped CD audio information (music up to 80 min.) is uncompressed (700 MB) while DVD video information is typically compressed using MPEG-2. The audio information on a DVD-Video is also usually compressed using Dolby Digital or DTS surround sound. Recorded/burned CD audio information such as MP3 music is compressed. This is done to save space. An uncompressed .WAV file takes up ten times more space than the MP3 file with the same music. Compressed information requires a specific decoder in order to playback the information. CD uses a 780 nm semiconductor laser to read digital information off the disc while DVD uses the shorter 650 nm laser allowing reading of the smaller pits on DVD. Blu-ray uses a 405 nm laser.

DVDs are mass-produced using injection molding machines that physically stamp data onto the DVD. Such discs are known as DVD-ROM, because data can only be read and not written nor erased. Hollywood movies on DVD-Video are stamped discs, not burned/recorded with a laser. Blank recordable DVD discs (DVD-R and DVD+R) can be recorded (burned) once using a DVD recorder laser and then function as a DVD-ROM. Rewritable DVDs (DVD-RW,DVD+RW) can be recorded and erased multiple times. The write-once discs have an organic dye recording layer which when burned cannot be changed while the re-writable discs have a metallic alloy recording layer which can be changed.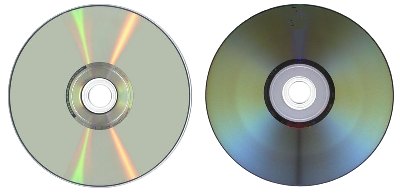 DVDs containing other types of information may be referred to as DVD data discs. CD and DVD can be used to store data such as a backup for personal computer but flash drives (solid state) are more commonly being used due to more reliable data storage and less chance of environmental damage. The surface area of CD and DVD can be damaged such that they are unreadable and although strong, the polycarbonate disc can be broken or warped.

DVDs can be single sided (4.7 GB) or double sided (9.4 GB). Single side discs have a label on one side and data on the other side. Double sided discs have no label and data on both sides. There are also dual-layer discs roughly doubling (8.5 GB) the storage on a side. Blu-ray disc can store 25 GB (single side) and 50 GB (dual layer) and are also 12 cm in diameter.

DVD video resolution maximum is 720×480 or 720×576 (480i/576i) Standard Definition. Blu-ray maximum is 1920×1080 (1080p) High Definition.

DVD file structure

How information is placed on a DVD must be standardized in order for players to be able to read the bits and organize what the information means. A structure is used just like a table of contents in a book. A DVD player or a computer player application expects to find information on the disc which conforms to a standard so the playback can be successful. ISO 9660 is a standard for optical disc media. To facilitate cross platform compatibility, it defines a minimal set of common file attributes. Most operating systems support reading of ISO 9660 formatted discs. This includes Windows 2000, XP, Vista, Windows 7.

Universal Disk Format (UDF) ISO/IEC 13346 is another file system widely used for DVD and newer optical discs. UDF was intended to replace ISO 9660. After the first version of UDF was released, it was adopted by the DVD Consortium as the official file system for DVD Video. At least six revisions of UDF have been released. Revision 1.02 (1996) is used by DVD-Video discs. Many DVD players do not support any UDF revision other than version 1.02. Microsoft Windows 2000, XP, Vista and Windows 7 support UDF 1.02 and Vista and Windows 7 support virtually all other revisions. Some DVD burner applications default to UDF revision 1.5 making a disc less compatible. Manually specifying UDF 1.02 can make a disc more compatible.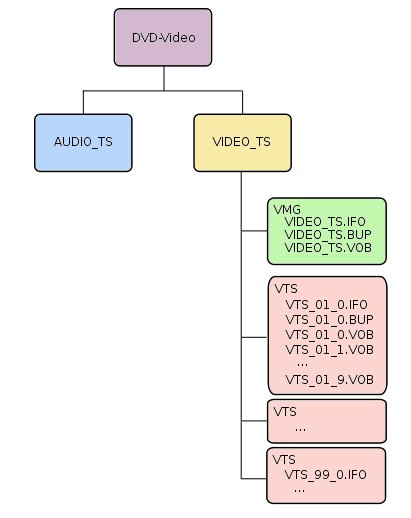 Standard DVD Video file structure has two directories, the audio title set and the video title set. The audio title set is usually empty. This is used for DVD-Audio discs but is included for compatibility reasons. The video title set specifies all the data on the disc. The Video Manager files include control and playback information for the entire DVD. The Video Manager (VMG) information file stores the First Play PGC (Program Chain), locations of all Video Title Sets (VTS), table of titles, number of volumes, domains for multiple languages and regional and parental control settings, information about subtitles, audio tracks, etc. This file is required to be present on a DVD-compliant disc. Video Title Set files can go up to 99.

Consumer Electronics set-top-box DVD recorders



The stand-alone DVD recorder is similar to a VCR in that you can record video and audio for playback on a television set. Instead of using magnetic tape to record, a recordable DVD is used. DVD allows random access to scenes and there is no rewinding. There is a confusing array of recordable DVD available and there are many incompatibilities from recorder to player to computer. Recently, more players are able to playback the array of disc formats available for recording.

Many people want to copy their VHS tapes to DVD. Some want to copy their camcorder tapes to DVD, their laptop hard drive, flash drive or upload to the internet. Recordable DVD comes in several flavors. 1) DVD-R (DVD dash R) is DVD recordable, a write-once disc compatible with 90% of DVD players and personal computer optical disc drives. 2) DVD-RW is DVD re-writable, an erase and rewrite disc compatible with about 88% of DVD players and computer optical drives. 3) DVD+R (DVD plus R) is write-once DVD recordable similar to DVD-R but with some differences and technical advantages. 4) DVD+RW is the DVD re-writable version of DVD+R. Newer DVD players and Blu-ray players and newer PC optical drives can usually read all four disc types. Older players may not be able to read the plus format discs. You can also buy the dual-layer recordable DVD.



Finalize a disc



When a disc is becoming full and there is not enough space to record your next video, it is time to close out the disc and create the final directory of what the disc contains. This is most true for the DVD-R and DVD+R formats since they cannot be over-written. The process of finalizing the disc is done by the recorder the disc was created on and usually takes a few minutes. Once the disc is finalized, it can typically be read by another device such as another DVD player or computer optical drive.

DVD-R disc created on a set-top-box DVD recorder can be read on a CD/DVD computer optical drive using Windows Media Player.

CD/DVD Drives in personal computers/laptops sold in 2012 are usually burners as well.







DTV converter box



Blu-ray


The Blu-ray Disc is designed to store even more information than DVD and has smaller pits and dual layers. Blu-ray Disc specifies the use of Universal Disk Format (UDF) 2.50 as a convergent friendly format for both PC and consumer electronics environments. It is used in the latest specifications of BD-ROM, BD-R (Blu-ray Disc Recordable write once), and BD-RE (Blu-ray Disc Recordable Erasable). Blu-ray players can play Blu-ray Disc and DVD so backward compatibility is maintained. High Def video is possible with Blu-ray and Blu-ray movies with 1080p (1920 x 1080) resolution can be viewed on a 1080p HDTV with stunning detail. Blu-ray can use MPEG-2, MPEG-4 AVC or VC-1 for video compression. Blu-ray audio also has new options including lossless audio such as Dolby TrueHD.




HDTV






Columbia ISA
Empowering consumers thru information.

CONTACT / FEEDBACK
• columbiaisa@yahoo.com

• How to hook up Plasma TV
• HDTV Basic Setup