Audio is what you hear and video is what you see. TV is primarily about video and todays HDTV is video centric.
The audio is there but not allowed to escape via the inadequate internal TV speakers. The same is true for laptops.

Solutions to better audio are varied, from wireless headphones to soundbars to home theater systems.
Stereo amplifiers or powered speakers can be connected to your TV or laptop for superior sound and extended positioning using audio cables and adapters. You just need to know what sound output ports your sound source has available. For example, many HDTV's today have stereo RCA audio output and/or Aux audio output (3.5mm). Laptops have an earphone output (3.5mm) for private listening which can be used for external speakers or an amplifier. Then your powered speakers or stereo receiver will have RCA stereo inputs or a 3.5mm stereo input jack.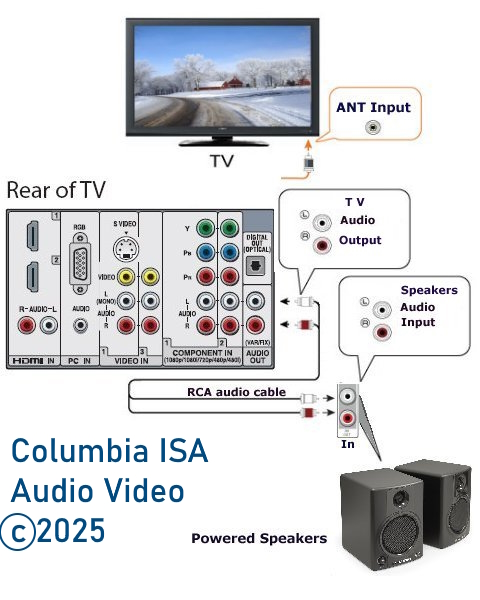 Hookup diagram for powered external stereo speakers for HDTV sound.
The speakers have a built-in amplifier. Speakers have an A/C wall plug.




The 3.5mm connector is on top in the image above. This is also called 1/8in. and consists of a stereo connector which plugs into the HDTV or a powered speaker Aux input. The red and white RCA connnectors form a stereo sound connection just like the 3.5mm connector only using physically different plugs.



Some HDTVs have only the RCA (white and red) audio outputs on the rear panel while others have a 3.5mm AUX audio output.
Some have both RCA and 3.5mm as well as a digital audio output for surround sound. Some HDTVs have no audio output at all. In this case you may be able to use your Cable TV or Satellite TV set top box to connect audio to speakers or use a DTV converter box (around $40) or if your HDTV is ARC capable, use HDMI cable connection to a ARC capable Audio/Video Receiver with attached loudspeakers. ARC is the Audio Return Channel, part of the HDMI specification.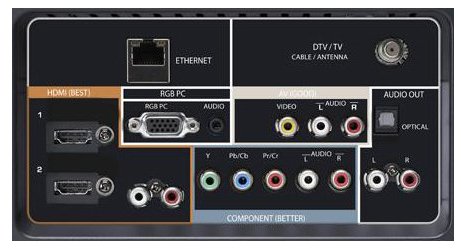 The above HDTV rear panel has RCA white and red analog audio output and an optical digital audio output.
These jacks are on the far right side lower (Audio Out).



There are adapters available for RCA or 3.5mm stereo audio hookups so that you can swap and match your jacks on your TV or speakers.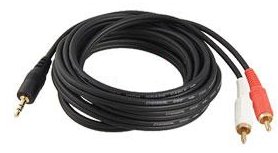 By using adapters and extension cables, you can position speakers away from the laptop or TV. Powered speakers with a volume control allow you to adjust the sound level. This setup may allow the elderly to hear the TV sound better by positioning the speakers next to their viewing chair.



Extension cable for 3.5mm audio - cable increases distance. Can also be used for laptop connection to powered speakers.




Laptop hookup to external stereo speakers.
Use earphone jack on laptop and adjust volume on laptop and speakers.



Cable RCA to RCA stereo 50 feet.

With a wired hookup, you can add distance easily by using audio extension cable with 3.5mm male plug at one end and a female 3.5mm connection at the other end. Several of these cables can be hooked together for longer distances.








What about cable TV and my older TV with no audio outputs?

Older TVs with no audio output or no earphone out can use a VCR as audio output.

For analog cable TV, connect the cable to your VCR antenna input and connect another coax cable from the VCRs coax output (round silver jack) to your TV as normal. Most VCRs also have RCA output jacks, either white only or white and red for stereo sound.
Connect a RCA audio cable (white / red) from the VCRs out jacks to the white / red input jacks on the powered speakers.





For anyone with a cable box, analog or digital, you can connect the RCA audio cable from the cable box white and red RCA outputs to the powered speakers RCA inputs.


See also:
• How to transfer/copy LP vinyl records to computer / burn CD
• How to buy a PrePaid Cell Phone
• HDTV Antennas and Reviews
• PC to stereo hookup
• Windows Sound Recorder
• Bluray Basics


• Toslink optical audio cables

• What you need to know about jewelry
• How to tell a diamond is real


• See over 100 Hookup Diagrams

• Timer Record Radio Shows on a VCR

• TV too loud?

• FM transmitter for TV sound

• Camcorder hookup to TV, DVD

• Camcorder Buying Guide

• Compare video editing software

• Audio Video Connections
• Video Cables Connections
• Hookup Diagrams

Contact: columbiaisa@yahoo.com



Contact Columbia ISA


POWERED SPEAKERS for PC or TV sound

http://www.m-audio.com/products/en_us/MAudioAV40.html

http://www.m-audio.com/images/global/manuals/AV 40 User Guide_EN.pdf

USER Manual for the AV40 powered speakers


Behringer MS40 Powered Speakers

Behringer ms40 studio monitors are 24-bit/192 khz digital 40-watt stereo near field speakers. these compact, super-affordable 2 x 20-watt near field monitors feature ultra-high resolution 24-bit/192 khz d/a converters, which let you connect digital sources directly in order to eliminate analog line-loss and hum. connect your computer sound card, keyboard, mp3 & mini disc players and enjoy excellent detail and great dynamics—optical and coaxial inputs to directly connect digital audio sources by s/pdif interface! the built-in amplifiers offer plenty of headroom, while the powerful woofers and tweeters provide an ultra-linear frequency response. two stereo analog inputs featuring 1/8- inch trs and stereo rca connectors can be used simultaneously or mixed with a digital stereo source. the speakers also feature individual volume controls for both line inputs plus bass and treble eq controls, and there is a 1/4- inch trs headphone connector with a front-panel auto-mute loudspeaker function.
http://www.behringer.com/EN/Products/MS40.aspx





DIGITAL MONITOR SPEAKERS MS40
24-Bit/192 kHz Digital 40-Watt Stereo Near Field Monitors

2-way active studio monitors ideally suited for computer studios, audio and multimedia workstations and keyboard monitoring
Built-in powerful 2 x 20-Watt amplifiers with immense headroom
Powerful woofers and high-resolution tweeters provide an ultra-linear frequency response
Ultra-high resolution 24-bit/192 kHz D/A converters for an incredible dynamic range
Optical and coaxial inputs to directly connect digital audio sources by S/PDIF interface
Two stereo analog inputs featuring ⅛'' TRS and stereo RCA connectors can be used simultaneously or mixed with a digital stereo source
Individual Volume controls for both Line inputs plus Bass and Treble EQ controls
¼'' TRS headphone connector with auto-mute loudspeaker function easily accessible on the front panel
Magnetically shielded for placement near computer monitors
High-quality components and exceptionally rugged construction ensure long life
Conceived and designed by BEHRINGER Germany

The MS40 features unrivaled connectivity, including stereo 1/8" and RCA jacks, which can be used simultaneously or mixed with a digital stereo source. Digital duties are handled by either RCA or TOSLINK sockets, providing for ultra-simple hookup. Individual volume controls for both Line inputs plus Bass and Treble EQ controls are provided on the front panel, along with a 1/4" headphone jack that automatically mutes the internal speakers.
Altec Lansing BXR1220 2.0 Speaker System
The BXR1220 speakers draw power from your computer via its USB port, so you don't need to free up an outlet. The speakers are a perfect way to improve the sound quality of your laptop's speakers, with no extra power cord to pack when you want great sound on the go.




The BXR1220 uses your USB port for power while the 3.5mm plugs into the audio output port.


WIRELESS SPEAKERS

Wireless speakers usually have the following setup:




TV Ears has a variety of products to help you with sound from your TV such as the wireless 10380 product. It comes with everything you need to convert your TV sound to something you can hear much better and gives you flexibility for additional capability. Place the receiver/speaker next to your TV viewing position. You can be virtually anywhere in the room. Connect the transmitter to your TV or cable box audio output. You have only a single knob to power on the speaker and adjust the volume. You can cut off annoying commercials with a twist of the volume knob. You also have an earphone jack for private listening. You can also connect iPod music players, laptop or other 3.5mm devices to the speaker. Range is good for up to 50 feet. Weighs only 3 lbs. Approximately 11 in. by 6 in. by 4 in.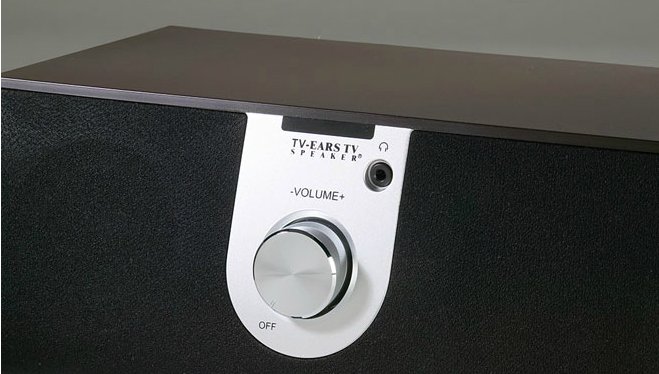 TV Ears 10380 wireless System Includes:
TV Ears Wireless Speaker
Speaker AC Adapter
TV Ears Transmitter
Transmitter AC Adapter
6 ft. Audio Cord
25 ft. Extender Cord
3 ft. Auxiliary Cord
Set of Ear Buds
Call 1-888-883-3277 for help.
The TV Ears Speaker does not need an amplifier, control console, or complicated installation. The TV Ears transmitter plugs into your television, cable box, or satellite box's audio-out ports and sends audio via Infrared light to the speaker up to 50' away.
http://www.tvears.com/TV-Ears-Wireless-Speaker-System