Columbia ISA home – › Wiring Diagrams

SEARCH *** Columbia ISA Audio/Video



o How to Choose a Smartphone

Audio/Video switch box

A video switch box connects multiple video devices, such as DVD players, VCRs, video game systems, camcorders, satellite TV systems or cable boxes, to a TV or audio system. The box allows you to switch different video sources into your TV. Your TV only has to have one input. By switching the box to the desired video source, you can select the video device you want to use at the current time while maintaining connections for all other video devices. No more swapping cables.

Video switch boxes come in various styles with some having automatic switching capability. Some have a built-in RF modulator and RF hookup. There are switches for composite, S-video, component video, DVI and HDMI video/audio. Some boxes are even remote controlled. The cost for the composite video level box is very low and they are available at electronics retail stores or online.




Works with any device that has an RF, composite video, S-video or audio output
Some will automatically switch to the input that has a signal
A "RF" modulator allows you to connect DVD players, VCRs and video game systems to older TVs that only have a 75-ohm RF antenna connection
Front inputs are especially convenient for quick connection of a camcorder, digital camera or video game system
composite video inputs (RCA-type connections)
S-video inputs
RF input
stereo inputs (RCA-type connections)
Composite video output
S-video output
RF output
External AC adapter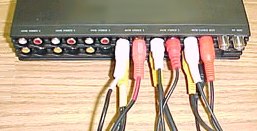 The yellow video cable and the red/white audio cables connect your devices to the video switch box.






Buy from Amazon.com

Google search for Philips video switch box images




Philips video switch box/RF modulator with 4 RCA 3-cable inputs (with S-video)
and 1 RF input with 1 RF and RCA (Phono) outputs to TV.
Selectable switching from automatic to manual.
• Switch box





See also:
• PC stereo hookup
• Windows Sound Recorder
• VCR Recording
• VHS to DVD
• VCR to PC connection external




Got a question? Audio Video Forum


• HDTV Hookup Diagrams

• TV input select

• Timer Record Radio Shows on a VCR

• TV too loud?

• FM transmitter for TV sound

• Camcorder hookup to TV, DVD

• Camcorder Buying Guide

• Compare video editing software

• Audio Video Connections
• Video Cables Connections
• Hookup Diagrams

Columbia ISA


Empowering consumers thru information