HDTV Antennas and Reviews

• How to hook up a Plasma or LCD HDTV
• How to hook up a Cable TV box
• Cable TV - Cable Box Setup

• Cable TV - Cable Box Setup Scientific Atlanta 4250HDC
• Surround Sound over HDMI
• Surround Sound - How to Hookup
• OLED TV Displays

HDTV Antennas

A UHF/VHF antenna is all you need for HDTV reception. That's right, the same old TV antenna of the past. A TV antenna made for analog TV will work fine for Digital TV and that includes HDTV. There is nothing different about an antenna for Digital TV or HDTV. Many people have labeled their antennas HDTV Antennas as a marketing ploy. The honest antenna makers have had to re-label their products likewise to avoid losing sales.



Try Using Your Existing TV Antenna First. If your television received good quality reception on analog channels 2 thru 51 with a broadcast antenna, it should be able to receive digital television (DTV) signals, including high definition television (HDTV) signals, with the same antenna. You do not need to purchase a "DTV antenna" or an "HDTV antenna" to receive DTV or HDTV signals.

Over-the-air (OTA) HDTV - FREE HDTV for your local area

High definition television is free when received over-the-air. You can watch amazing 1080i resolution broadcasts over the air for free, and get better quality for the same channels than through a paid satellite, cable or other DTV subscription. All you need is a high definition TV set with a built-in HDTV-ATSC tuner and a UHF/VHF antenna. Of course you will only get local TV channels as over-the-air TV broadcasts are transmitted from towers in your area and limited to 70 miles or so for reception.

There is No Such Thing as an HDTV Antenna

A TV Antenna is a piece of hardware designed to resonate at a specific frequency and to be responsive over a range of frequencies. TV antennas are designed to work either in the range of Ultra High Frequencies (UHF), Very High Frequencies (VHF) or both. Any TV station transmitting within an antenna bandwidth, i.e. the VHF/UHF frequency range, can be picked up by the antenna and transferred to the TV set.

All television broadcasts, digital and analog, high definition and standard definition, are in the VHF and UHF frequency bands. That means your old TV antenna picks up the very same VHF and UHF frequencies as the new digital TV, including High Definition TV, uses for broadcasts. Therefore there is NOTHING different about TV antennas for HDTV, although the advertising hype may try to make you think there is something different. What makes a signal HD is its content, the way a signal is modulated, and not the carrier frequency it is transmitted on. For a TV antenna, only the frequency matters, not the content.



There is nothing new about a TV antenna that is used to receive HDTV signals. Your antenna doesn't care whether the signal is high definition, standard definition, digital or analog. It has absolutely no idea what the signal resolution is, or whether the signal is analog or digital.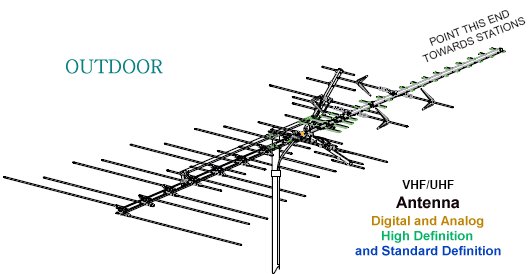 The antenna above is a combination VHF/UHF TV antenna. The UHF portion is in the front and smaller than the VHF rear portion.

Digital TV is much more noise immune than analog television and can produce high quality video at significantly lower signal-to-noise ratios. So in principle, if analog and digital stations transmitted at the same power, you would need less antenna gain and could tolerate higher noise levels to receive free digital TV. All in all, antennas with similar directivity/gain properties should receive analog and digital broadcasts equally well. If an antenna can handle an analog signal, it can handle a digital signal as well.

"HDTV antenna" is nothing but hype. Don't be fooled by ads promoting HDTV antennas and HDTV optimized antennas. These antennas are HDTV antennas indeed, but to no lesser extent than they are "SDTV antennas" and "NTSC antennas". All of them are just TV antennas which receive VHF and UHF.

What is a TV antenna?
There is nothing special about a TV antenna which picks up HDTV signals. Associating high definition with a TV antenna is just a marketing spin that takes advantage of the fancy buzzword to increase the old-fashioned antenna sales.

How much should you spend on a TV antenna?
High definition televisions today can easily run a thousand dollars, with the cables taking another bite out of the budget. Antennas on the other hand are much less expensive but nevertheless essential in getting good video on your TV. Typically, a high quality outdoor directional antenna can be found in the $50 to $120 range. And when the differences between the superb antenna and the junk are that small, go for the best! After you have already spent a lot of money on the HDTV set, you want to get the most out of it.

Indoor vs. Outdoor
Outdoor antennas are recommended, especially if you live in an area that may be remote in regards to TV broadcast towers. However, if you live in an urban area or one that is greatly saturated with broadcast signals, then an indoor antenna may work perfectly well. Indoor television antennas are also encouraged for anyone who may not feel comfortable with accessing their roof and installing a TV antenna. Furthermore, indoor antennas do not take the environmental punishments that outdoor antennas take, so the indoor versions generally last longer.



UHF vs. VHF antennas
Over 90% of Digital TV broadcasts are on the UHF band. Unless there are TV broadcasts on the VHF band in your area, don't bother with VHF antennas. These antennas are typically of much bigger size, more expensive and more difficult to install. In principle, you can buy a VHF/UHF antenna to cover both bands, but keep in mind that such an antenna is always a compromise. By designing the antenna to cover a large bandwidth, performance is sacrificed on each one of the bands, especially on the VHF band. There are also VHF/UHF antennas that are built of two separate UHF and VHF antennas stacked together.

Directional vs. Omni-Directional
A Directional TV antenna is a must in remote areas where a signal is weak. If you want to pick up signals coming from different directions you need either two directional antennas or an antenna rotator. Omni-directional antenna should be preferred when the reception conditions are good and the signal is strong. With an omni-directional antenna you don't care which direction the signal comes from.



What you should know before buying a TV antenna.

There is no such thing as an HDTV antenna! The first thing to know is that there is no such thing as an HDTV antenna. Without going into a technical discussion, the bottom line is that the only reason you see HDTV antennas in the marketplace is because it sells better.

Outdoor HDTV antennas: directional vs. omni-directional (or multi-directional)
Directional antenna can certainly pick up TV signals from more distant towers. However, as the name implies, a directional antenna should be aimed in a particular direction. Directional antennas are perfect for you if the transmitting towers of all networks you want to watch are located more or less in the same direction from your location. Otherwise, you may end up with the powefull antenna receiving only one TV station. Of course, if you are really far from the towers you have no choice but to use a directional antenna and sometimes several directional antennas if you want to receive broadcasts from different sites.

Antenna Installation

Outdoor TV antennas have to be installed, generally on your roof or in your attic if possible. This means you have to tighten nuts, insert clamps, ground the antenna and in general mess around up on your roof. If this is something you cannot tackle or prefer not to take on, its best to call a professional and pay them to do this. Just make sure you call a known technical expert at installing TV antennas. You do not want any extra holes, bad wiring or damaged pieces anywhere in your setup.

Although rare, lightning strikes, either direct or indirect can cause major problems. Outdoor antennas require proper grounding. If you have prior warning, it is a good idea to disconnect the antenna feed to your expensive TV set. Otherwise you may find your TV will not work anymore after the storm has passed. Disconnect the power cord and the antenna connection on the TV. No lightning protection setup will absolutely guarantee your audio/video gear will be safe from a strike. You can buy surge protectors which may help sometimes.

Many factors affect good TV reception

You've generally got to do your homework when buying a TV antenna. Knowing where all your TV transmitting towers are located in relation to your antenna is very important for good reception. Knowing if they transmit UHF or VHF determines what antenna you buy. Knowing their distance from you also is a factor. Other factors include cable quality from the antenna to your TV set and interference issues.

Tools for finding the above factors

Antenna Selection Tool

Finding your Location tool

The link above Displays all TV stations available in your area, and generates an antenna recommendation using a sophisticated algorithm which takes into account your location, TV stations power and frequency, antennas directionality and gain.

FCC.gov TV stations locator - helps you see what TV stations are in your area
• www.fcc.gov antenna maps locator

Enter your Zip Code or City in the box provided on the above FCC web page
Shows you a local Map with TV stations, channels, UHF or VHF, call signs, signal strength
Click on your TV station's call sign to show direction and location of TV transmission towers

• Antenna Help - Dennys antenna

Top rated antennas and reviews

• Antennas Direct DB2 Multi Directional HDTV Antenna - $40 with 30 mile range and multidirectional. Indoor or Outdoor. Rating 5 Excellent.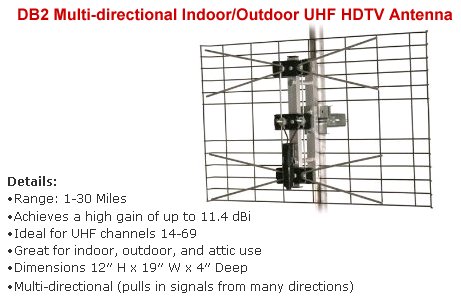 I did all the research and decided on this HDTV antenna. The DB2, DB4 and the DB8 bow tie are all good. Well worth the money. Tracy D. New Jersey

I got more channels than I expected with the DB2 and great picture quality. Chris M. Dallas TX

See this link for more HDTV Antenna info from AntennasDirect.com

Winegard PR-9014
Winegard PR-9032
Winegard YA-6713
Winegard PR-5646
Winegard PR-7015


Winegard MS-1000 Antenna

Antenna - Winegard MS-1000
Placement - Outdoor
Directivity - Omni
Amplifier - No
Band Area - VHF/UHF Yellow
Average Rating - 5

Antennas Direct DB8 High gain UHF long distance HDTV Antenna.

Antennas are highly sensitive to position, direction, and things nearby that might interfere with the signals (trees, houses). So what works for me or your neighbor might not work for you. Even a slightly different location may have a huge effect on your reception. I would rate the DB8 5-stars. Construction and materials are good. Gain is good in my location. I live 50 miles from TV towers, If you have reception problems, a higher mounting location may work for you. Paul S. Seattle WA


Antennas Direct DB8 Bow-Tie UHF HDTV Antenna from Amazon.com - buy online

• •
Channelmaster 4221 Antenna

Channel Master 4221HD Multi-Bay UHF Short Range HDTV Antenna

4-bay Bow-Tie, 45 mile range, UHF channels 14-69, weight is 6 lbs., 33 H by 25 W inches. around $45.

I highly recommend the CM4221 antenna, good reception if pointed in the proper direction. Good range. I'm picking up almost every station available. Ryan M. Los Angeles, CA


Antenna Installation

The Best Antenna Location
* Higher is usually better. Six to eight feet above the roof should be adequate.
* Buildings or other obstructions shouldn't block the line-of-sight to the TV tower.
* The shorter the lead-in line, the less signal is lost.
* Avoid attaching the antenna to a working chimney.

Tips on TV antenna Installation

* Be sure the antenna is assembled correctly. Read the instruction sheet carefully.
* Check the area to be sure there are no power lines nearby that could touch the antenna, lead-in lines, or metal extension ladder.
* Ground the antenna mast electrically, using No. 6 or larger wire and standard ground rod to help protect the antenna and TV set from lightning.
* Masts taller than 10 feet need guy wires.
* If a separate UHF antenna is used, mount it 4 or 5 feet above the VHF antenna.
* Aim the antenna at the TV station tower.
* Experiment with antenna height and aiming, because a few inches can make a big difference. Have someone watch the set and report of reception quality as the antenna position is changed.
* Keep lead-in line free of splices and sharp bends.
* If a rotator is used, leave enough slack in the lead-in line for rotating the antenna.
* Secure twin lead to stand-offs or tape coaxial cable to the mast to avoid strain on antenna connections.
* Twist twin lead 1/2 turn per foot to prevent wind whipping and to reduce FM or other interference.
* Form the lead-in line into a half loop where it enters the house, so rain water will drip off. Seal the entry with a waterproof material.
* Excess line coiled in the wall or behind the set can cause signal loss and interference.


• More on TV antennas, TV broadcasts and TV antennas you can make yourself at home.

• HDTV antenna labs - Reviews of Antennas

• Glossary of Terms
• Surround Sound over HDMI
• Surround Sound - How to Hookup
• Cable connections for HDTV
• Calculate Screen size for HDTV
• HDTV Facts You Should Know About
• HDTV Buying Guide 2010