Sound solutions for today's HDTVs


• Surround Sound over HDMI
• How to hookup surround sound
• Surround Sound Glossary
• Blu-ray audio surround sound


2009 saw the introduction of Internet-capable HDTVs and also Internet-capable Blu-ray Players with Wi-Fi.

Samsung Blu-ray Player - Samsung BD-P4600

More Blu-ray Players -
• Sony BDP-N460 Network Blu-ray Disc player
• Sony BDP-S560 Blu-ray Disc player


• Learn about BD-LIVE
• Blu-ray Basics




Samsung BD-P4600 1080p Blu-ray Disc Player

* Plays Blu-ray high-definition discs (selectable output resolution: 1080p/1080i/720p signals available through HDMI output only)
* Built-in audio decoding to PCM for Dolby Digital, Dolby Digital Plus, Dolby TrueHD, DTS-HD and DTS-HD Master Audio Essential
* Netflix video and Pandora music streaming (subscriptions to these services required)
* Wi-Fi capable (includes wireless USB adapter)
* Wall-mountable (includes wall-mount hardware)


The design of the Samsung BD-P4600 is slim and sleek, just over an inch thick and the corners are rounded with some red highlights which match the Samsung HDTVs that have the Touch of Color design. This Bluray player also has a stand that is set up so that the player slightly slopes at a downward angle. Discs can be inserted in the disc slot located on the side of the player as opposed to the traditional front tray.

The buttons are all touch-sensitive. This design aspect allows the BD-P4600 to be mounted on the wall as well, a feature that is rare amongst the other Blu-ray players. While most of the hidden connections concealed by the plastic cover can be difficult to squeeze in wires, the USB port location is ideal for plugging in the free USB wireless dongle that it comes with to give it Wi-Fi connectivity and then close the cover again to totally conceal it from view.

The BD-P4600 boasts Profile 2.0 compatibility granting the ability to handle any Internet-enabled BD-Live features found in some of the later Blu-ray titles. It also comes with a free USB Wi-Fi dongle that conveniently plugs into the USB 2.0 port so the device does not need to depend on an Ethernet cable although there is still one supplied. It is okay for the USB port to be used as the BD-P4600 features 1 GB of onboard storage memory to store any BD-Live content that you might download from the Internet.

Even if the BD-Live functionality isnít used often, the wireless connectivity also lets people access the Netflix Instant stream service which can be used to download titles online. Pandora services are included as well for music lovers. It is also possible to stream media directly from other computers that have wireless access.

The BD-P4600 carries the same onboard audio decoding that the entry-level Samsung players have so people with an HDMI A/V receiver will be delighted to decode all their Dolby TrueHD and DTS-HD Master Audio soundtrack formats with optional bit stream output.

The unique design of the Samsung BD-P4600 Blu-ray player may not match all home theater setups. The wall-mounting capability and Wi-Fi support make this one of the more flexible Blu-ray players.




Features

* Full HD Playback with SD Memory Card Slot and USB Terminal
* One-touch control with one single remote control
* WiFi ready (wireless adapter included)
* Netflix/Pandora Streaming
* Compatible with BD-Live 2.0
* DivX SD/HD Playback
* Wall-mountable

Specifications

* Playback Media : BD / DVD / CD
* Playback Formats : VC-1, MPEG2, H.264
* Built-in Audio Decoders : Dolby TrueHD, Dolby Digital, DTS-HD decoder, Dolby Digital Plus
* DVD Upconversion : Yes (up to 1080p)
* Local Storage : Yes (1GB)
* Picture-in-Picture : Yes
* Output Resolution : 720p, 1080i, 1080p
* Dimensions: 18.2"W x 1.7"H x 7.7"D
* Weight : 4.2 lbs

Connectivity

* HDMI CEC : Yes
* Composite Video Outputs : Yes
* Component Video Outputs : No
* S-Video Outputs : No
* HDMI Outputs(Version) : Yes (1.3)
* Optical Digital Audio Outputs : Yes
* Coaxial Digital Audio Outputs : Yes
* Analog Audio Outputs : Yes (2-Ch)
* Network : Yes (WiFi Ethernet)

Instantly streaming movies and TV episodes from Netflix is done through a broadband connection and a Netflix Queue-based user interface. Netflix members visit the Netflix Web site to add movies and TV episodes to their individual instant Queues. Those choices will automatically be displayed on members' TVs and available to watch instantly through the Samsung players. Once selected, movies will begin playing in as little as 30 seconds. With the included remote control, Netflix members can browse and make selections right on the TV screen, read synopses and rate movies, and fast-forward or rewind the video stream.

Pandora Ready

The BD-P4600 can stream music though the popular Pandora music service. Enjoy a fresh way to discover new music and stay up-to-date with your favorite artists.

Wi-Fi Ready

Thanks to Samsung's proprietary Link Stick 802.11b/g/n wireless dongle (included), users can wirelessly connect to the latest Blu-ray features when the dongle is connected to one of the players' two USB 2.0 ports, or via the traditional wired Ethernet connection.

Analog/Digital Audio Out

Know what sounds great when it comes to your Blu-ray Disc player? Having audio output options. For picture-perfect audio there's the HDMI output. If you prefer analog audio, the player comes with a stereo RCA output for two channels of analog audio. An optical output is also included for the happy medium.

Firmware Upgrades

Your new Samsung Blu-ray Disc player won't be obsolete the moment you bring it home from the store. It's equipped with an Ethernet connection so you can download the latest firmware upgrade and add new features. If your player needs more local storage to take advantage of these features, simply plug in a memory stick with at least 1GB of memory into the USB port.

What's in the Box

Samsung BD-P4600 Blu-ray Disc Player, Wi-Fi dongle, 47-key Remote control, Batteries, AV cable (RCA type), User's Manual, Quick Start Guide

Samsung BD-P3600 Blu-ray Player

For many consumers the step-down BD-P3600 will make more sense as it is a more traditional design yet has the same feature set as the BD-P4600.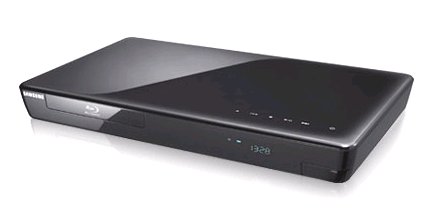 • See over 100 hookup diagrams
• Surround Sound
• Camcorder Formats
• How to choose a Camcorder
• HDMI Switch box
• VCR Basics
• HDTV
• How to connect DVD player in 10 easy steps

• HDTV Basic Setup

How do I hookup my DVD player using component video?

How do I setup my DVD player for surround sound?

How do I hookup my DVD player with DVI or HDMI connections?


More hookup options ...

1 | 2 | 3 | 4 | Next


COLUMBIA ISA
Empowering consumers thru information.
columbiaisa@yahoo.com