Does your TV have only an optical digital audio output, only an analog RCA stereo out or no audio output options at all?

Often, TV manufacturers today only offer an optical audio output, a stereo output or no output at all for sound from your TV.

Many people do not have an audio/video receiver with the capability to decode surround sound or have any audio device with an optical input.
So how do you get sound out from the TV to external amplifiers or speakers for richer audio?

Depending on what gear you have or are willing to buy, there are many options. Surround sound is available from a variety of sources
including over-the-air TV broadcasts, cable, satellite programming, games (XBOX, Playstation), Blu-ray discs, DVD, and more.
There are converter boxes, switches, adapter cables and more, all available to meet your audio goals.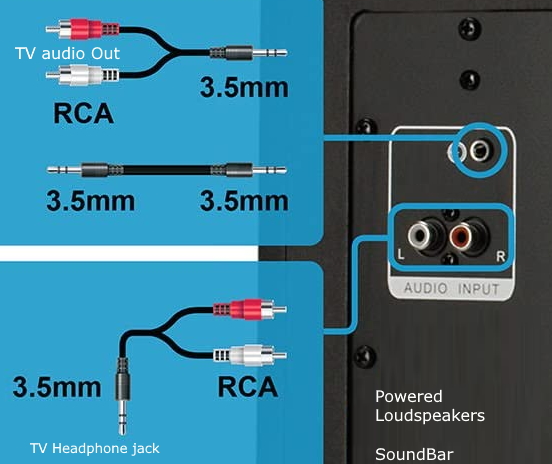 Audio Goals -



1. Get surround sound or stereo sound from TV to a soundbar, audio/video receiver, or stereo amplifier for richer sound.

2. Get surround sound or stereo sound from TV with no audio outputs.

3. Get sound from TV with only optical output - only using stereo amplifier.

4. Get sound from multiple A/V sources when TV does not have enough inputs.




HDTV REAR PANEL

Some HDTVs have both analog audio out and digital audio outputs but many TVs only have digital optical audio out using an optical jack. In the image above, the optical output jack is bottom right. It is labeled DIGITAL AUDIO OUT (OPTICAL). This is capable of surround sound or stereo (PCM). Some TVs have a 3.5mm audio output jack for stereo sound. Just above the optical, labeled AUDIO OUT.



Soundbar




Optical audio cable hookup is good for stereo or 2-channel audio or Dolby Digital 5.1, but not for more modern audio sound such as 7.1 or Dolby ATMOS.
The point is that as technology advances, HDMI will be the connection of choice as HDMI can handle every possible sound configuration from created sources in the near future.
Soundbars will not yield true surround sound. You need an Audio/Video Receiver for that with 6 or 8 loudspeakers or more.
However, a soundbar will indeed yield better sound than TV speakers. Remember to set the TV sound to the appropriate output using the TV menus.




The image above shows a closeup of an optical jack. You use a Toslink optical audio cable to connect to a soundbar or audio/video receiver or home theater optical audio input. This way you can get surround sound or stereo sound.

For the analog audio 3.5mm audio out, use a audio cable with either 3.5mm plugs at both ends or an adapter cable which has 3.5mm at one end and two RCA plugs at the other end to connect to stereo amplifier or receiver.

Soundbar for TV sound solutions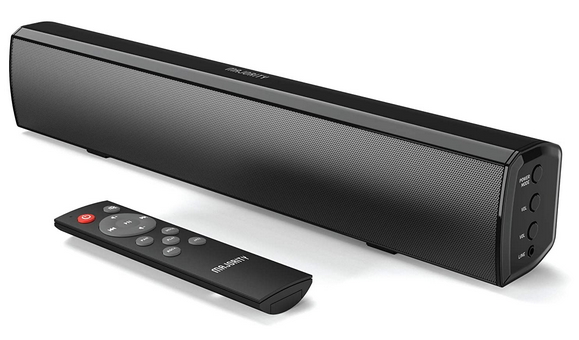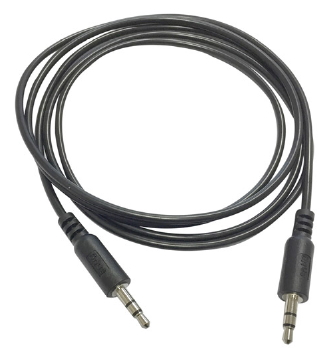 If TV has only RCA analog audio Outputs, use a RCA stereo to 3.5mm adapter cable to connect.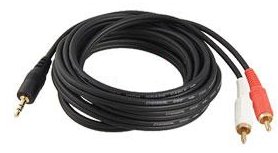 Diagram - TV Sound Output








Diagram - Converter box takes optical input and outputs to RCA analog audio. For TV with only optical audio output.






Use a DAC to convert TV optical audio output to a analog stereo input to amplifier or receiver for better sound from TV. Vintage stereo gear can use the AUX RCA inputs.



PROZOR 192KHz Digital to Analog Audio Converter DAC Digital SPDIF Optical to Analog L/R RCA Converter Toslink Optical to 3.5mm Jack Adapter

Set TV audio output to PCM





DIAGRAM - HDTV optical connected to SoundBar or Home Theater for surround sound.






TV has NO audio outputs

Solution 1: Use your Cable TV or Satellite TV receiver box.

If you are using a cable TV box or satellite TV receiver box to get your TV programming, connect the analog audio outputs (white and red audio OUT on the rear panel of the cable box) using a standard RCA stereo audio cable (white and red) to your stereo amplifier inputs or wireless speakers or other device.

The white and red analog audio outputs are next to the yellow video output. These analog outs are usually available on todays cable boxes for older TVs or VCRs but you can hookup cables to the analog audio outs only and get the sound for your TV show sent out to an amplifier and speakers. This also works for a DTV converter box when using only an antenna for over the air TV broadcasts. These converter boxes have RCA audio outputs to carry sound to an amplifier.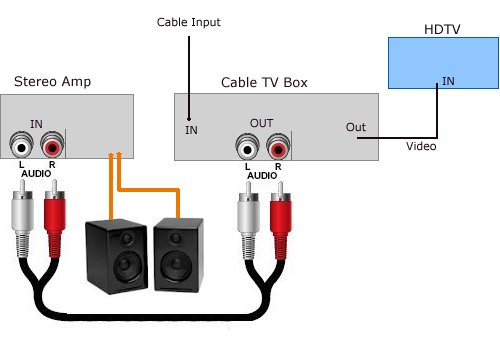 DIAGRAM - TV stereo sound from cable/satellite TV set top box



Digital Cable/Satellite TV set top box rear panel

Surround sound (when available) from the SPDIF output (7) can be used to connect to a soundbar or home theater if TV has no audio output. Usually requires a Toslink audio cable to connect.


Sometimes this solution works well and you do not need to buy anything.

Some issues may occur with this solution such as an audio delay. Your TV may have a feature to adjust audio delay but if it does not and you are getting an audio delay, then go to the next solution.

For DVD, Blu-ray, Xbox, Playstation sources, connect to A/V receiver via HDMI or optical audio.

Use an HDMI switchbox for multiple sources such as games, DVD, Cable/Satellite.

Monoprice HDMI switch box

Use this HDMI switch to access sound from all your sources, including cable TV or
game boxes and also a TV tuner box such as an ATSC TV tuner box. Just connect
the audio output on the HDMI switch box to your audio amplifier/receiver. Use the
optical audio or the HDMI output if your receiver has HDMI input, then run HDMI
cable on to the TV. You can also use a soundbar.



Diagram Hookup TV HDMI Switch box for sound




TV Tuner Box with ATSC, HDMI out





Viewtv At-163



ATSC Digital TV Converter Box and Media Player w/ Recording PVR Function / HDMI Out / Coaxial Out / Composite Out / USB Input

http://www.amazon.com/Viewtv-Converter-Recording-Function-Composite/dp/B00GGVPKKC

http://www.viewtvbox.com/

Using this TV tuner box and a audio/video receiver, you can connect the HDMI or digital audio output from the tuner to the AVR and then HDMI to TV.

Solution 2: Use an ATSC TV Receiver box.

These boxes cost around $30 to $40. Connect a UHF/VHF antenna to the tuner box, connect an HDMI cable to TV and connect, typically a coaxial digital audio cable to a surround sound soundbar or A/V receiver. Or use the RCA white and red stereo outputs on the ATSC tuner box to hookup to stereo receiver and speakers.

These boxes usually record also to a USB thumb drive. Watch one program using big screen TV tuner while recording another show using the ATSC tuner box. These tuners will give you audio output if your TV will not. Usually these tuner boxes have surround sound outputs such as a digital coaxial which you can connect to a surround sound receiver.




Diagram - Use two TV tuners, one for richer sound or if TV has no audio output and one for viewing.



Solution 3: Use a HDMI audio extractor.




For more than one HDMI input device, use a HDMI switch box to connect multiple HDMI source devices.






Use an audio converter

. This solution involves an audio converter box which you will need to buy. Cost can be from $25 to $68 or so. These small devices will accept the optical cable connection from your TV and allow the stereo analog RCA output connection to your amplifier or other device.

There are some considerations here, such as:

Does the converter box actually convert the digital audio to analog or just pass whatever the TV is sending out from the optical output? Some converter boxes actually convert the digital bitstream to analog audio but others will only pass a PCM 2-channel signal to the analog RCA output.

If you see a warning regarding the audio converter box you intend to buy such as the example below, be sure your TV can output 2-channel stereo and not just 5.1 signals.

IMPORTANT NOTE! This device will NOT decode 5.1-channel signals. It will ONLY convert 2-channel digital stereo (PCM) input signals to analog stereo output. This will not work with TVs that only output 5.1-channel digital signals!

The best converters will convert surround sound to 6 channel analog audio. Look at the audio converter box. Does it have 6 RCA output jacks or just 2 RCA outputs?

The reason this is important is because some TVs do not have the option to output their audio as 2-channel PCM over the optical out, only as Dolby Digital 5.1, which needs to be decoded. Go into your TVs audio menu to check which audio output options are available.

If your TV has the option to output sound as 2-channel PCM or Dolby Digital 5.1, then you can buy a converter box with only 2 RCA outputs (although you may want to buy a box with 6 analog outputs). Set the TV to output PCM audio and connect a standard stereo RCA cable to the converter box RCA outputs and then to your inputs on a stereo receiver or other sound device.

If your TV can only output Dolby Digital 5.1 surround sound, then you need a converter box which can decode the optical bitstream to 6 channel analog audio.




Audio converter box which takes optical input and outputs 6 channel analog audio.

If you only have a stereo amp, only connect the FL (front left) and the FR (front right) cable connections.

Converter box with only 2 analog audio connections. This box does not convert the optical digital audio so you have to be able to give it PCM 2-channel audio.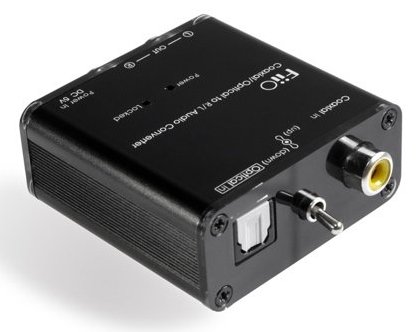 This box accepts optical or coaxial digital audio cables.


Audio converter box for 6 channel analog audio output.



There are also soundbars with optical inputs and wireless headphones with optical inputs that may offer a solution. Soundbars for your TV will give you some enhanced sound while headphones will allow private TV listening. You could also buy a home theater in a box system from Samsung, Sony, Onkyo or Panasonic. These have optical inputs and give you richer sound from loudspeakers. Just connect an optical audio cable from the TV to the sound system and start enjoying better sound than your TV speakers can produce.




• Turntable to PC hookup / record vinyl LPs to computer
• PC to Stereo hookup - how to play computer thru sound system
• Audio cassette to computer hookup - how to record audio cassettes to PC
• PC stereo hookup



Question:

Is there a speaker which accepts an optical input?


Answer:

Yes. Behringer makes a stereo speaker setup with amp and DAC which has an optical input. See below.



Behringer Speaker MS40 Digital 40-Watt Stereo



2-way active studio monitors ideally suited for computer studios, audio and multimedia workstations and keyboard monitoring
Built-in 2 x 20-Watt amplifiers
Powerful woofers and high-resolution tweeters provide an ultra-linear frequency response
Ultra-high resolution 24-bit/192 kHz D/A converters for an incredible dynamic range
Optical and coaxial inputs to directly connect digital audio sources by S/PDIF interface

25.6 x 9.1 x 13 inches ; 21.3 pounds




Rear of Behringer Speaker - Optical Input and Coaxial Input plus Analog Inputs



HEADPHONES for TV




Headphones for a TV has many uses including private listening, volume increases for older folks without disturbing others, mobile listening and more. There are basically three types of hookups, 1) wired, 2) wireless Bluetooth and 3) wireless RF. Wireless Bluetooth has some limitations such as about a 30 feet maximum distance of signal reliability and Bluetooth can suffer from an audio lag issue where the audio is not in synch with the video creating a lip synch issue. More expensive Bluetooth headphones can sometimes fix this problem. Wired headphones are also limited in distance and create a possible tripping hazard with the wire connection. Wireless RF headphones work up to 100 feet and do not suffer from audio lag.

Since TVs can have 3.5mm audio out, RCA stereo audio out or optical audio output, make sure to get a headphone transmitter unit with the proper connection to your TV. Connect the TV to the headphone transmitter unit using an audio cable. If the TV has only optical audio output, connect the optical cable only from the TV to the headphone transmitter unit. Next, set the TV to external speakers and the audio output to PCM. Headphones should have volume control.



Wireless RF Headphones with transmitter
Has 3.5mm, RCA and Optical connections.

Avantree HT280 Wireless Headphones for TV Watching with 2.4G RF Transmitter Charging Dock, Digital Optical System, High Volume Headset Ideal for Seniors & Hearing Impaired, 100ft Range, No Audio Delay





Optical Cable for connecting TV to headphone transmitter





Audio Return Channel - ARC





ARC is a newer technology, part of the HDMI spec. Your TV must have ARC capability and the other devices such as soundbar must also be ARC capable. ARC lets your digital TV output digital sound to an audio device and input digital sound from the same audio device over a single HDMI cable. ARC is only available through the HDMI (ARC) port and only when the TV is connected to an ARC-enabled A/V receiver.

With ARC you no longer need to connect an optical cable from the TV to a soundbar or A/V receiver for sound. The same HDMI cable from the A/V receiver to the TV which carrys DVD, Cable, satellite, Xbox, Bluray can also carry, in the reverse direction, sound from the TV back to the A/V receiver. You can send audio from internal TV sources like the HDTV tuner, or built-in web streaming apps to home theater, soundbar with HDMI.

Send out the audio from other HDMI sources as the TV becomes the central hub.
The TV switches all the sources, and the audio for each one (Blu-ray player, cable box, etc), would get sent to a soundbar or Home Theater. If your TV has ARC already, you'll just need to get a soundbar, HTIB, or A/V receiver that also has ARC.
HDMI cables needed:


An Audio Return Channel-enabled TV allows you to send audio over an already connected HDMI cable. Typically, in order to transfer audio from your source (TV tuner) to your home theater you would need a separate audio cable (analog audio or digital optical) going from your TV to the home theater. With the ARC function, you can send any audio from your TV back to an ARC enabled home theater receiver and listen to your TV's audio through the home theater system without having to connect an optical audio cable.



These are one example of the steps to enable ARC (Audio Return Channel)
Make sure your

audio

receiver is

ARC

compatible and that your HDTV is

ARC

compatible.
Ensure that you have an

HDMI

1.4

high-speed cable that is multi-directional.
Use

HDMI

1 or HDMI (ARC) on your TV. This will need to be plugged into the

HDMI

OUT of the audio video receiver.
MENU - Sound - Digital

Audio

on your TV, change to Dolby Digital.

MENU - Sound - Turn off the TV internal speakers.

Turn CEC on.

Ensure the receiver is in TV control and is in discoverable mode.

(You may have to reference the user manual for your receiver)

Search for the device under CEC menu

This will unlock System

Audio

Control (under CEC), turn to ON.
Connecting a TV compatible with the Audio Return Channel (ARC) function via an HDMI connection.


Diagram ARC for TV sound


If your TV supports the Audio Return Channel (ARC) function, set the receiver by the following procedure to output the sound of the TV from the speakers connected to the receiver.
Select [

Settings

] - [

HDMI Settings

] from the home menu.
Select [

Control for HDMI

].
Select [

On

].

HDMI Switch Box
Some HDMI switch boxes have ARC
Hookup Diagram for HDMI switch box