Internet - High Speed Wireless Broadband



• Surround Sound over HDMI
• How to hookup surround sound
• Surround Sound Glossary
• How to add great sound to HDTV - Sound Bar
• home theater receiver
• home theater in-a-box
• Cable Guide
• Routers
• How to install cable/dsl modem
• How to setup wireless USB adapter for a desktop PC
• How to setup wireless Internet for Blu-ray Player

• Car Insurance Companies, what you should know before buying insurance

How to setup wireless broadband internet service

Setting up wireless internet in the home is something that many are doing today and sometimes doing it all themselves to save cost. You can buy a wireless router for $50 that will do the job. A modern laptop computer already has wireless built-in and the monthly cost for home broadband service is less than the cable/satellite TV programming charges. Your provider will give you a modem or you can buy your own. You just need to connect and then configure the router.


Basic Summary of step by step to setup wireless internet at home

1. Call your service provider to sign up for broadband internet service.
2. Get your modem, splitter and all cables for connections.
3. Hookup splitter so TV signals and internet signals are going to the proper destinations.
4. Connect Modem to cable coming into the home from splitter.
5. Connect wireless router to modem using one ethernet (Cat 5 or Cat 6) cable.
6. Setup the wireless router. (Password, wireless security etc.)
7. For each computer you plan to use, setup for wireless connection.
8. Power on modem, router and computer and connect wirelessly to internet.



High-speed Wireless Internet at home

How to setup Wireless broadband internet at home

Broadband internet service is available from local internet service providers such as your cable TV company or phone company. Providers such as Comcast, Charter, Cox and Time Warner Cable offer broadband internet service. Cable TV providers and telephone providers offer multiple services including television, telephone and internet. Sometimes you can save monthly costs by getting all three services together in a bundle.

Cable TV providers have been around for decades offering a coaxial cable connection into your residence for TV programming. Now this same coaxial cable, typically an RG-6 coax cable, can carry high-speed internet along with TV programs. You need to sign up for high-speed internet service with a provider. Broadband Internet will be offered at various speeds with increasing cost for faster data transfers. Speeds of data transfer will be around 10 Mbps or 20 Mbps or faster for downloading and 2 Mbps or faster for uploading data to the internet.

The provider may offer to send a staff worker out to your residence to install your hardware for a fee. If you are handy with current technologies, sometimes you can save cost by doing it all yourself. This is particularly true with cable TV companies. Telephone companies can sometimes get complicated and require a technical person to do the work.



Basically you will get a cable modem (or DSL modem from telephone companies), signal splitter and connecting cables. Then you connect your computer to the modem. Connect using a wired (ethernet) cable. This allows internet connection but not wirelessly. To add wireless capability you connect the modem to a wireless router and your wireless capable computer to the wireless router which uses radio signals to send and receive data to/from your computer. The modem must be compatible with your provider's network, it cannot be just any modem.

Your provider will give you their modem or you can buy one yourself if you are sure it will work. One advantage to using your provider's modem is that as technology changes, you can swap the old modem for a new one. Cable modems from your cable TV provider are not hard to install and many people can do it themselves.



Cisco 2100 Cable Modem Front and Rear panels






Combination internet and digital telephone Modems



These modems have both telephone and internet connections. Your standard RJ-11 plug for landline phones and the RJ-45 ethernet connection plug into the rear of the modem which also has the coax cable connection.



Phone and Internet Cable Modem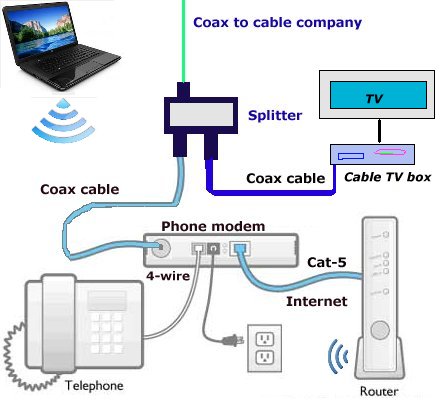 Diagram - TV, Internet and digital phone setup connection diagram

More about Digital Phone


Connecting a modem to your existing wiring is the first step towards going wireless. The modem manages data to/from your provider (your local cable TV company) and can connect to a wireless router for internet access anywhere in your home. Think of the modem as a bridge between your computer and the provider. The modem takes digital data from your computer and translates into the required signals the provider's system uses and also tunes in signals from the provider and translates into digital data for your computer.

The cable modem actually looks for a specific TV channel coming across the coax cable. This channel is used for internet traffic instead of TV programming. Your provider has at their end another modem which has to take the signals from the coax cable and translate them into digital data and forward them to the internet.

The modem plugs in to your house A/C wall outlet and will initialize on its own when powered on. The cable modem above has 5 LED lights to indicate its status.



1. - POWER shows the modem is plugged in.



2. and 3. - DATA Send and Receive will blink when data is being transmitted.

4. - CABLE will blink as the modem talks to your provider and will stay on when fully linked.



5. - PC will blink when a connected computer is operating.





Cable Modem User's Guide

Internet at home - Wireless Broadband from your cable company

Your internet data and your TV signals travel over the same cable until split in your residence. A signal splitter takes the cable from your provider and splits one RG-6 cable into two. TV signals go over one RG-6 cable to your TV and internet data goes over the other cable to your modem, router and computer. Signal splitters are inexpensive and are usually provided when you signup for internet service with your local provider.

The cable out of the splitter for internet data is connected to a cable modem. Again this small device is usually provided by your internet service provider. The cable modem has a port for the cable (RG-6) and a port for an ethernet (RJ-45) cable which connects to your computer or a router. You can connect a single computer using an ethernet cable or you can connect a router using an ethernet cable. The router allows multiple computers to use internet services and a wireless router allows multiple computers to locate around the house without wires and be on the internet. Most laptop computers today have built-in wireless adapters. USB wireless adapters are available for desktop computers.

Broadband is fast and always on plus wireless gives you freedom from cable connections. Wireless routers are sold using a standard called IEEE 802.11 and as revisions and improvements are made, sometimes it is enough to rename a standard with a letter. So you will see IEEE 802.11b which is an older standard, 802.11g which has been current but has been upgraded to 802.11n in 2009.

IEEE 802.11 Wireless Standards



Setup diagram



Basic diagram for wireless internet service in the home




Ethernet cable

- The cable connection from cable modem to router is done using an Ethernet cable. These cables are like
the old telephone modular plugs, square looking plastic plug, only ethernet cables have more wires and have a bigger plug.
Cables are not costly, 50 feet for $9 is common. Shorter cables can cost only a few dollars. Currently the standard to
buy is called CAT6. Older ethernet cable standards were CAT5 and CAT5e.



Close-up of an Ethernet cable





Wireless Routers

Routers today are available from companies like Netgear, Belkin, Cisco/Linksys, D-Link, and others. Wireless routers operate at certain speeds and have features which allow you to fine-tune how you want your network to operate. Security is one aspect you need to address so that your signal will not be stolen by unauthorized users. Wireless routers operate in the 2.4GHz range of the radio spectrum with 5GHz being offered on some routers. Speed of data transfer to/from wireless routers are 54Mbps and faster.

You can buy a new wireless router today for $50 with enough capability for all but the highest level of data transfers. If you want to stream HD video you may need to spend $80 for a top notch router.



Buy Netgear WNR2000 wireless-N Router from Amazon.com


NETGEAR Wireless-N300 Router
Package Contents
N300 Wireless Router (WNR2000v3)
Stand
Ethernet cable
NETGEAR Genie™ installation CD
Power adapter, localized to country of sale

Warranty 2 Year Manufacturer Warranty

System Requirements
Broadband (cable, DSL) Internet service and modem with Ethernet connection
802.11 b/g/n 2.4 GHz wireless adapter or Ethernet adapter and cable for each computer
Microsoft® Windows® 7, Vista®, XP, 2000, Mac OS®, UNIX®, or Linux®
Microsoft® Internet Explorer® 5.0, Firefox® 2.0 or Safari® 1.4 or higher
Use with an N300 Wireless USB Adapter (WNA3100) for maximum performance

Standards IEEE® 802.11 b/g/n 2.4 GHz
Five (5) 10/100 (1 WAN and 4 LAN) Ethernet ports with auto-sensing technology
Performance
Five (5) (1 WAN, 4 LAN) Fast Ethernet ports
Supports Wireless Multimedia (WMM) based QoS
Security Wi-Fi Protected Access® (WPA/WPA2—PSK) and WEP Double firewall protection (SPI and NAT firewall)
Denial-of-service (DoS) attack prevention Exposed Host (DMZ) for secure gaming
Ease of Use NETGEAR Genie™ installation CD Push 'N' Connect using Wi-Fi Protected Setup® (WPS)1

Physical Specifications
Dimensions: 177.5 x 130 x 35 mm (7 x 5.1 x 1.4 in)
Weight: 0.68 kg (0.88 lb)

Faster downloads and online gaming - Provides Wireless-N speed for simultaneous downloads, streaming voice and music and online gaming, in addition to basic Internet applications

Live Parental Controls - Keeps your Internet experience safe
Blocks unsafe Internet content and applications and can be managed from anywhere
Protects connected devices through the router such as PCs, gaming consoles, and iPod touch®
Guest network access
Provides separate security and access restrictions for guests using the network
Wireless repeater mode
Configurable as a wireless repeater for extending range
Broadband usage meter
Monitors Internet traffic and sends customized reports to help keep costs under control Jitter-free voice and gaming Automatic Quality of Service (QoS) for reliable Internet connections
Easy setup
NETGEAR Genie™ CD with graphical installation guide and multi-language support
Secured connection Push 'N' Connect ensures a quick and secure network connection
NETGEAR Green features Power and Wi-Fi on/off buttons, Energy Star-compliant power adapter and 80% recycled packaging

Router manual Netgear WNR2000 Wireless-N Router


SETUP HOME NETWORK - WIRELESS


After you hookup all the cables connecting modem, router and computer (ethernet) you need to power on the modem first and wait 2 mins. until the modem initializes and establishes communication with your provider. Next power on the router. The router will do the same as the modem so wait 1 to 2 mins. for it to come up to operational level. The router will have a wired connection available even if it is wireless, so you can connect your laptop/desktop computer using an ethernet wired cable.

If you have Microsoft Windows 7, Vista, XP or even Windows 2000 on your computer and you have current versions of Microsoft Internet Explorer or Firefox web browsers, you may notice that you can access the internet already. With the plug and play way todays software and hardware is setup, its easy to just go, it just works.

You can logon to your router using your web browser to make changes to the router's configuration. Indeed you need to make some changes. Enter the IP address provided by the router manufacturer in the browsers address bar. Read owners manual for this address. Enter 192.168.1.1 is one example. Enter 192.168.0.0 is another example.




Router login using your web browser




Next logon with a user name and a password.

admin

is one example of a typical user name and

password

is one example of a default password. This logon password obviously needs to be changed to secure your router. Usually you get a menu of things you can change. The SSID is one item you should change. Also you need to change your router's security so that your signals cannot be used by unauthorized persons.




Change your SSID name to something of your choice. This name will be assigned to all network devices using your home network. It will also show up as the name of your network in a list of connectable networks whose signals are strong enough to be used. You can choose to not have the name broadcast, adding additional security. Enter a passphrase of your choice. This will be used by any potential computer users to access your network. If someone does not know your passphrase, they cannot use your network.

Choose one of the security options to encrypt data (or choose none).

WPA-PSK (TKIP), WPA2-PSK (AES). Wi-Fi Protected Access (WPA) using a pre-shared key to perform authentication and generate the initial data encryption keys. The very strong authentication along with dynamic per frame re-keying of WPA makes it virtually impossible to compromise.

Wi-Fi security settings explained

Security enabled networks are more difficult to use without authorization. Always click APPLY to save changes. Next click on SET PASSWORD and change the default password to administer your router. Write down your passphrase and password in a safe place so that you do not forget them over time.




Most often you will check the Automatic / Dynamic option to get your IP address, both for the internet IP address and the DNS IP address. Your IP addresses are assigned automatically from your Internet Service Provider (ISP).



Get HELP



Sometimes things need to be tuned and configured in order to work. Call your provider if you cannot resolve problems as they should be able to assist you. Also, if you buy a wireless router, you can usually call the manufacturer's toll free number for help.

Once your home network is setup, you can access it using media devices which have Wi-Fi capability. Go into the device's network setup menu and select AUTO or manually enter IP addresses. Often your network ID will show up as a choice for connection and you select your SSID and connect. Laptops with Windows Vista or Windows 7 will automatically connect to your SSID once you have connected the first time. This way you do not need to connect every time you use the laptop. HDTVs and Blu-ray players now have built-in Wi-Fi for internet connectivity. Go into Settings, then Network, select wireless and AUTO. Often it is that easy to get connected to the internet.

Netgear Video on router setup

Router setup
Router manual from Netgear - how to setup Router



How to Set Up a Wireless Router on Windows 7 Windows 8


If you have a router labeled with a Windows 7 logo and you are using Windows 7, setup should be easy. Follow the steps below.

Set Up Your Wireless Router on a Windows 7 PC

1. Connect the wireless router to the modem using an ethernet (CAT 6) cable.

2. Connect the wireless router to a power source. Wait two minutes, and then continue to the next step.

3. Click the network icon in the notification area; the icon should look like a series of vertical bars, or a tiny PC with a network adapter alongside it.

4. Select your wireless network from the list of available networks to complete the setup process. By default, your network name will be the name of your router manufacturer.



You can either setup the router with A: or B: below.





A: Set Up Your Router Using the Setup Software



1. Make sure that your wireless router is completely disconnected from the modem, the computer, and the power source.

2. On your PC, insert the disc that came with your router, or download and run the latest version of the router's software from the vendor website.

3. Follow the on-screen instructions. The setup routine will ask you to connect components (including your modem and PC) in a certain order, and it may request that you temporarily connect your wireless router to a computer via an ethernet cable. You will also create a wireless network name and password at this point.



B: Manually Configure Your Router Without Setup Software



1. Connect your wireless router to the modem, using an ethernet cable.

2. Connect the wireless router to a power source. Wait two minutes to ensure that your router is fully operational.

3. Connect the wireless router to your computer using an ethernet cable.

4. Log in to your router's Web interface by opening a browser and entering the IP address of your router into the address bar. The IP address should be listed within your router's documentation; if you can't find it, most routers use a common IP address such as http://192.168.1.1, http://192.168.0.1, or http://192.168.2.1.

5. Enter the default username and password, which you should find within your router's documentation.

6. Use the Web interface to set up a network name and password.

7. Disconnect your computer from the wireless router and then reconnect wirelessly.

Caution: Be sure to use a password to protect your wireless network.


WiFi Internet



Eliminates necessity of running LAN cable
Supports: IEEE 802.11b, IEEE 802.11g, Draft IEEE 802.11n
Dual-N Band: 2.4GHz or 5GHz
Security: 64/128bit WEP, WPA/WPA2
| | | | |
| --- | --- | --- | --- |
| | 802.11n(5GHz) | 802.11n(2.4GHz) | 802.11a/b/g |
| Streaming HD Video | Yes | No | No |
| Streaming SD Video | Yes | Yes | Yes |
| Music, Photo | Yes | Yes | Yes |

Other Wireless Devices:



SETUP BLU-RAY PLAYER with Wireless internet



Once your home network is setup you can add other wireless devices such as a Blu-ray Player to access internet content.

How does the Internet work?


Where to buy:

• Best Buy Stores
• Vanns.com
• Amazon.com
• ABT.com


• See over 100 Hookup Diagrams



• RF Modulators and DVD Connections.


More options for video and audio connections.


• Surround Sound
• Camcorder Formats
• How to choose a Camcorder
• HDMI Switch box
• VCR Basics
• HDTV
• How to connect DVD player in 10 easy steps

• HDTV Basic Setup

How do I hookup my DVD player using component video?

How do I setup my DVD player for surround sound?

How do I hookup my DVD player with DVI or HDMI connections?