Switching from landline to digital home phone

The traditional wired telephone has been the main communication method for American households for decades. Over the years many changes have taken place but recently, alternative methods of voice communication have begun to take the place of the old style telephone service.

The internet began to have an effect on the American consumer and communication technology beginning in 1995. Today, with cable TV, internet and other services linked into your home, the option to cut the cord with traditional telephone service is a reality and one that could save you money.

The question many older Americans have with this new technology is will it work as well as the old phone setup. In most cases the answer is yes. There are some considerations but generally, once established, digital phone service works well and should provide lower cost and additional features.

For those with landline phones, you may have noticed that the phone company is always increasing your rates and this makes you angry because you do not get additional benefits from the increased cost. It makes no sense to you. Why pay more and more for the same service. The phone company also has a bad way of charging you for every little feature and adding taxes, fees, charges and add-ons for any whim the state legislature inacts. It all gets passed on to you.

Some people today view the way out as using a cell phone only. For others, the answer is digital home phone service. For anyone with cable TV service from the old days, you know that there is a coaxial cable coming into your home which carries your TV signals from your cable TV provider. Lately your provider has been asking you about digital TV and indeed is easing you towards an all digital TV lineup. Well chances are your provider has a deal for you (bundle) which includes a digital home phone. Your cable TV company will be glad to get your business from the old phone company. Your phone conversations will go out over the same coax cable as your TV programming.



How to get started with digital home phone.



If possible, do not cancel your old phone service until well established with the new phone service. This way if anything needs to be worked out, you still have the old service. You can have both for a while since one service uses the old 4-wire (red, green, yellow, black) telephone cord and the other service uses a TV coaxial cable going out to the local cable TV company. Of course you may have to have a new phone number to do this. Sometimes you can keep your old phone number. When you feel comfortable with the reliability of the new phone service, cancel the old phone service and start saving money and getting great features such as unlimited long distance.

Call or go online to ask about getting digital home phone with your local cable TV company. Most major metro areas are served by Comcast, Cox, Time-Warner Cable or other companies. Depending on your existing setup, your cable provider will get your order going by asking you several questions and giving you some options on establishing service. For example, you can have the cable tech come to your home to setup your service or you can do a self-install and save money. The self-install requires you to pickup a modem and already have cable TV service. Also, the self-install may require a new phone number. The order will be setup and you should be given a date when phone service will be working.

You will get a modem which takes the analog voice connection from your existing phone and converts your conversation to digital. So your existing phone plugs into the modem with the same modular RJ-11 plug (4-wire) from the old days. The modem connects to the coaxial cable from your cable provider. A splitter is used to split off the TV programs from the phone conversations.

One of the best things about digital home phone is you can still use all your existing traditional phones in the home. This means your old speakerphone, wall phone and desk phone as well as cordless phones should still work. The new cordless phones have caller-id and should save in memory, all the latest calls by phone number so you can view who is calling you.



Self-install



If you currently have cable TV or broadband internet service from your cable provider, you may be able to do a self-install by going to a local office of your provider and picking up a phone / internet modem for digital home phone. A self-install kit includes a splitter, coax cable and the phone modem with power cord and telephone cord. The modem will allow both phone and internet/computer connections. If you have a wireless router, that will work as well.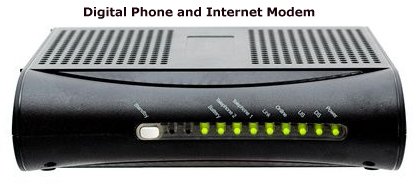 Your digital home phone and internet modem has green LEDs to indicate status. When the POWER light is on, the modem is plugged into an AC outlet. Right to left we have next, two lights, which tell when the modem is sending or receiving information. There is a light showing when you have an internet connection. There are two lights to indicate telephone 1 and telephone 2. The telephone 1 light is on when you have active service and a RJ-11 telephone cord is plugged into the rear panel TEL1 jack. When you pick up the telephone handset, this light will blink.



Rear Panel of Modem - on the left is 2 RJ-11 jacks to plug in your telephone line cord. There is also a RJ-45 jack to plug in your CAT5 Ethernet cable for computer or router. On the right is the coaxial cable connection which connects to your provider's coax cable going outside of the home.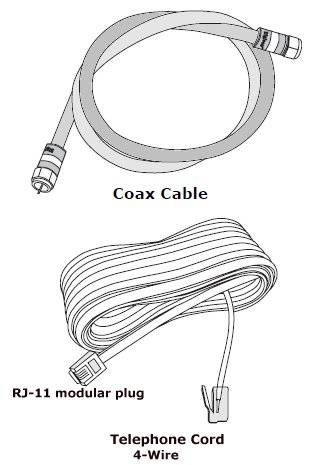 Cables and cords for installing digital home phone

Sometimes you can keep your old phone number if you want to, but you might have to get a new phone number if you self-install. To keep your old phone number you may have to pay the fee for a technician to come out to your home to install and get everything setup with the cable office. This includes porting your old phone number. Remember eventually your phone call has to connect to the main phone network in order to reach people with landlines only. So there needs to be coordination between the cable company and the traditional phone company. If you are assigned a new phone number, the local cable office should inform you what your number is when you pickup the self-install kit.

If the cable company follows through with your order execution, you should have phone service on the date listed on the order. If not call support at your cable provider or chat online with them if this option is available. Cable companies will sub-contract with other vendors sometimes for parts of a new install for digital home phone making for a complicated follow through, so be prepared to call support at your local cable company if you do not have phone service activated on the date specified.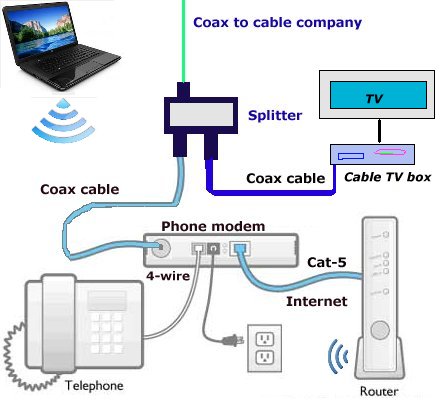 Diagram of typical phone modem hookup



CAT5 Cable

The Cat5 cable is used mostly for internet connections. The phone modem will have an RJ-45 jack on the rear panel to connect a computer or router. The Cat5 cable is like the telephone cord only it has 8 wires instead of 4 and has a bigger plug and larger cable.

Some new homes are pre-wired with CAT5 wiring. You can use 2 of the 8 wires to connect your in-home telephone network. This requires some work to adapt the 8 wire to a 4 wire connection but it can be done.

Cordless phone setup: Using all cordless phones allows you to bypass any in-home telephone wiring network. Just connect the cordless phone base unit to the modem with a rj-11 plug and then place remote cordless phones around the house.





Hooking all your phones in via your existing home phone network




You want to use more than just a single phone connected to the modem. So this is what you do. First make sure you have reliable digital home phone service. Maybe one or two weeks of testing should prove this. Make sure your modem stays on and operational. Test for a dial-tone everyday several times a day and make some calls out.

Next, go to your house box or panel where your old phone company line hooks in to your house phone wiring. The phone company usually has a gray box that opens to allow you to disconnect from their outside line.

Telephone Network Interface

may be indicated on the box. Either a modular plug you can disconnect or just cut the red, green, yellow, black wires. This isolates your house phone wiring from the telephone company.

Next connect a long phone cord (4-wire) to the modem (RJ-11) jack and the other end to a modular phone jack in your house or a 4-wire phone jack. You just need the red and green wires connected. Next, check that all connected phones in the house have a dial-tone. Cordless phones work as well. If all phones are working, fine. If not, check your in-house phone wiring if possible. Whatever phones you had working before on your in-home wiring should work if they are all connected to the wall jack where the line connects to the modem.



Getting a new phone number:


Pros and Cons of keeping your old phone number vs. getting a new number.
Keeping your old number means you do not need to inform anyone of a changed number. Less work because a new number means letting everyone know what your new number is before they need to call you. Doctor, dentist, friends, family members, agencies. One advantage of a new number is avoiding any annoying calls you may have been getting. If you do get a new number, make sure you go to the DO NOT CALL list online and register your new number so you do not get any robot calls from sales and call centers.



911

- With the old phone company, 911 was always available, even during power outages. One potential drawback with digital home phone via your cable provider is that 911 could be unavailable if you lose power or the cable company network goes down. A pay as you go cell phone might provide a backup for 911 in this case.

Caller-ID displayed on your TV screen:
When you get a call with digital home phone, the caller can be displayed on your TV screen if it is powered on. So you can see who is calling right on the TV if you're watching.

Call Blocking:
You can block specific callers who annoy you like vendors or sales.

Unlimited Long Distance: Often you pay a flat rate per month for digital phone and there is no additional charge for long distance, unlike the phone company, you can make all the calls you want.

Voice Quality:
Your digital phone service should sound as good or better than your old phone service. If you experience sound issues, call your provider.