A Home Theater In-a-Box includes an AM/FM receiver and all the speakers you'll need for a surround sound experience. Some HTIB systems include a DVD player. Some HTIB packages are more expensive than others, depending on the quality of the individual pieces, exactly what you're getting in the package, and often the brand name. With better-known brands, you can usually assume a certain level of quality. In all cases, you'll need to use your existing TV or monitor.


There are a variety of HTIB packages available, some sell for under $300.

Receiver-based - These HTIB packages don't include a DVD player. While this may, on the surface, appear to be a strike against them, it actually affords you more flexibility. Dedicated receivers are usually slightly better quality and often have more connections, which allow you to upgrade or add more components. Plus, you always have the ability to add on a really good DVD player later on.

All-in-one - a DVD player, a receiver and speakers all in one package. It's the ultimate no hassle system. In some cases, the DVD player and receiver are even found in the same component. It's a good way to cut down on clutter.

Speakers

A set of speakers in a HTIB package will typically include six speakers, each performing a specific role. There's a center channel speaker that should be set up as close to your TV display as possible for voice dialog. Ideally it should sit on top of your TV, since it carries most of the dialog, which should seem as though it's coming straight from the actors.

The front stereo speakers are as important as the center channel speaker. They carry most of the primary sound. Set them up on either side of the TV, a small distance away, to accentuate the stereo signal.

The two rear speakers should be set up behind your listening position on each side. These speakers carry the ambient sound or special effects, and really give you that three-dimensional, middle-of-the-action feeling. Usually these speakers are mounted on stands.

The subwoofer provides the low-end, which is a huge part of action movies. The 'boom' a subwoofer provides really gives life to explosions and other low frequency sounds. Many subwoofers have controls directly on them, so you can adjust their volume relative to the other speakers, or even modify the sound slightly.

When selecting a HTIB it's a good idea to choose one with a receiver that's ready for the future. This means it should be satellite radio-ready, able to support DivX video format, and have all-digital HDMI connections for HDTV. Some include multiple HDMI connections so you can plug in your HD cable box and your upconverting DVD player, HD DVD player or Blu-ray Disc player.

Is HTIB right for you?

Of course, HTIB may not be for everyone. Packages are designed to appeal to, and are priced to be within reach of, a broad range of users. As such, some of the components may not satisfy a true audiophile.

Audiophiles may want higher-end speakers than are available in most HTIB packages. The included speakers in an HTIB system are good quality, but high-end speakers will have better sound pressure-level handling capabilities and cleaner sound. The difference may only be detectable by the most discerning ears, and as such, many listeners may be more than happy with the speakers included with an HTIB system.

Another consideration is expandability. The receiver and amplifier may not have all of the connection options you'll want as the technology evolves. Still, when it comes to getting a complete and highly usable system all at once, HTIB is a great way to go.

One thing that's as true for HTIB systems as separate components is that the included cables are usually of average quality. Good cables can make a huge difference, so consider investing a little more here. Look for generous shielding to reduce interference and create a strong connection, plus gold connectors to avoid corrosion. Also, be sure to take care of your cables. Once they get kinked and abused, performance can suffer.

HTIB is designed to make it easy for you to bring home a complete home theater experience, and for less cash than you would expect.

Pros
HTIB systems do indeed have several things going for them. Simplicity and ease of use is an important asset. Compactness is another. There may only be one or two neat looking slim components and there is no need to choose speakers, receivers, DVD players, etc., as the one manufacturer provides everything.
In most cases, speakers are either diminutive cube-like things or if you go slightly up, there are some packages with super-slim towers. Cabling is included too and is often color coded to ensure a near foolproof hook-up.
Low price is usually another draw. With everything supplied, and often for prices less than one third of component packages, HTIB solutions are the only game in town for some. They range from under $300 to over $2000.
Cons
When buying a HTIB you have to be aware of their main limitation -- performance.
It is not unreasonable to expect that the goal of any home theater system is to sound like a theater in your home. However to do this requires good speakers and amplification -– traditional weak points for HTIB systems.
Unfortunately the cute plastic speakers that are commonly found in HTIB systems are rarely able to deliver the performance level required. Most use poor quality drivers that easily overload and are further hampered by being poorly placed in highly resonant enclosures that color the sound.
Good low frequency performance is also hard to achieve on a tight budget, so carefully check out how the system fares in this area. The amplifiers that power these speakers are also generally of a lower quality than found in separate components and most are underpowered to the extent that only small rooms can achieve a high cinema style volume level.
Listen carefully to the system in the store in the manner that you would at home and keep in mind the size of your room -- bigger rooms need more power to fill with sound. Study their specs closely. For example, continuous power figures should not have distortion levels more than 1 percent to be meaningful.
The other major disadvantage of HTIB systems is that most are not very flexible. They tend to have few connection options and you can't change or add speakers. The connection issues become important when owners try to add a DVD recorder or a games console only to find there is nowhere to connect them.
When choosing HTIB systems, of course listen to them carefully, but also think about what you may want to attach down the track. For those wanting to add more than one or two devices, separate components will be a better investment in the long run. It is for these reasons, aside from sound quality and power, that most enthusiasts end up with separate components -- despite the greater cost and bulk.
Buying a HTIB

You want surround sound and a DVD player but not the hassle of complicated hardware setup. You also do not want to spend more than a couple of hundred dollars. Well, you're in luck. Home Theater in-a-box (HTIB) systems have just what you want. Selecting more expensive separate components can be time-consuming, and connecting them can be a challenge. You could avoid some potential problems by buying an all-in-one "home theater in a box" system that combines a receiver with a set of matched loudspeakers, wiring, and often a DVD player. Unless you're a serious audiophile you will find the sound quality to be just fine. Top-end systems are best left for people with larger bank accounts and those wanting just released cutting-edge technology.
Home theater in a box can include an AM/FM receiver, a decoder for digital-audio soundtracks and six to eight smaller loudspeakers—two front, one center, two to four surround speakers for the rear, and a subwoofer—that have been matched for sound. You get all the cables and wiring, usually color-coded or labeled for easy setup.




Rear panel loudspeaker connections

Speaker Connections: color coded speaker hookup on a HTIB
| | | |
| --- | --- | --- |
| FRONT R | Red | Front right speaker |
| FRONT L | White | Front left speaker |
| CENTER | Green | Center speaker |
| REAR R | Gray | Surround right speaker |
| REAR L | Blue | Surround left speaker |
| SUBWOOFER | Violet | Subwoofer / LFE |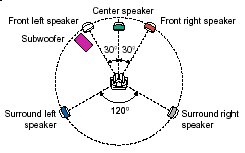 Typical 5.1 surround sound loudspeaker placement

Most systems include a progressive-scan DVD player, either built into the receiver or a separate component, and a powered subwoofer. Some bundle in a VCR as well. Price range: $200 to $1,000 for typical systems. Sony and Panasonic are among the best-selling brands in the market.

Home Theater in-a-box FEATURES you'll want:

The receivers in home-theater-in-a-box systems tend to be simpler and less fancy than component systems. They usually include both Dolby Digital and DTS decoders for handling the surround sound tracks of a DVD. Look for a front panel with displays and controls grouped by function and labeled. An onscreen display lets you control the receiver via a television screen.

Switched AC outlets let you plug in other components and turn on the whole system with one button. The receivers have about 20 or more presets you can use for AM and FM stations. Most receivers also offer a sleep timer, which turns them on or off at a preset time. Remote controls are most useful when they have clear labels and different-shaped and color-coded buttons grouped by function. A universal remote can control a number of devices including your TV set.

A component-video output on the receiver that can connect to the TV allows for better picture quality if you choose to switch video signals through your receiver; however, not many receivers have such an output. Instead, most have S-video output, which is a hair below a component connection but better than a composite-video or RF (antenna) connection.

Look also for an S-video input, which lets you pipe signals from an external DVD player, digital camcorder, or certain cable or satellite boxes through the system. Any player that you might want to connect will need the same digital-audio connections, either optical or coaxial, as those of the included receiver. And if you want to make occasional connections at the front—perhaps for a camcorder or an MP3 player—you'll need front-panel inputs.

DSP (for digital signal processor) modes use digital circuitry to duplicate the sound measurements of, say, a concert hall. Each mode represents a different listening environment. A bass-boost switch amplifies the deepest sounds.

A subwoofer may be powered or un-powered. Either type will do the job, but a powered subwoofer often provides more control over bass.

An integrated DVD player, available with some models, typically has fewer features than does a stand-alone DVD player. Features to expect are track programmability (more useful for playing CDs than DVDs), track repeat, and disc repeat. If you want more features, a stand-alone component DVD player may be the best choice.


What should I look for in my Home Theater in-a-box setup?

Example of the features list you might find in a typical HTIB system

Surround Sound Formats - typically digital audio tracks on DVD-Video.
You want your system to be able to "play" DVD-Video (movies) and hear surround sound using your multiple loudspeakers.

DVD-Video discs have Dolby Digital or DTS sound tracks that when decoded are capable of yielding true surround sound.
Dolby Pro Logic II
Yes
can decode this sound format
Dolby Digital
Yes
can decode this sound format
Dolby Digital EX
No
cannot decode this sound format
THX Surround EX
No
cannot decode this sound format
DTS
Yes
can decode this sound format
DTS ES
No
DTS Neo:6
No
Inputs & Outputs - rear panel jacks allow connection options/capabilities
Optical Digital Inputs
1
can accept this signal source (only one)
Optical Digital Output
None
cannot send this signal out
Coaxial Digital Inputs
1
can accept this signal source (one)
Coaxial Digital Output
None
cannot send this signal out
Composite Video Inputs
3
can accept 3 signal sources of this type
Composite Video Outputs
1 Receiver
1 DVD Player
Minimum signal needed for TV hookup
S-Video Inputs
None
cannot accept this type of signal source from other components
S-Video Outputs
1 DVD Player
can send this signal out
Component Video Inputs
None
cannot accept this type of signal source from other components
Component Video Outputs
1 DVD Player
can send this signal out
Progressive Scan Output
Yes
can send this signal out
HDMI Output
None
cannot send this signal out
Phono Input
No
cannot accept turntable input directly
Subwoofer - loudspeaker for bass/low sounds like roars and explosions
RMS Power (watts)
155
Power rating in watts
Video-Shielded
Yes
magnetic isolation protects from TV interference
Woofer size (inches)
7-7/8
size of speaker in inches
Compatibility
CD-R Capable
Yes
can play music CDs and user recorded CDs
CD-RW Capable
Yes
can play rewritable CDs
MP3 Capable
Yes
can "play" music in MP3 format
WMA Capable
Yes
can "play" music in WMA format
SACD Playback
No
cannot play music in Super Audio CD format
DVD-Audio Playback
No
cannot play music in DVD-A format
Recordable DVD Compatibility
DVD-R
DVD-RW
DVD+R
DVD+RW
can "play" DVDs recorded in these formats
How to Choose your HTIB system

Decide whether you want a DVD player. If you want a DVD in the bundle, consider whether you need a multidisc model that will provide uninterrupted play of music CDs and DVD movies, or if a single-disc player will do. Progressive-scan players offer regular DVD picture quality when used with a conventional TV but can deliver a smoother image when paired with a TV capable of displaying high-definition (HD) or enhanced-definition (ED) signals. Some bundled DVD players offer support for multichannel DVD-Audio and SACD music discs, although not in their original, high-resolution format.
Make sure there are enough inputs. You may want to route video as well as audio signals through your home-theater receiver so you can easily switch among sources such as a VCR, cable or satellite box, and digital video recorder. Before buying, consider which devices you'll want to channel through the home-theater unit, and which ones you can hook up directly to the TV, and make sure you have enough of the appropriate inputs and outputs.
Each type of connection is capable of conveying a different level of video quality. If you'll be connecting a DVD player to your TV through the receiver, look for a model with S-video, component-video, or HDMI connections, which should give you better picture quality than a composite-video hookup, although composite video is fine for most people.
With audio inputs, you'll need a digital-audio input for relaying undecoded digital audio from your DVD player, digital-cable box, or satellite receiver. Make sure the input on the home-theater system matches the output on the other device. Some of these units have an optical digital-audio output, while others have a coaxial digital-audio output. (An HDMI connection carries the audio along with video in one cable).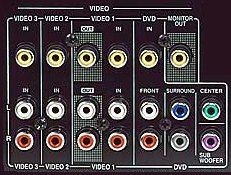 Rear panel composite video/analog audio inputs/outputs

• Hookup Diagrams
If you want to connect a turntable, see if the one you have requires a special phono input, which is hard to come by.

Look for a front video input on the receiver if you want to make occasional connections, perhaps for a camcorder or a game system, and your TV doesn't have accessible front-panel inputs.
With any system, you can get basics such as AM/FM tuners, Dolby Digital and DTS surround-sound support, and enough speakers for at least a 5.1 surround setup. Some systems now include an integrated XM satellite-radio tuner or a USB port for connecting an iPod or other portable music player so you can listen to your music through the sound system.
Extras such as switched AC outlets are less common than on component receivers, so make sure a system has what you want. An onscreen display is handy for setting up and adjusting various functions using the TV screen rather than a small display on the console.
A few models offer newer Dolby and DTS surround formats that process 6.1 or 7.1 channels, which support an additional one or two rear-surround speakers, respectively. Those formats still aren't widely used in movies but could become more common in the future.
Also consider the warranty. You may get 24-month coverage, rather than 12 months, on some models. Quality HTIB makers will offer a toll-free customer support number for any problems you may encounter.

Top manufacturers of Home Theater in-a-box systems:
Onkyo
Yamaha
Kenwood
Sony
Panasonic
Denon
Philips
JVC
Samsung
LG
Harman Kardon
Home Theater Receiver Guide


Introduction to Speakers


What is home theater all about?

Cables & Connections


Audio Video Connections


Audio Video Connections glossary


Audio Video Cables


HTIB model (mid-range): MSRP- $569.95

Panasonic Home Theater in a box model SC-RT50 call Panasonic at 1-800-405-0652.

The model SC-RT50 is a Home Theater System with Built-In DVD Recorder, 2 Front Wall-Mountable Tower Speakers, 1 Center Speaker, 2 Satellite Speakers, and Subwoofer.

Full Surround Sound Package In One Box
Get a great-sounding home theater up and running quickly with this DVD home theater system. Hook it up to your TV, and you'll have everything you need for the full theater experience: a DVD recorder, home theater receiver, 5 surround sound speakers, and a powerful subwoofer.

Super Multi-Format Recording and Playback

Incredibly versatile and format friendly, the DVD recorder can record to and play back just about any DVD you can throw at it. Specifically, it can record to and play back DVD-R/-RW/-RAM/+R/+RW discs. It can also play back many more disc formats, including: DVD-Video, DVD-Audio, DVD-R (dual layer), DVD+R (dual layer), CD, CD-DA, and CD-R/RW (including MP3, JPEG, and DivX files).

Record Longer with Twice the Resolution
This DVD recorder can record an amazing 500 lines of horizontal resolution in LP Mode, which is twice the 250 lines of resolution offered by conventional LP Mode recording. What does this mean? It means you can fit up to 4-hours of recordings on one DVD (4.7GB capacity).

High Definition (1080i/720p) Up-Conversion with HDMI

When connected to an HDMI-compatible TV via an HDMI cable, this DVD recorder can up-convert the DVD content that you are watching to 720p or 1080i resolution (depending on your TV display capability) so you can enjoy beautiful, high-quality imagery in high definition.

Powerful and Accurate Surround Sound
The amplifier built into this home theater system pumps out high power levels for driving our speakers at satisfying volumes with low distortion.

The goal of any playback device should be accurate reproduction of the original content. In the case of DVDs, most of that content is film-based. Utilizing advanced progressive scan playback techniques and very accurate MPEG video decoders, this home theater system provides an image that faithfully represents the image you see at your favorite movie theater.

Speaker Placement

The speakers come in all shapes and sizes, from slim tall-boy tower speakers to unobtrusive bookshelf satellites, so they'll fit into your room no matter what your space restrictions may be. Feel free to put the center channel speaker on top of your TV and the left/right speakers close by. It won't cause any problems because magnetic shielding prevents the magnets inside your speakers from affecting your TV's image.

In order to take advantage of a progressive scan DVD player, your TV must be capable of accepting and displaying a progressive scan signal (480p).
Panasonic
Model SC-RT50
Multi-Format Playback (Playable Disc Type)
DVD: DVD-Audio, DVD-Video, DVD-RAM, DVD-R, DVD-R (DL), DVD-RW, DVD+R, DVD+R (DL), DVD+RW
CD: CD, CD-R/RW (including MP3 and JPEG files)
High Definition (1080i/720p) Upconversion
Yes, using HDMI interface
Video D/A Converter
108MHz/12-bit
Audio D/A Converter
192kHz/24-bit
INPUT/OUTPUT:
HDMI Terminals
1
Component Video Out
Yes
S-Video Out
Yes
Composite Video Out
Yes
DV Input
Yes
Music Port
Yes, provides simple connection for portable audio players
Audio Inputs
Yes
SD Card Slot
Yes (JPEG/TIFF Photo Viewer)
WEIGHT AND DIMENSIONS:
Yes
Receiver Dimensions (inches, W x H x D)
16 15/16 x 2 31/32 x 15 5/32
Receiver Weight (lbs)
11.8

COLUMBIA ISA - Empowering consumers thru information.