Pioneer, Onkyo, Yamaha, Denon, and Sony are top brands.

• Surround Sound - How to hookup

• How to hookup audio/video receiver

2011 BEST Audio Video Receivers

PIONEER VSX-1020K

Pioneer VSX-1020-K Receiver: Internet Radio and Portable Connectivity, Multi-Zone Support, and the Latest High-Definition Audio and Video Standards. From enjoying the very best 1080p high definition picture available to hearing every last nuance with award-winning audio capabilities, Pioneer's range of receivers offers nothing less than a miraculous performance at every level. And with an ever-increasing list of connectivity and integration options as well, these receivers will also guarantee to get you closer to the original experience than ever before. The Pioneer VSX-1020-K delivers amazing home theater performance in an elegant package. With connectivity options for all your latest high-definition home theater components and digital 1080p upscaling from any source, the VSX-1020-K takes performance a step further with multi-zone support: choose either a 7.1-channel configuration, or create a second zone with 5.1 + 2 channels. And the VSX-1020-K brings extensive connectivity for your digital media via Ethernet and a front USB input, and compatibility with Bluetooth sources (using the optional AS-BT100 adapter, sold separately). Plus, it's "Works with iPhone"-certified, so you can incorporate your favorite Apple products into your home theater easily. iControlAVR, a free iPhone app (downloaded separately), turns your iPhone or iPod Touch into the ultimate control center. Share your videos, and enjoy music with full album information and album art on your TV. Your iPhone's wireless and network features remain fully functional and music and movies will mute when you receive an incoming call. And you've got lots of control options--use the iPhone directly, or push a single button on the VSX-1020-K's front panel to switch control to the included preset remote and an intuitive, full-color GUI.

Plus, your iPhone's music will always sound its best thanks to Pioneer's exclusive Advanced Sound Retriever technology, which restores lost data in compressed music files. So even in a big room, you'll get much closer to the artist's original intent from you iPhone, iPod or other MP3 player. And Auto Level Control means a smooth, consistent listening experience with no jarring volume changes between your favorite songs and albums.

Made for iPod/iPhone Certified - includes USB/Composite Video Cable, Free iControlAV iPhone App
Bluetooth Ready with Optional Pioneer AS-BT100 Bluetooth Adapter
HDMI® (V.1.4a with 3D) - 6 Inputs / 1 Output




Technical Specifications
Channels: 7.1 surround sound
Power: 110x7 watts
HDMI Specification: v. 1.4, 3D, Deep Color and X.V. Color
HDMI Ports: 6 in (including 1 front in), 1 out
Component Ports: 2 in, 1 out
Audio Codecs Supported: DTS-HD Master Audio, Dolby TrueHD, Dolby Pro Logic IIz with pre-out
Video Modes Supported: 1080p and below
Audio Modes Supported: Multi-zone (7.1, 5.1 + 2)
Digital Formats Supported: JPEG, MP3, WAV, WMA
"Works with iPhone"-certified

Product Description
Key Features are 110 Watts X 7, 7 Channel Configurable Amplifier, Surround Back. Dolby Pro-logic IIz or B Speaker, Dolby True-HD / DTS-HD Master Audio and Advanced MCACC. It has a 9 Band EQ. Auto Crossover Setting, USB to PC Graphs, PQLS – 2 Channel, Auto Level Control – Multi-Channel, Sound Retriever AIR – Multi- channel. It has a Internet radio. iPod Digital USB / USB Memory Audio. Its iPhone Certified, Sirius Satellite Radio, HDMI Repeater (6 In / 1 out), Analog to HDMI Video Conversion, HDMI to HDMI 1080p Scaler, Component Video (2 in / 1 out), Full Color GUI, iControl pioneer AVR iPhone / iTouch "APP" Multi-Zone A/V Pre-out, Preset Remote Control



ONKYO

ONKYO TX-SR608

Onkyo TX-NR609 7.2 Channel Network THX Certified A/V Receiver




Technical Details
100 Watts per Channel at 8 Ohms, 20 Hz - 20 kHz, 0.08%, 2 Channels Driven, FTC; 125 Watts per Channel at 6 Ohms, 1 kHz, 0.1%, 2 Channels Driven, FTC
6 HDMI Inputs and 1 Output, HDMI Support for 3D, Audio Return Channel, Deep Color, x.v.Color, LipSync, Dolby TrueHD, DTS-HD Master Audio, DVD-Audio
Direct Digital Connection of iPod/iPhone via Front-Panel USB Port
Network Capability
THX Select2 Plus

Six HDMI® inputs—including one on the front panel—provide support for 3D video and ultra-high resolution 4K video upscaling via Qdeo™ technology. HDMI also carries master-quality audio formats from Dolby and DTS, as well as the expanded surround sound of Audyssey DSX™ and Dolby® Pro Logic® IIz. Three-stage inverted Darlington circuitry and Onkyo's proprietary WRAT ensure a clean and compelling amplifier performance. And when audio signals are output, the 7.2-channel configuration includes twin subwoofer pre-outs for added bass impact. Meanwhile, a user-friendly on-screen display and GUI make it easy to adjust settings and navigate your content. All this and more makes the TX-NR609 an irresistible choice for the value-seeking home theater fan.

Connecting your A/V receiver directly to the internet or home PC has never been easier. The TX-NR609 brings to life a wide range of Internet Radio sources such as Pandora, Rhapsody, Napster, Slacker, Sirius Internet Radio, MediaFly, and vTuner with unprecedented power and fidelity. Adding to its tremendous versatility is the TX-NR609's compatibility with Microsoft's Windows7 platform which includes the DLNA "Play To" media-streaming feature. Having your receiver connected to the internet also means you can easily update its firmware.

The TX-NR609 offers full 4K (3840 x 2160) upscaling of standard video sources such as 480i/p, 720p, and 1080i/p. Interlaced-to-progressive conversion and scaling are performed by a high-quality Marvell Qdeo® video-processing chip. Qdeo® is a versatile video processor that uses algorithms designed to erase video noise and artifacts such as jaggies and feathering. Played back on a compatible widescreen display, your Blu-ray Discs and DVDs will look more detailed and cinematic than ever.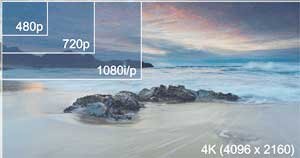 The TX-NR609's front-panel USB port lets audio files stored on your iPod®/iPhone® or USB flash drive. The convenient on screen display lets you see exactly what is playing. As the audio signals are transported in digital form, rather than analog, there is much less chance for signal degradation. The TX-NR609 also incorporates Onkyo's exclusive Advanced Music Optimizer to compensate for lost bit information and improve the quality of compressed audio signals.

The HDMI® implementation on this receiver supports both 3D video and an Audio Return Channel. 3D video brings exciting possibilities to home entertainment, with movie, game, and broadcast content on the increase and 3D-compatible TVs coming to market. The TX-NR609 also offers the convenience of an Audio Return Channel via HDMI. Audio content received directly by your HDTV's tuner can be sent "upstream" to your A/V receiver, without the need for a separate S/PDIF audio cable.

Use PC-IN to easily connect your notebook or mediacenter PC to your Onkyo AV receiver, allowing you to watch your stored movies on your flatscreen TV. You can now easily watch internet videos, PC-stored movies and pictures on your TV. (Audio connectivity may vary depending on your computer hardware, but Onkyo receivers support a wide range of different interfaces.)



http://www.us.onkyo.com/model.cfm?m=TX-NR609&class=Receiver&p=i

YAMAHA RX-V665BL
YAMAHA RX-V567
SONY STR-DN1010