Diagram Index : see also Cable hookup digital cable and TV
• How to spot fake silver coins or bars
• How to Transfer/Copy Audio cassette to computer PC

o How to connect HDTV with only optical audio output to stereo



Combo VCR/DVD Players and Recorders.

VCR and DVD in one unit.



Has your old VCR worn out? Still have not converted over to DVD? Many people still have a vast collection of VHS tapes. Some of the old movies may have been bought on DVD which gives a better picture on the TV. You may just want the ability to play VHS tapes or DVDs or possibly record on DVDs.

These combo units have both a VCR and a DVD player or recorder. If you do not need a DVD recorder, then get a VCR/DVD player model only. These models allow you to play VHS tapes or DVD but cannot record on DVD. Of course you can also play CD.

Some models come with a built-in tuner while others have no tuner. Always check the specifications so you know what capabilities the unit has to offer. Do not assume anything as the new units are different. Some combo players can play burned/recorded CD (CD-R, CD-RW) and some can play MP3, WMA or WAV files on a burned CD. Some combo models offer a USB input so you can play videos or jpeg images/photos.

VHS is not capable of high definition video. DVD is not capable of high definition video. If you want high definition, you will need to go with the Blu-ray players and Blu-ray Disc. This does not mean that VHS or DVD cannot be played on an HDTV. Combo units today usually have an HDMI output which when connected to an HDTV will give you a better image than traditional video cable connections.

Some of the DVD recorder models have the capability to copy your VHS tapes to a DVD right in the unit itself. (not commercial movies). This is called dubbing and the remote may have a button called DUB or DUBBING which will start the process to record from VHS to DVD.




LARGER IMAGE

Combo VCR/DVD unit with front panel buttons for PLAY, Stop, Record, FFWD, REW, open/close, Power, Source (VCR or DVD).

Soundbars

Combo VCR/DVD Cable Hookup





REAR PANEL - VCR/DVD Combo player


Since most television broadcasts are now digital, you need a digital ATSC TV tuner built-in to the combo unit in order to record broadcast TV channels to DVD. Some combo units have no tuner of any kind while others have digital TV (ATSC) and analog TV (NTSC) tuners. Some models have a clear QAM tuner (unscrambled digital cable TV channels). Tunerless or Tuner free means the unit has no tuner at all.

TV Channels -
Analog (VHF: 2-13, UHF: 14-69, CATV: 1-135)
Digital (Terrestrial: 2-69, Cable: 1-135)

A cable TV box or satellite TV receiver with an RF output (channel 3 or 4) could be connected to the combo unit with an RG-6 coaxial cable using the ANTENNA RF input. Tune the combo unit to channel 3 or 4 and select on the pay TV box which channel you want.


Cable Hookup Diagram (Recording)




The RF Antenna input on the combo unit with a tuner will connect using RG-6 coaxial cable to a VHF/UHF TV antenna or an analog cable TV feed (no box) or a cable TV box with an RF output (ch 3 or 4) or a satellite TV receiver with an RF output (ch 3 or 4)


Another option is to connect RCA cables (yellow, white, red) from the cable/satellite TV box to the combo unit's 3 RCA inputs (yellow, white, red) and select the LINE/AV1 input on the combo unit using the remote's INPUT/SOURCE button. Usually pressing this button repeatedly cycles through the available inputs.



Cables - RCA video (yellow) and RCA audio (white, red) for picture and stereo sound (analog)



Using the 3 RCA video/audio inputs on the combo unit to connect satellite TV receiver or cable TV box or VCR or camcorder. You would have to use this connection if the combo unit does not have a tuner or your source device only has RCA outputs.



Combo hookup - record both over-the-air and cable/satellite TV (tuner models)


Outputs on the VCR/DVD combo unit (Play)


RF Output (Out to TV) - The RF out would only be available on units with a tuner. Also, the RF out usually will not work for the DVD output, only the VCR output. Connect a RG-6 coaxial cable to TV. Video and audio in a single cable but not stereo sound.





Component video out

(green, blue, red) 3 RCA video outputs usually for the DVD player only connects to a TV with green, blue, red video inputs. Must use white and red RCA outputs for sound. Component video gives a better picture than composite video. Your TV must have component video inputs.



Hookup Diagram - Component video




HDMI

- this output uses an HDMI cable to connect to a TV with HDMI inputs. HDMI gives you the best picture. HDMI can send video and audio in a single cable. Video up-scaling (up-conversion) uses the HDMI output. For a High Definition TV, this is the best connection option.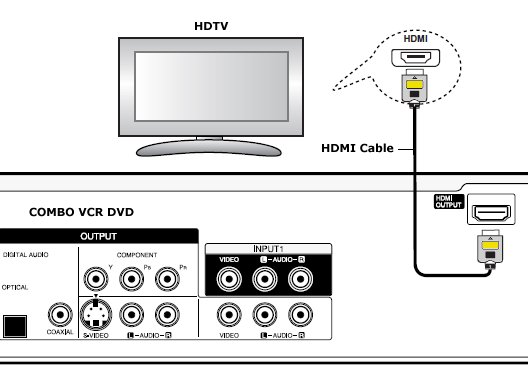 Hookup Diagram - HDMI




Composite video

- this output is the yellow RCA port and can send the DVD or VCR signals to a TV with yellow RCA inputs. Must use white and red RCA outputs for sound.



Hookup Diagram - Composite video





AUDIO OUTPUTS



Composite audio - Analog stereo sound only. This is the white and red RCA output ports next to the yellow video out. Connect to a TV or a stereo amplifier. DVD or VCR can use these outputs.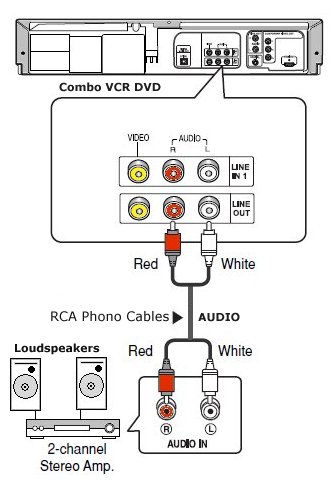 Instead of a TV connection, you can get richer sound through a stereo amplifier and loudspeakers




Digital audio

- this can be optical or RCA coaxial and can send surround sound to a surround sound processor with six or more speakers. Some units only have optical or coaxial while others have both. Only one is needed. Only the DVD uses these outputs for surround sound.



Surround Sound hookup diagram




Alternative Connections



Hookup Diagram for TV without RCA inputs, only antenna RF input. RF MODULATOR

Use an RF Modulator to connect the combo unit to the old TV. Select channel 3 or 4.


The optical audio cable is made of glass or plastic fiber optic material to carry digital audio bit streams with light instead of electricity. Sometimes you can see the red light from a connected cable if you point the connector at a white sheet of paper.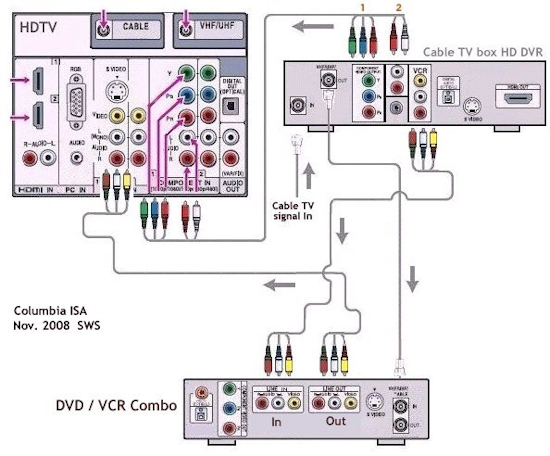 Select VCR mode or DVD mode on the combo unit by pressing button on the front panel or using the remote control buttons VCR and DVD.



Always check which type of disc is playable. Better DVD players are capable of playing all types of disc. Here are some of them:



CD

- standard audio compact disc


CD-R

- Recordable CD write once


CD-RW

- Recordable CD re-writable



DVD-Video

- standard DVD



DVD-R

- Recordable DVD write once


DVD-RW

- Recordable DVD re-writable


DVD +R

- Recordable DVD write once


DVD +RW

- Recordable DVD re-writable


DVD +R DL

- Recordable DVD Dual Layer


DVD-RAM

Recordable DVD (not compatible with many DVD players)

Caution: On combo units with a DVD recorder, do not assume it will copy a VHS tape to DVD. Some units will but not every unit.



The Mode determines the video quality of the recording and how much space is used up on disc or tape. There is a trade-off for space vs. video quality. The better the video quality the more space is used up so less will go on the disc. SP is Standard Play and represents the middle or average mode. LP is usually Long Play or more material on disc but less video quality. XP is the highest quality but much less material on a disc. EP or Extended Play gets you the most material on disc but the worst video quality.




What to look for in a Combo VCR/DVD recorder:
VHS playback via the same output connection as DVD
Playable Formats: VHS Hi-Fi, DVD-Video, DVD-RAM, DVD-RW, DVD-R, +RW, +R, +R (Dual), CD, SVCD/VCD, CD-R/RW, WMA/MP3/JPEG Digital Still/DivX(R) (CD-R/RW, DVD-R/RW, +R/+RW)
Recordable Formats: VHS Hi-Fi, DVD-RAM, DVD-RW, DVD-R, +RW, +R
ATSC (Digital) TV Tuner: 8 VSB (2-69), Clear QAM (1-135)
NTSC (Analog) TV Tuner: VHF (2-13), UHF (14-69), CATV (1-135)
AUDIO:
Recording Audio Formats: Dolby Digital (DVD) ; VHS Hi-Fi
Audio D/A Converter: 192kHz/24-bit (DVD)
Dolby Digital/DTS Digital Out: Yes/Yes (DVD)
VIDEO:
Horizontal Resolution (Recording and Playback: XP/SP): Approx. 500 Lines
Recording Video Formats: NTSC MPEG-2 (DVD) ; NTSC (VHS)
Recording Time
XP: 1 Hour (DVD)
SP: 2 Hours (DVD) ; 2 Hours (T-120 VHS Tape)
LP: 4 Hours (DVD)
EP: 6 Hours (DVD) ; 6 Hours (T-120 VHS Tape)
Video D/A Converter: 10-bit/54MHz (Progressive Scan) (DVD/VHS)
Progressive Scan Output:
Film Source: Yes (DVD)
Video Source: Yes (DVD/VHS)
EDITING/DUBBING:
Playlist-Based Editing: Yes (DVD)
DVD/VHS Dubbing: Yes
PLAYBACK FUNCTION:
1.5x Quick Playback with Sound: Yes (DVD)
Variable Search (Forward/Reverse): +/-5 Steps (DVD) ; +/-2 Steps (VHS)
Variable Slow (Forward/Reverse): +/-4 Steps (DVD) ; +1 Steps (VHS)
Natural Reverse Playback (-1x): Yes (DVD)
Resume Function: Yes (DVD)
Number of Titles: 99 (+VR Mode: 49)
SQPB: Yes (VHS) S-VHS quasi-playback
TUNER:
ATSC (Digital) Tuner:
Air: 8 VSB (2-69)
Cable: Clear QAM (1-135)
NTSC (Analog) Tuner: VHF (2-13)/UHF (14-69)/CATV (1-135)
MTS Decoder: Yes
TIMER:
Timer Program: 1-Month/16-Program
Permanent Program Memory: Yes (DVD/VHS)
TERMINALS:
Front:
Composite Video In: Yes (DVD/VHS)
Audio L/R In: Yes (DVD/VHS)
Rear:
RF In/Out: Yes/Yes Pass through only
Component Out: Yes (DVD/VHS)
S-Video In/Out: -/Yes (DVD/VHS)
Composite Video In/Out: Yes/Yes (DVD/VHS)
Audio L/R In/Out: Yes/Yes (DVD/VHS)
Optical Digital Audio Out: Yes (DVD/VHS)
Coaxial Digital Audio Out: Yes (DVD/VHS)
HDMI Digital Output: Yes (1080p/720p Up-Conversion) (DVD/VHS)
DV In/Out: Yes/- (DVD)
On-Screen Display:
GUI (Graphical User Interface): Yes
On-Screen Language: Eng./Fre./Spa./Por.
Remote Control: Yes Infrared
power requirements: AC 120V/60Hz
Power consumption: 23W
Dimensions (W x H x D)( inches): 17 x 3 x 10

FAQ



How can I take commercials out of the recording I'm making?


Answer: Press PAUSE while recording until commercials end, then press PAUSE again to start recording.



Why does my recorded DVD not play on my son's DVD player?


Answer: Either the DVD was never finalized after recorded or the player cannot play the type of recordable DVD.

o How to connect HDTV with only optical audio output to stereo

See more...


• Surround Sound over HDMI
• How to hookup surround sound
• Surround Sound Glossary
• How to add great sound to HDTV - Sound Bar
• Surround Sound Speaker Hookup
• A/V Receivers Guide
• Cable hookup digital cable and TV
• Audio Video Connections
• HDMI Versions
• HDTV hookup options


How to record VHS to DVD on a combo recorder:


http://www.youtube.com/watch?v=Au1JOnQ8lK4&feature=related

Columbia ISA Audio/Video - Empowering consumers thru information.


Contact: columbiaisa@yahoo.com