Home
Easy HDTV Hookup
DVD to HDTV
• Internet-capable HDTVs
• Blu-ray Basics
• HDTV Basic Setup
• How to hook up a Plasma or LCD HDTV
• How to hook up a Cable TV box
• Cable TV - Cable Box Setup
• Cable TV - Cable Box Setup Scientific Atlanta 4250HDC
• Surround Sound over HDMI
• Surround Sound - How to Hookup
Cable connections


Bluetooth Wireless Hands Free While Driving (Smart Phone): How to pair iPhone

What is a Toslink cable?

Audio/Video Connection Guide

Bluetooth Audio




What is Bluetooth?



Bluetooth is a standard for short distance (approx. 30 feet or less) radio signals (2.4GHz) between devices in order to exchange information. Bluetooth technology is used on mobile phones (iPhone, iPad, iPod) wireless keyboards, wireless headphones, car stereos, audio/video receivers, camcorders, digital cameras, speakers and more. For example, if you have an iPhone 4S with music you want to listen to on your Bluetooth capable car stereo, just pair the phone with the car stereo and you have a powerful stereo system on the go.



What is Bluetooth pairing?



Bluetooth pairing is the discovery and establishment of communication between two Bluetooth devices. Usually a passkey has to be agreed upon before data can be received. Sometimes this is just 0000 but check the user manual for your device.

When a device "has Bluetooth", that means it has a piece of hardware, a small computer chip, that contains the Bluetooth radio, and some software that lets you, the user, connect that device to other products wirelessly using Bluetooth technology.



Bluetooth History:



Bluetooth has been around since 1994 and has undergone many improvements and revisions (1.0 in 1999, 1.2 in 2003, 2.0 in 2004, 3.0 in 2009, 4.0 in 2010).

In 2000 - First chip to integrate radio frequency, baseband, microprocessor functions and Bluetooth wireless software.
In 2004 - First stereo headphones.
In 2007 - First TV with Bluetooth.
In 2011 - Microsoft announces that Windows 8 will support Bluetooth v4.0
Apple announces that the iPhone 4S will support Bluetooth v4.0 and become the first Bluetooth Smart Ready phone.




What is a Bluetooth profile?



A Bluetooth profile is a further refinement of the core standard for specific services between devices. In order for Bluetooth devices to communicate, they must have compatible profiles. For example, a computer and its wireless keyboard need to have compatible profiles. A stereo and a wireless headphone need compatible profiles. But a keyboard and a headphone do not work together so they do not have the same profiles. When two Bluetooth devices establish a connection, they learn about the protocols the partner device offers. Only devices that share the same protocols can exchange data, just like two humans have to agree on a common language to have a meaningful conversation.

While Bluetooth defines the physical wireless connection between devices, a Bluetooth profile establishes the commands and functionality these devices can exchange using the Bluetooth technology.

HSP (Handset Profile) – provides the basic functionalities needed for communication between a handset (mobile phone) and headset.

HFP (Hands free Profile) – with somewhat extended functionality to HSP, original use was intended to control a mobile phone from a stationary in car hands free unit.




Bluetooth logo - look for the symbol with a pointed B and a reverse K merged together


Hands-free calling and music control
Use your Bluetooth cell phone with your car stereo or just use a Bluetooth headset with your phone for hands free operation.

Since 2009 many cars have the capability for wireless Bluetooth connectivity with your iPhone or other smart phone. You can make calls or play music. An incoming call will mute the music. Bluetooth lets you talk hands-free in the car, but it can do a whole lot more. Many in-dash stereos let you stream audio from your phone over your vehicle's speakers. Depending on your phone's features, you may be able to listen to driving directions, Internet radio, stored music, and more. There are many different systems but most will require you to setup your phone to talk to your car's Bluetooth kit. This is called pairing.



How to pair iPhone with your car's Bluetooth kit.



On your iPhone, select SETTINGS, GENERAL, BLUETOOTH and turn Bluetooth ON if set to OFF.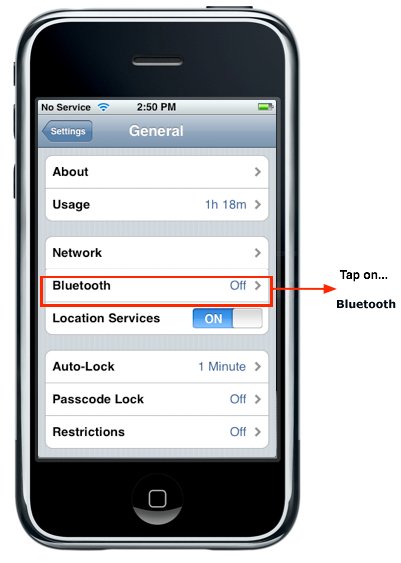 With Bluetooth turned ON the phone and the car's bluetooth kit will try to discover each other. You will need to operate the car's kit so that it also is trying to pair up with the phone. Read user manual to find out exact instructions for pairing as each device is different. The two devices need to be in DISCOVERY mode for pairing.




Enter the PIN or passkey to establish communication.




Successful pairing will show CONNECTED and the devices are ready to exchange information wirelessly.



Bluetooth Headset from Plantronics


Jabra FREEWAY Bluetooth Speakerphone

Don't have a bluetooth car stereo? No problem.
Hands Free phone in car - works in any car - integrates cell phone with speaker, mic
Use your voice to make and take calls completely hands-free; announces the name of the incoming caller
The Jabra FREEWAY was named a winner of the 2011 red dot awards for product design, and was also given a Best of CTIA Wireless 2011 award in the accessory category.

View Demo of this device in action:

http://www.amazon.com/gp/mpd/permalink/mSCP1Z1PRDU3O




The MKi9200 connects to your aftermarket or factory stereo system so you can take calls from your Bluetooth phone through your car's speakers.
Parrot mki9200
http://www.parrot.com/usa/products/bluetooth-hands-free-car-kits
Contact by phone at 877-9Parrot (877-972-7768)
From monday to friday between 9am to 7pm
Car Kit for Bluetooth cell phones
Hands Free calling through your car's speakers

Listen to your digital music in the car
Bluetooth car kit includes 2.4" color display panel, two microphones, remote-control keypad, and mute box
hardware for mounting the keypad and display on your dash or steering wheel
works with all Bluetooth phones and A2DP stereo devices, including many iPod and iPhone models
removable, dash-mounted display panel lists caller, number and music information when available
6-button, remote-control keypad controls all phone menu and music functions
USB input and auxiliary input for connecting music sources
SD card slot built into the display panel
built-in digital amplifier (20 watts RMS x 4)

Features:

hands-free phone calls and streaming MP3 music with most factory or aftermarket car stereo systems (may require vehicle-specific adapters for plug-in connection)
automatically mutes your car stereo for phone calls
works with up to 5 Bluetooth phones
voice-recognition software stores up to 150 names for hands-free dialing (only works with certain phones)
voice-synthesis (text-to-speech) technology announces contact names
noise reduction and echo cancellation technology for clear voice transmission
works with TextFriendly service (available from Parrot) for hands-free access to SMS text messages and email
The Parrot MKi9200 supports the following Bluetooth v2.0 profiles.
HFP (Hands-Free Profile)
HSP Headset Profile)
A2DP (Advanced Audio Distribution Profile) Stereo Audio
AVRCP (Advanced Video Remote Control Profile)
OPP (Object Push Profile)
PBAP (Phone Book Access Profile)


















• Audio Video Cable Types
• Cable Connections - hookup
• How to connect DVD player
• See over 100 hookup diagrams

• Wall Mount an HDTV - How To


Got a question? Columbia ISA audio/video blog