SAMSUNG Upgrade Firmware on HDTV

• How to hook up a Plasma or LCD HDTV
• How to hook up a Cable TV box
• Cable TV - Cable Box Setup
• How to Install a HD Cable Box
• Cable TV - Cable Box Setup Scientific Atlanta 4250HDC
• Surround Sound over HDMI
• Surround Sound - How to Hookup
• HDTV Antennas and Reviews
• HDTV Buying Guide 2010
• HDTV BUYING GUIDE in 9 EASY STEPS
• Best HDTVs for Fall 2009
• HDTVs for under $500
• SAMSUNG UN26C4000 HDTV REVIEW
• Samsung HDTV Fall 2009
• See over 100 hookup diagrams
• Guide to DIAMOND Buying
• Guide to DIAMOND Wedding Rings
• How to tell if a diamond is real
• How to find your ring size
• Bluray Players, internet-enabled, Netflix movie streaming
• Cable Types, audio/video for TV, explanation
• Hookup diagrams, TV, VCR, DVD, Digital cable box
• DVD Players reviews and Guide
• VHS to DVD copy VCR tape to DVD disc
• How to Hookup an Audio Video Receiver




SAMSUNG HDTV FIRMWARE UPGRADE INFORMATION for 2010



Search Columbia ISA

Google



How to Upgrade Firmware on SAMSUNG HDTV Using your USB Thumb drive

The Samsung HDTV Firmware Upgrade - USB Thumb Drive

• Audio Video Connections
• HDTV Basic Setup


For 2010 Samsung HDTV.




HDTV

Samsung

How To Update Your Televisions Firmware (Software) Through The USB 2.0 Port

HDTVs today are part TV and part computer. Computers run on instructions called software code like your Windows or Apple Operating System. Firmware is digital code to tell the TV what to do. With digital TV you have all kinds of processing. This allows many more options than the old analog TV. Video and audio are processed by the HDTV. Firmware is the set of instructions for a particular TV so it works properly. Your HDTV was loaded at the factory with the latest code at that time. If problems arise that can be fixed with a firmware modification, the TV manufacturer can make this code available online for you to download. Some HDTVs have a direct internet connection. Many HDTVs however do not have a RJ-45 port for internet hookup. So the only way to upgrade firmware is by using the USB port.

A USB 2.0 port is used to display media as well as for firmware updates via USB drive. To update your TV via this method you will need the following:

1) A USB flash drive with the storage capacity large enough for the firmware file. These small data storage devices are about the size of your thumb and plug into your HDTV or computer. You can use them to transfer data from computer to HDTV.




This is the Cruzer USB flash drive (thumb drive) available at Best Buy or Office Depot or online at Amazon.com for around $20 for 8GB capacity. Look for SanDisk Cruzer Micro 8 GB USB 2.0 Flash Drive.

2) A computer with an internet connection.

3) WinZip (this is a program used to open the downloaded firmware file and is standard on Windows based PCs).

Updating your firmware is a two Part process.
Part 1 is downloading the firmware from SAMSUNG;
Part 2 is loading the firmware into your TV.

CAUTION: Use extreme care to ensure you load the correct data into your HDTV. You should only load a firmware upgrade into your HDTV when there is a known problem which the firmware will correct. Loading firmware into your HDTV could result in a failure of your HDTV to work properly. Always contact Samsung FIRST so that you ensure you are proceeding correctly.

• CONTACT SAMSUNG by email, live chat, phone

To download the firmware for your TV follow these steps.

1. Go to the download center on Samsung's main page.
www.samsung.com/us/support/download

2. After searching your SAMSUNG HDTV model number, select the firmware section of the downloads if firmware is available. If no firmware file is available, then your HDTV probably is current and no upgrade is required.

3. Now select the .exe file in the firmware section




4. After clicking on the .exe file icon you may receive a security warning. Click on "Save".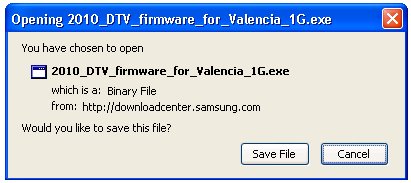 5. Select the folder you would like to save the file to. The desktop is recommended. Then click on "Save"

6. The file should download. When finished click on "Run".

7. You may receive a security warning, click on "Run" to continue.

8. WinZip should open, Click on browse and select the folder you would like the firmware saved to, the desktop is recommended.

9. WinZip will extract the files. The number of files will depend on the firmware. Click "Ok" and close WinZip.

10. You will now have a folder in your selected save location. Take that folder and place on (copy to) your USB Thumb drive.

Note:
* The folder name will depend on the firmware.
* When the folder is put on your thumbdrive do not place it in a sub folder. If it is in a sub folder the TV will not be able to find the firmware.

Now that you have the firmware downloaded you are ready to update the firmware on your TV.

Part 2: Updating The Firmware On The TV

Once you have the firmware unzipped and loaded onto your USB thumb drive you are ready to upload it into your TV.

1. Connect your USB thumb drive with the firmware file on it to your TV's Service port.




2. Using your TV's remote, press MENU to open the Main menu

3. Depending on your HDTV's menu options, you will need to select the section that contains the option to upgrade your firmware. This could be called SUPPORT or SELF DIAGNOSIS or some other menu choice. Use the UP or DOWN arrow keys on the remote to browse the menu choices until you find the area with the upgrade option.

4. Use the UP or DOWN to select the "Software Upgrade" option, then press ENTER. You may be able to see the current version of your firmware.

5. The Software Upgrade menu will appear and by default "By USB" will be highlighted. if it is not, use the UP or DOWN to select "By USB", then press ENTER

6. A message will appear on your screen stating "Scanning for USB"

7. After finding the firmware, your TV will display a message that "A valid firmware version was found" and ask if you would like to update. Press ENTER to accept and begin the installation.

8. After the firmware finishes installing, your TV will power off and then power back on.

Your TV will now have the latest firmware.


SERVICE locations by zipcode for your TV
Samsung TV service locations


FIND a TV repair location in your state.
www.yext.com/tvrepair





• Wall Mounting HDTV - Companies, mounts
• How to upgrade SAMSUNG HDTV firmware





See also:
• Plasma TVs - top ten things before buying HDTV
• PC stereo hookup
• Windows Sound Recorder
• VCR Recording








Got a question? Audio Video Forum


• see over 100 Hookup Diagrams

• TV input select

• Timer Record Radio Shows on a VCR

• TV too loud?

• FM transmitter for TV sound

• Camcorder hookup to TV, DVD

• Camcorder Buying Guide

• Compare video editing software

• Audio Video Connections

• See over 100 Hookup Diagrams