Home
Easy HDTV Hookup
DVD to HDTV
• Internet-capable HDTVs
• Blu-ray Basics
• HDTV Basic Setup
• How to hook up a Plasma or LCD HDTV
• How to hook up a Cable TV box
• Cable TV - Cable Box Setup
• Cable TV - Cable Box Setup Scientific Atlanta 4250HDC
• Surround Sound over HDMI
• Surround Sound - How to Hookup
Cable connections


KA-BAR Becker BK2 Campanion survival, camping, hunting knife


Cold Steel Kobun Knife Review for 2012



The Knife - Cold Steel Kobun






Cold Steel Kobun for 2012.

The Kobun is a lightweight fixed blade full tang tanto style boot knife. For $25 to $40 this knife is worth considering if only because of the great value. The tanto style point is designed primarily for piercing. The small yet adequate size of this knife makes for an ideal backup. Those with very large hands may find the grip too thin but for a backup knife it makes a good defender. Military and law enforcement personnel often carry a backup or boot knife for defense if primary weapons are exhausted. The kobun looks like a mini version of the Cold Steel tanto fixed blade knives which are heavier, thicker and much more expensive.

Good rubberized grip on the handle which has a lanyard hole. The sheath is thermoplastic with very good retention. A clip on the sheath can be used for belt or pocket, inside the waist carry or boot carry. Ten grommets in the sheath allow lashing with 550 paracord to leg or vest.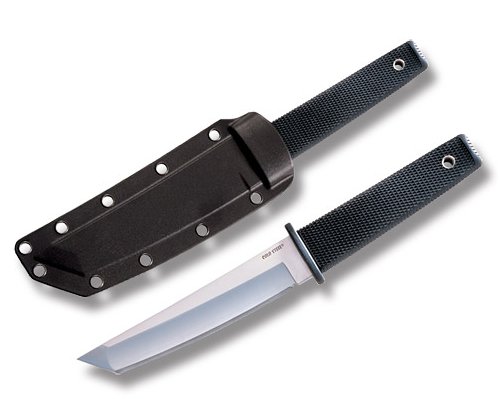 Specifications:

Blade Length: 5 1/2"
Overall Length: 9 7/8"
Steel: Japanese AUS 8A Stainless
Weight: 4.4 oz
Handle: 4 3/8" Long Kray-Ex™
Sheath: Secure-Ex® Sheath

Made in Taiwan

Kraton rubber handle with checkered grip. Lanyard hole.

550 nylon paracord (550 pounds breaking strength) Genuine MIL-SPEC MIL-C-5040 Type III Paracord has 7 inner yarns each made up of 3 strands.



Reviews for the Cold Steel Kobun
http://www.youtube.com/watch?v=LRk7Qf5OI4E



Custom leather knife sheaths




Knife Steel



Knife blades are steel but why so many different kinds and numbers?

Steel is not a chemical element. Steel is a combination of chemical elements all mixed together called an alloy. The different kinds of steel have slightly different combinations of elements and amounts of those elements. For example stainless steel will have 11 to 20 percent Cr (Chromium) for resistance to rust. Steel is mostly Fe (Iron) with a mix of several other elements which add hardness, durability, or other desirable traits to the steel. Each kind of steel is made by companies around the world which give their particular mix a number or name so everyone knows what is in the steel. The following link has much information on knife steel.



http://zknives.com/knives/steels/steelchart.php




• Audio Video Cable Types
• Cable Connections - hookup
• How to connect DVD player
• See over 100 hookup diagrams

• Wall Mount an HDTV - How To


Got a question? Columbia ISA audio/video blog