External Sound Card for Laptop
Vista, Windows 7, soundcard, stereo mix:
How to Record Sound in Microsoft Vista, Windows 7

If you are one of the many Microsoft XP users who upgraded to Vista or Windows 7 and found out you no longer have stereo mix to record audio, the following may help fix the problem. There are some workarounds such as plugging a 3.5mm stereo male to male cable from the speaker output port into the mic input port BUT, this is not the way to go because the sound will be wrong and besides the mic may only be mono 1 channel and not stereo. You can record sound this way but it will not be good quality.


Solution 1 - Enable Devices
The easy, fast, simple solution, if it works for you, is to enable your stereo mix. This will not work for all users but it will work for some. By default, stereo mix seems to be disabled in Vista and Windows 7. Do the following to enable:

Right click on your speaker icon in the lower right of your screen and go to recording devices. This will show a SOUND window with sound devices.
Alternative: Click on the Microsoft Start button (lower left), Go into Control Panel (Classic View) and double-click on the

Sound

icon. Click on Recording tab.




Next right click in the

sound

window and a popup will show disabled and disconnected devices. For all the disabled devices, Check ENABLE. If no disabled devices show, move on to the next solution. Otherwise you are good to go. Run your audio recording software and select stereo mix to record.

Solution 2 - Driver Update

Sometimes updating your sound card driver will do the trick. If you feel that this solution is more than you want to handle, move on to solution 3. Updating drivers is not difficult but it can lead to issues if done incorrectly. Again, this solution will work for some but not all.

Get into Control Panel and click on Device Manager. Look for SOUND, video etc. and click on the sound card, in this case Conexant Smart Audio. Right click to bring up a menu with update driver software. This runs a wizard to help find the driver. Sometimes Windows will inform you that you already have the best driver installed.
Alternative way to start device manager:
Click on

Microsoft Start button

on lower left of your desktop screen. In the search box, click then type devmgmt.msc and hit enter. You will now be in Device Manager.




You can have Windows search for a driver or you can manually locate a driver yourself. The manufacturer of your computer is the best source for driver software. For example, a COMPAQ laptop is made by HP, so go to www.hp.com and look for a sound card driver for your model of laptop and your sound card description from the device manager. Follow instructions from manufacturer's website to download driver.

View this YouTube video for an example under Windows 7 of an automatic search and update of audio driver.
http://www.youtube.com/watch?v=CbdfvqU9Wkk&feature=related


Solution 3 - External Sound Card
Many people want to blame Microsoft for the stereo mix problem but in fact it is not a problem with Vista or Windows 7. Some sound cards, particularly in laptops, simply do not have a stereo mix capability and no driver update or OS modification is going to restore stereo mix simply because the sound chip does not have this feature. It is actually a hardware limitation. Why this feature is omitted is a question for the Intel/HP/Sony/Hollywood/Dell/Toshiba crowd but don't expect a straight answer. These sound chips are on the main board in the computer and are often of limited capability. However, there is a solution.

Get your own external sound card with more capability, including stereo mix. External sound cards for laptops connect with USB and have their own drivers. When the external sound card is connected, you can select in your audio recording program, the stereo mix.

There are many external USB sound cards to choose from, but be careful, some are junk. One that is recommended is the Star Tech model ICUSBAUDIO7D with many extra features but best of all, it returns stereo mix to your Vista or Windows 7 computer. It includes a CD-ROM with the drivers you need, a USB cable to connect to computer and instructions, all for about $30 or so.


BUY from Amazon.com
About the size of a deck of cards, this device offers stereo mic input, line in, headphone out, surround sound out and volume controls.
OS Compatibility - Windows 2000/ XP(32/64bit)/ Windows Vista(32/64bit)/ Windows 7(32/64bit)



http://www.startech.com/USB audio adapter

http://www.startech.com
Owner's Manual, installation and specs.
Connect USB soundcard to computer. Insert the CD-ROM, follow instructions. (SETUP.EXE)
After successful install, each time you connect the USB sound card, the driver is prepared and after about 15 or 20 secs, an icon with a music note should appear in the bottom right of your screen next to all the other icons. Click on this icon to bring up the controls and information.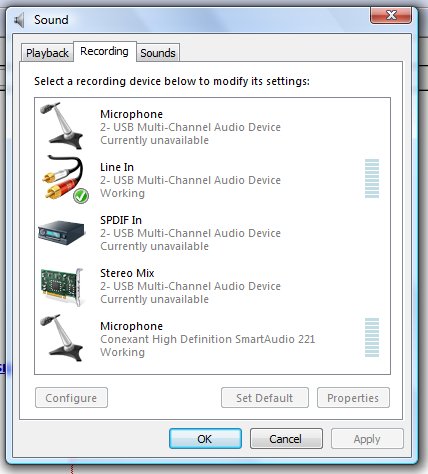 If stereo mix is unavailable, then make it the default device.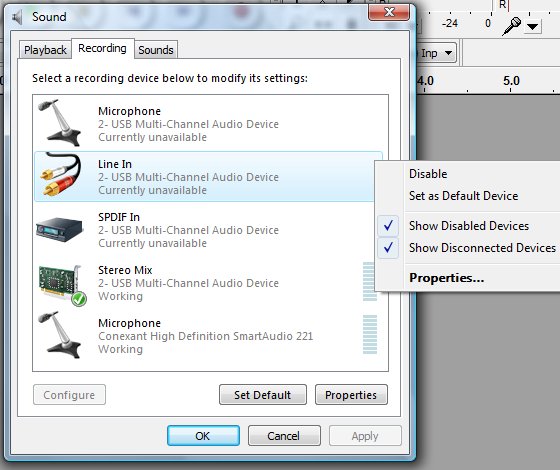 Now run Audacity or other software to record sound. Select stereo mix in the recording software and record audio.

How to setup broadband wireless internet at home


• Internet-Ready HDTV has arrived in 2009
New TV sets from LG, Sony, Vizio, Samsung and others link internet to HDTV.

• Internet TV Media Players compared
ROKU, Sony, WD, Boxee box, Apple, Netflix, Hulu


• How to setup wireless USB adapter for a desktop PC

• How much does it cost to run my TV?

º What you need to know about jewelry before shopping

º How to hookup TV or laptop to powered speakers

• How to tell if your Diamond is real






• Hook up diagram for old portable TV sets using a TV converter box


• What is HDMI?

• What is USB?

• VCR SETUP

• Nintendo Wii hookup diagrams

• Camcorder Video Capture - WinXP to Vista

• DVD media hardware software

• HDTV BUYING GUIDE

• Converter box and VCR to TV hookup
• DVD player to TV hookup
• Digital Cable TV box to TV hookup

• RF Modulator for DVD hookup to TV

Apple iPod Touch


Remember, a cable connection diagram is only one part of the total solution for getting your system working to perfection. You also need to know how to select the proper input on your components and how to setup on-screen menu options and other audio/video knowledge.




Apple iPod Touch, iPhone4, iPad2


How to connect iPod Touch 4 to HDTV





Put your slides, movies, photos, and everything else that fills your iPad 2 screen on an even bigger screen. Apple Digital AV Adapter also supports HD video out for iPad, iPhone 4 and iPod touch (4th generation). Apple Digital AV Adapter mirrors exactly what you see on iPad 2. If you have an iPad, an iPhone 4, or a fourth-generation iPod touch, Apple's Digital AV Adapter finally makes it possible to output HD video (with audio) from your iOS device to your HDTV.

The Apple Digital AV Adapter mirrors exactly what you see on iPad 2 so that everyone in the room can enjoy it on your widescreen TV, video projection screen, or other HDMI-compatible display.

The Apple Digital AV Adapter also supports video out for iPad, iPhone 4, or iPod touch (4th generation). The adapter itself has two ports, one HDMI female port and one standard female iPod connector port. This permits you to power/charge the iPad or iPhone while simultaneously outputting video and audio.


Connect the Apple Digital AV Adapter to your iPad, iPad 2, iPhone 4, iPhone 4S or iPod touch (4th generation) via the 30-pin dock connector and to your HDMI-compatible display using an HDMI cable (sold separately).

A second 30-pin connector built into the AV adapter lets you charge and sync your device while it's connected to your HDMI-compatible display.








For hookup to standard TV, use the Apple composite AV adapter

Compatibility: iPod nano 3G, 4G, 5G; iPod classic 4G, 5G, 5.5G, 6G; iPod touch 1G, 2G, 3G, 4G; iPhone, iPhone 3G/3GS, iPhone 4; iPad
Enjoy slideshows or videos from your iPhone or video-enabled iPod on your TV or other video devices
AV cable connects to iPod universal dock or directly to your iPod/iPhone
Composite AV connectors: analog audio (red/white) and video (yellow)
Also includes USB connector for plugging into power sources


Columbia ISA - Empowering consumers thru information.

Contact: columbiaisa@yahoo.com





• When in doubt, SEE if your remote control is working



• In-wall wiring speakers, cables, home theater, CL2, CL3

• Ask a question on Columbia ISA - BLOG

• Previous BLOG comments Audio/Video



• Satellite TV home installation guide

• DVR - Digital Video Recorder

• DVD Recorder Buying Guide

• HDTV Buying Guide

• How to hook up a cable TV box

• How to hook up a SA4250HDC digital cable TV box

• How to ground your TV antenna

• Broadcast TV reception

• Surround Sound

• Switch boxes video audio RCA phono and more

• Audio Video selector switches including Toslink

• All About HDMI - HDMI Cables








AUDIO - VIDEO


RF - video and audio
RCA - analog audio, (red and white)
analog video (yellow)
HDMI - Digital Video and Digital Audio
Digital Audio Bitstream
Cable TV boxes, satellite TV receivers, analog TV, VCR
DVD players, analog TV, VCR
Newer DVD players, HDTV, HD Cable boxes, HD Satellite Receivers
DVD players, Digital cable boxes, Satellite Receivers, Audio/Video Receivers


Columbia ISA
Empowering consumers thru information.

CONTACT / FEEDBACK
• columbiaisa@yahoo.com

• How to hook up Plasma TV
• HDTV Basic Setup