Cable connections and hookup wiring diagrams -

TV, HDTV, DVD, Blu-ray, VCR, CABLE TV & SATELLITE TV RECEIVERS, AUDIO/VIDEO RECEIVERS:

o Home Theater, digital TV, HDTV.
o Audio Video cables, RF, RCA, Component, DVI, HDMI.
How to setup broadband wireless internet at home

• Look for HDTV CABLES

• Internet-Ready HDTV has arrived in 2009
New TV sets from LG, Sony, Vizio, Samsung and others link internet to HDTV.

• Internet TV Media Players compared
ROKU, Sony, WD, Boxee box, Apple, Netflix, Hulu

• Kindle Fire - new for 2012 e-book reader, Wi-Fi, and more from Amazon


• How to setup wireless USB adapter for a desktop PC

• Bluray Disc and HDTV

• How much does it cost to run my TV?

º How to hookup TV or laptop to powered speakers

• Hook up diagram for old portable TV sets using a TV converter box

• DTV converter boxes for 2009, the switch to Digital TV

• DTV converter boxes reviewed


• Converter box and VCR to TV hookup
• DVD player to TV hookup
• Digital Cable TV box to TV hookup
• Satellite TV box and converter box to TV hookup
• Home Theater hookup
• Audio/Video Receiver hookup

• RF Modulator for DVD hookup to TV




Television in the UK
Provider
Years
Cost
No. channels
Households
Transmission

Freeview

2002-
Free
50+ (TV)
24 (radio)
9,700,000
Digital terrestrial
Sky TV
1998-
Pay
400+ (TV)
160+ (radio)
9,000,000
Digital satellite
Virgin TV
2006-
Pay
250+ (TV)
35+ (radio)
3,700,000
Digital cable
Freesat
2007-
Free
115 (TV)
38 (radio)
1,700,000
Digital satellite
Freesat from Sky
1998-
Free + PPV
240+ (TV)
80+ (radio)
600,000
Digital satellite
Top Up TV
2004-
Pay
10
490,000
Digital terrestrial
BT Vision
2006-
Pay
3
400,000
IPTV and digital terrestrial




What you need for TV reception:



Depending on which TV signals you want, typically you need a proprietary set-top-box (satellite or cable) or an aerial.
Aerial requirements for analogue (the old standard) and digital reception in the UK are identical; there is no such thing as a special digital aerial.

High Definition TV
HD (high definition video) gives you exceptionally clear, crisp pictures with vivid colours and up to five times more detail than the old standard definition video. A standard UK TV picture is made up of 576 horizontal lines of pixels, but a high-definition TV screen uses either 720 or 1080 lines. More and more programmes are being made in High Definition and most new flat-screen televisions (LCD or plasma) have HD video resolutions. HDTVs are also capable of displaying standard definition video.
High definition TV is transmitted in two different hi-def formats:
720 progressive - Each image is made up of 1280 pixels on 720 horizontal lines. The 'progressive' bit refers to the fact that each line is drawn individually to build up the picture.
1080 interlaced - Each image is made up of 1920 pixels on 1080 lines. 'Interlaced' refers to the fact that the image is split into two 'fields' that are scanned separately, odd-numbered lines, then even-numbered lines.
1080 progressive is FULL HD but 1080p is not available except from Blu-ray Disc.
What Do I Need to Get HD?
To watch programmes in HD, you will need the following:
An 'HD Ready' TV or an HDTV with built-in tuner
An HD Receiver (a digital box that is designed to receive HD signals)
An HDMI (High Definition Multimedia Interface) cable
An aerial, satellite dish or cable connection.
HD Receiver
An HD receiver is a digital box that is designed to receive HD signals. You might already have an integrated TV with an HD receiver built in. If not, you can buy a separate HD receiver from a satellite company (Sky), from a cable company (Virgin Media), or you can get a Freesat or Freeview HD box from an electrical retailer. HD digital boxes are usually both a digital video recorder and a receiver all in one.

HDMI (High Definition Multimedia Interface) Cable

HDMI cable - video and audio / High Definition and standard definition video. The HDMI cable (Type A) has 19 pins.

Because HD transmits in greatly increased detail, you'll need an HDMI cable to connect it to your HD TV - just look for the marked output/input ports on the back of your equipment and plug it in. If you have an HD integrated TV, and you plan to view only freeview TV (aerial) , you won't need an HDMI cable, as the HD receiver will already be built-in. For HD cable TV or HD satellite TV, connect an HDMI cable from the HDMI output port on the digital receiver box to the HDMI input port on the HDTV and select that input on the TV using the TV remote.

HDMI is a compact audio/video interface for transmitting encrypted uncompressed digital data (audio and video). It is a digital alternative to consumer analog standards, such as radio frequency (RF) coaxial cable, composite video (yellow), SCART, component video (green, blue, red), or VGA (also called D-sub or DE-15F).
HD service providers
There are currently four HD service providers: Freesat, Freeview**, Sky and Virgin Media. For Freeview you will need an aerial, for Freesat and Sky you'll need a satellite dish installed outside your home and for Virgin Media, you'll need a cable connection.
Aerial
Freeview: Freeview HD is a television service that offers HD channels via your existing TV aerial, all for free. In order to view these HD channels you will need a Freeview HD box that connects to an HD Ready TV. Or, if you don't have an HD ready TV, then TVs with Freeview HD built in are now available. Plus, you also get access to up to 50 SD digital channels and radio stations - all for free. To check if you can receive Freeview HD at your address and for more information visit freeview.co.uk
Satellite
Freesat: this subscription-free digital satellite TV service from the BBC and ITV includes the BBC HD channel. To get freesat, you make a one-off payment for the HD digital box and installation. For more information, visit freesat.co.uk or call 0845 313 0051.
Sky: Sky currently leads the way in UK HD, offering over 50 channels of TV in stunning high definition. An HD free-to-air channel does not need to be purchased to be viewed on Sky's HD service. Sky's HD service allows you to view a free HD channel plus two additional free-to-air channels. To get Sky's HD service you will need a Sky+HD box and a satellite dish. Sky also offers a subscription HD service which allows you to view many more High Definition channels and a choice of on-demand HD programmes. For more information, visit sky.com/hd or call 0844 241 1614. The following High Definition channels are available: BBC One HD, BBC HD, ITV 1 HD, Channel 4 HD, Sky 1 HD, FX HD, E4 HD, Biography HD, Sky Arts HD, Luxury Life TV, SyFy HD, Sky Real Lives, nine Sky HD Movies channels, 4 Sky Sports HD channels, Sky Atlantic HD, Sky News HD, Eurosport HD, Discovery HD, National Geographic, History HD, Crime HD plus Sky Box Office HD movie channels. See the full Sky HD Channel List.
Cable
Virgin Media: an HD subscription package is available on cable. HD on-demand programmes are also available. To get Virgin Media HD, you need a V+ HD digital box and you must live in an area with active cable TV coverage. For more information, visit virginmedia.com or call 0845 840 7777. Over 28 channels available, including - BBC One HD, BBC HD, ITV 1 HD, Channel 4, National Geographic HD, FX HD, Living HD, Sky 1 HD, Film 4 HD, SyFy HD, Eurosport HD, Discovery HD, E4 HD and MTVN HD.
If you already use Sky and Virgin Media, you'll need to upgrade to their HD service and buy one of their HD receivers. If you use Freesat or Freeview, you'll need to buy one of their HD services. Contact your service provider to find out more.
** Freeview HD Freeview HD
Surround Sound
Surround sound - also known as 5.1 sound - is the latest improvement in audio technology, which has progressed from mono sound to stereo sound, and now surround sound. It expands and deepens sound quality and gives the audience a three-dimensional experience. HD TVs have stereo speakers built in already. However, if you want to take full advantage of the home cinema experience, you may want to buy a 5.1 surround sound system (five speakers and a subwoofer) that is compatible with your HD set up. Typically a Toslink cable (optical) is used to connect to the surround sound system. HDMI can be used with some audio/video receivers, and is the newest method of connection for digital audio. Most digital set-top-boxes will have an optical output.
The image above shows the optical and the HDMI connections found on components involved with surround sound. Optical uses a fiber optic audio cable to carry compressed digital audio from the source device to the surround processor. The surround processor must be able to decode the audio, amplify and direct to the loudspeakers.
The audio cable above connects the optical out port on the source device to the optical input port on the surround sound processor.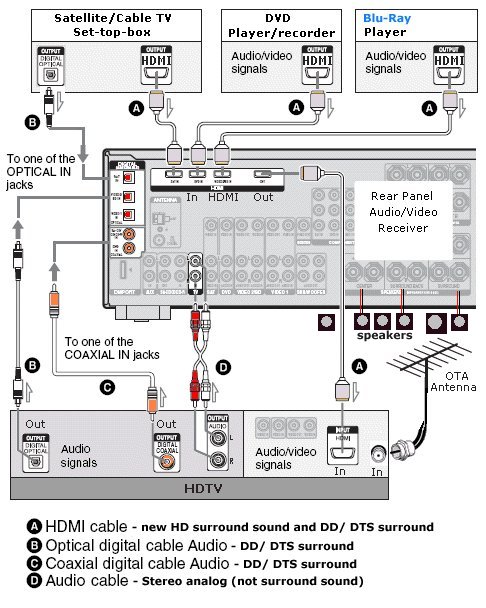 Surround sound diagram shows both HDMI and optical hookups using an audio/video receiver as the surround sound processor
Dolby Digital (DD) and Digital Theater Sound (DTS) are found on DVD. High Definition TV signals can contain Dolby Digital 5.1 surround sound. The newer surround sound formats such as Dolby TrueHD require the HDMI connection and are found on Blu-ray Disc.

HDTVs usually do not have very good sound reproduction because the screens are so thin, speakers are difficult to insert into the display. Connecting an optical Toslink audio cable from the HDTV optical output to a sound system is the answer. Either a surround sound setup such as an audio/video receiver with loudspeakers or a stereo system will work. A stereo setup will need an adapter to take the optical and adapt to stereo 2 channel (white and red) RCA plugs for input to the stereo receiver or amplifier.






HDTV rear panel input and output ports explanation -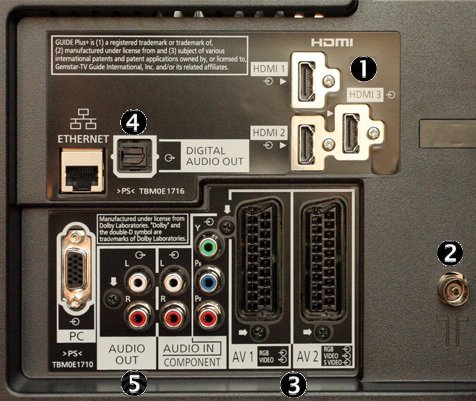 In the image above, the HDTV connection ports are as follows:
1 - HDMI : Connect an HDMI cable to one of these input ports for a satellite box, or a cable box or a DVD player. High Definition video and audio and standard definition video.
2 - Aerial input RF coaxial - Connect the aerial lead to this input for terrestrial TV broadcasts.
3 - SCART - Connect for standard definition (DVD, VCR) video and audio.
4 - Audio out Digital Optical - Connect a Toslink cable for bitstream audio (up to Dolby Digital 5.1 surround)
5 - Audio out Stereo - Connect RCA phono (white, red) for 2 channel sound.
FREEVIEW HOOKUP DIAGRAM
To get Freeview broadcasts, you need a new HDTV (LCD or Plasma) and an aerial connected to the TV. Tune channels on the TV. Connect a DVD player to the TV's HDMI or SCART input ports.
For those with older, non-digital TV sets, you will need to get a digital converter box for Freeview. Some Freeview boxes are very inexpensive. Some have a built-in video recorder. Tune the channels on the Freeview box.
Hookup diagram for Freeview digital TV conversion to non-digital TV.
For TV sets without a SCART socket, buy a Freeview receiver with a UHF modulator built-in and connect the RF output to the TV's aerial input. Tune TV to the channel output by the set-top-box.
Buying a new LCD TV with an integrated Freeview HD tuner eliminates the need for a Freeview set-top-box.
SKY HOOKUP DIAGRAM
SKY satellite high definition hookup
Question: How do I connect my VCR to the SKY box?
Answer: Connect the SKY box RF2 output to the VCR's RF input (select the proper SKY box output RF2 when recording) and connect the VCR's composite out (yellow, white, red) to the TV's composite inputs. Select the TV's composite input when playing tapes. The RF2 out can be set to a channel of your choice such as 60 or 68. You set the VCR to record this channel. The setup menus on the SKY box (RF OUT Channel Number) are different for each box type. Consult user's guide.
Question: How do I connect the SKY box to a TV which is not High-Def?
Answer: Connect the SKY box's SCART output to the TV instead of the HDMI out. Select the TV's SCART input.
Question: My TV does not have enough SCART sockets. What is the solution?
Answer: Get a SCART switch box with multiple inputs and an output to the TV so you can switch each input as desired.
Cable TV - High Definition
Diagram HD cable TV box to HDTV using HDMI for High Definition

Tune channels on the cable box. (Select the proper HDMI input on the TV)

Contact: columbiaisa@yahoo.com




• In-wall wiring speakers, cables, home theater, CL2, CL3
• Satellite TV home installation guide

• DVR - Digital Video Recorder

• DVD Recorder Buying Guide

• HDTV Buying Guide

• How to hook up a cable TV box

• How to hook up a SA4250HDC digital cable TV box

• How to ground your TV antenna

• Broadcast TV reception

• Surround Sound

• Switch boxes video audio RCA phono and more

• Audio Video selector switches including Toslink

• All About HDMI - HDMI Cables








Columbia ISA
Empowering consumers thru information.

• How to hook up Plasma TV
• HDTV Basic Setup