Connect HDTV, HD Cable TV box, Playstation 3, Wii, Bluray and Surround Sound Receiver

This connection involves a HD Cable TV box, HDTV, Bluray, Playstation 3, Wii and Audio/Video Receiver.

Components:

o HD Cable TV service
o HDTV - SONY KDL-46WL140
o HD Cable box
o Blu-ray Player
o Audio/Video Receiver with 5.1 surround sound
o Audio/Video RCA cables (1-yellow, 1-red & 1-white audio).
o RF coaxial cables (RG-6).
o HDMI cables
o Sony Playstation 3 game
o Wii game


HDTV

• built-in stereo speakers

• A/V inputs, including:
• Component video
• composite video
• S-video
• RF input for antenna/cable signals
• Audio Out (stereo)
• HDMI inputs



Blu-ray Player


• Blu-ray Player hookups and FAQ
• Standard DVD and Bluray Disc Player
• Composite audio/video inputs and outputs
• Up-Converting Output
• Video
System NTSC

Connectors

Inputs
Audio/Video Composite - x1 (RCA)

Outputs
Audio/Video Composite - x1 (RCA)
Component video - x1
HDMI - x1

Remote Control Yes
Power Requirements 120VAC, 60Hz


Audio/Video Receiver - Yamaha HTR-6130

HDMI inputs/output
Component Video inputs/output
Surround Sound decoder



Hook up DIAGRAM - HDTV, HD Cable Converter box, Bluray Player, A/V Receiver




Cables Connections and explanation:

A Cable TV provider is used to receive TV signals.

1. Connect a Component Video RCA (3) cable from cable box to Audio/Video Receiver. This is for watching HDTV.

2. Connect Component Video RCA (3) cable from Monitor OUT on A/V receiver to HDTV Component Video input.

3. Connect HDMI cable from BLURAY HDMI Output to A/V Receiver HDMI input and HDMI cable from A/V receiver's HDMI OUTPUT to the HDTV's HDMI input.

4. Connect yellow video and white and red audio cables from Sony Playstation 3 to HDTV.

5. Connect Wii game to HDTV using standard cable, video and audio RCA connections.

• Wii connection diagrams

• Blu-ray Basics - more hookup diagrams




Why would you want this configuration?

o To view TV shows.
o Play DVD-Video to HDTV.
o Listen to surround sound.
o Play Video Games





What can you do with this configuration?
o Watch TV, Play Video Games and view movies on DVD and Bluray



What settings do you need for this configuration?


TV Channels are selected on the cable TV converter box using the remote control for the box.

Select on the HDTV, the proper input depending on what you want to do.

OTHER SOUND OPTIONS

Although you can use RCA audio connections (white and red) for sound, you can also use an optical cable or a coaxial audio cable for true surround sound by connecting to the A/V receiver's digital audio inputs. A user selectable option in the A/V receiver may be needed to setup surround sound for the digital audio inputs.





HDMI Cable

• Sony PS3 HDMI cable connection to HDTV

• PS3 Hookup

PS3 Hookup without HDMI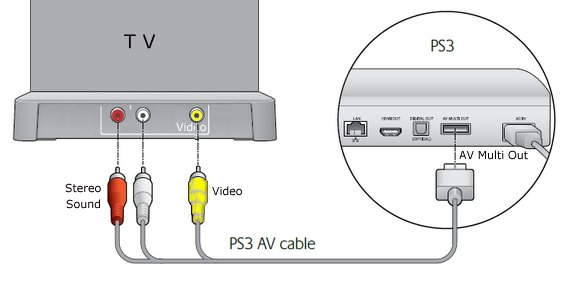 PS3 Hookup to TV without HDMI using the supplied AV cable

Search Columbia ISA



Google

See more...

• Input Select on TV and other devices
• Cable hookup digital cable and TV
• Audio Video Connections and cables
• HDMI Versions
• HDTV hookup options
• HDTV basic setup
• See over 100 hookup diagrams

• How to hook up a Plasma or LCD HDTV
• How to hook up a Cable TV box
• Cable TV - Cable Box Setup
• How to Install a HD Cable Box
• Cable TV - Cable Box Setup Scientific Atlanta 4250HDC
• Surround Sound over HDMI
• Surround Sound - How to Hookup
• HDTV Antennas and Reviews
• HDTV Buying Guide 2010
• Best HDTVs for Fall 2009
• HDTVs for under $500
• Samsung HDTV Fall 2009
• See over 100 hookup diagrams
• Guide to DIAMOND Buying
• Guide to DIAMOND Wedding Rings
• How to tell if a diamond is real
• How to find your ring size
• Bluray Players, internet-enabled, Netflix movie streaming
• SONY Bluray Player BDP-S470 REVIEWED
• Cable Types, audio/video for TV, explanation
• Hookup diagrams, TV, VCR, DVD, Digital cable box
• DVD Players reviews and Guide
• How to copy VHS to DVD - copy VCR tape to DVD disc
• ROKU digital video player Setup Guide
• HDTV BUYING GUIDE in 9 EASY STEPS
• SAMSUNG LED HDTV Review
• What do I need to see 3D TV?
• How to copy DVR to VCR
• SlingBox, TV everywhere, watch on your phone
• Internet TV - video streaming
• Routers - wireless how to setup network
• How to buy a wireless router

Video Games - HDMI connection for PS3

The Sony PS3 has the capability to connect to a High Definition TV using a HDMI cable hookup or a component video cable hookup. HDMI is the prefered connection but the component video (green, blue, red) can also get you HD video for your games. The PS3 has a dedicated output port for the HDMI cable connection.

The PS3 can be connected directly to your HDTV using a HDMI cable or you can connect the PS3 to a Audio Video Receiver (AVR) which has HDMI capabilities and 5.1 surround sound.




• PS3 Hookup

• Sony PS3 Hookups connections - Home Theater

• Sony PS3 Firmware Updates
• Sony PS3 Video settings
• Sony PS3 connections examples


Problem: Sony PS3 black screen on TV using HDMI cable connection.
You connect your Sony PS3 up to your HDTV over HDMI, and you get a black screen.

Try unplugging all components and waiting about 10 mins before plugging them back in.

Help with PS3 HDMI setup: Try the following solution.

1. Hook up the PS3 using the composite video cables that came in the PS3 box, yellow video cable plus white and red audio cables, in addition to the HDMI connection between the PS3 and the HDTV (ie. connect both outputs).

2. Turn on the PS3, and let it boot up.

3. OPTIONAL: If you have no video, hold your finger on the Power button for 10 seconds, you should hear two beeps. A normal power-off is only 2 seconds or so, but if you hold your finger there for 10 secs it causes a hardware reset which should reset your video output to the default composite video cable. After the second beep, let go.

4. OPTIONAL: With newer firmware updates, the PS3 auto-detects the HDMI connection and will ask you if you want to switch to it, you can say "Yes" and skip down to Step #7.

5. Go to the PS3 System Settings > Display Settings, and change the display to HDMI.

6. Switch your HDTV to the HDMI input using the TV remote, accept the display changes.

7. Disconnect the composite video (yellow) cable connection.

Did the steps above fix the problem? If not continue below.
Possible Solution: cheap HDMI cables not allowing the television and PS3 to negotiate a secure HDMI connection. Buy Amazon.com or Monoprice.com good quality HDMI Cable for about $10.

1. Make sure your PS3 firmware is fully updated. Past PS3 firmware updates have affected how the PS3 negotiates a secure HDMI connection.

2. Make sure your HDTV's firmware is updated. You can check your TV manufacturer's website, they typically offer firmware updates that you can download to a USB drive and plug into the HDTV.

3. If that doesn't work, the problem might be your PS3 and TV not being able to establish a secure HDMI handshake which is required for an HD signal. You can try working around this by purchasing what is called an "HDMI switch", it's basically a hub, but for HDMI connections (as opposed to USB or network connections). You can get a $10 manual switch, or a remote-controlled HDMI switch for $25.

View the following video for more help with black screen problem on PS3

http://www.youtube.com/watch?v=1mdemQmOXis&feature=related

Hold power button until you hear 4 beeps, one, two, then two quick beeps.

Possible other causes of black screen:
1. Corrupted Hard drive
2. Broken Hard Drive (requires service from Sony)

Problem: I get video out from the composite cable that came bundled with the PS3, but not from HDMI.

Could be something wrong with your PS3 HDMI port and it needs to be repaired, but, another option is to buy the PS3 Component AV Cable ($16), check to make sure your TV accepts HD (720p, 1080i) over the component connection and hook your PS3 up this way instead of HDMI.



Problem: I've tried everything and cannot get video output.
Could be your PS3 video card is broken and your PS3 needs service from Sony.

Try going to http://us.playstation.com

Xbox 360 Console

• How to Connect your Xbox 360 console to a home theater surround sound system



Apple iPod Touch, iPhone4, iPad2


How to connect iPod Touch 4 to HDTV





Put your slides, movies, photos, and everything else that fills your iPad 2 screen on an even bigger screen. Apple Digital AV Adapter also supports HD video out for iPad, iPhone 4 and iPod touch (4th generation). Apple Digital AV Adapter mirrors exactly what you see on iPad 2. If you have an iPad, an iPhone 4, or a fourth-generation iPod touch, Apple's Digital AV Adapter finally makes it possible to output HD video (with audio) from your iOS device to your HDTV.

The Apple Digital AV Adapter mirrors exactly what you see on iPad 2 so that everyone in the room can enjoy it on your widescreen TV, video projection screen, or other HDMI-compatible display.

The Apple Digital AV Adapter also supports video out for iPad, iPhone 4, or iPod touch (4th generation). The adapter itself has two ports, one HDMI female port and one standard female iPod connector port. This permits you to power/charge the iPad or iPhone while simultaneously outputting video and audio.


Connect the Apple Digital AV Adapter to your iPad, iPad 2, iPhone 4, iPhone 4S or iPod touch (4th generation) via the 30-pin dock connector and to your HDMI-compatible display using an HDMI cable (sold separately).

A second 30-pin connector built into the AV adapter lets you charge and sync your device while it's connected to your HDMI-compatible display.








For hookup to standard TV, use the Apple composite AV adapter

Compatibility: iPod nano 3G, 4G, 5G; iPod classic 4G, 5G, 5.5G, 6G; iPod touch 1G, 2G, 3G, 4G; iPhone, iPhone 3G/3GS, iPhone 4; iPad
Enjoy slideshows or videos from your iPhone or video-enabled iPod on your TV or other video devices
AV cable connects to iPod universal dock or directly to your iPod/iPhone
Composite AV connectors: analog audio (red/white) and video (yellow)
Also includes USB connector for plugging into power sources





Columbia ISA - Empowering consumers thru information.

Contact: columbiaisa@yahoo.com