ROKU Player SETUP - Streaming Media, Netflix
How to Setup ROKU Player for TV


ROKU Streaming Media Players: Internet TV

Cable TV and satellite TV have a lot of ads that waste your time and many channels you do not want to watch. If you do want to watch something, you have to watch on their schedule. Why not watch what you want, when you want, sometimes with no ads? Internet streaming on your TV is the answer. The ROKU internet box and your home network is all you need. Setup, sign up, pay for only what you want to watch. Many shows are free.

ROKU Players or streaming internet boxes are, in 2015, in the 3rd generation of players. Improvements in the new boxes include faster speeds, earphone jacks and more memory. ROKU offers 3 players from $50 to $99, the ROKU 1, 2 or 3.
The ROKU 3 model 4230 now has voice search which helps to find the content you want.





The ROKU 3 box has wired (ethernet) and wireless internet connections while the ROKU 1 and 2 models have wireless only. The ROKU 3 does not have the RCA connections, only HDMI so for older TV households, you will need the ROKU 1 or 2 models. The ROKU 2 has earphones. All three models support up to 1080P high definition video (HDMI required for HD). A power adapter for wall plug-in comes with the unit and also earphones for private listening. All you may need to buy is the HDMI cable for connection to your TV.

Video available includes: Netflix, Amazon Instant Video, HBO GO, Hulu Plus, Vudu, Crackle, YouTube and many more. You still have to pay the monthly charge to Netflix and Hulu for example after you buy the ROKU if you want to watch Netflix and Hulu content. There is no record capability with ROKU boxes.

Both standard TV (analog) and HD TV (digital) can be connected to the ROKU players. You plug the ROKU player into the wall outlet, connect the player to the TV using HDMI or RCA audio/video cables and setup your ROKU account online.

You also need internet service from a provider such as your local cable TV company and for wireless access, a wireless router. You can also use a wired connection if you do not want to buy a wireless router. But here you would need an Ethernet cable (CAT 5 or CAT 6) connected to the ROKU box for internet access using your home network setup and the ROKU 3 model.

ROKU offers both free and pay content. Netflix is one example of pay content. But you only pay for what you choose to watch in the pay channels.

The ROKU box is small and comes with a remote control. Make sure you install the batteries into the remote.

So here is what you need:

1) ROKU player with remote and power adapter
2) HDMI cable or RCA audio/video cables
3) HDTV or older analog TV
4) Power outlet for player
5) Internet service fast enough for your viewing needs
6) Ethernet Cable or Wireless router
7) Credit card or Paypal account for billing (see below for no credit card)
8) For a wireless setup, your SSID and network password



Step by step setup for ROKU player



STEP 1 - Connect ROKU box to TV using HDMI cable (or RCA Audio/Video cables)
HDMI cable does not come with the ROKU.

STEP 2 - Insert batteries into ROKU remote

STEP 3 - Plug ROKU power adapter into ROKU box and wall outlet

STEP 4 - Connect Ethernet cable to ROKU 3 box and your home internet modem/router or for a wireless setup, which the ROKU 2, 3 and ROKU 1 have, no ethernet cable is needed.

STEP 5 - Power TV ON

STEP 6 - using the TV remote, select the source/input on the TV where the ROKU is connected. The name varies with each TV brand. SOURCE or INPUT select button on the TV remote.

STEP 7 - The ROKU screen should show on the TV. At this point you begin the setup process which will start with basic settings such as your language choice.

STEP 8 - ROKU network setup: Settings
Select wired or wireless depending on which type of connection you will be using. If wireless is used, ROKU will scan for available signals and should show you the network(s) available. Press OK on ROKU remote for the network you want. Make sure you are broadcasting your SSID.

Next enter network password. This is cumbersome because you need to select letter by letter, then skip down to CONNECT. Screen should show CONNECTING to internet. There are three green check marks for local network and internet etc. which shows progress in full connection. Any red X's shows a problem connecting. Hopefully you are the person who setup your router. Any changes to the router, you need to know the userid and login password.

Sometimes people have problems connecting to the internet. It can be a problem with your provider, or a router setting, signals from router to ROKU and a host of other issues. With the ROKU 3 you can connect with the ethernet cable directly from ROKU to router. This may allow a successful setup until wireless issues can be resolved.

If you do not have home internet service, there are a number of steps to go through to setup particularly a wireless network. For a wired network using ethernet cable, just plug into cable TV modem. Your provider will support you and help with questions on internet setup.

STEP 9 - ROKU LINK : Do you have a ROKU account? if NO, create ROKU account. You need a laptop or other computer or device to access the internet to setup your ROKU account. On ROKU's website, https://my.roku.com/signin CREATE ACCOUNT or sign in if you already have an account. https://my.roku.com/signup Enter your first name, last name, email address, password. Enter a PIN code to control payments if desired. This way a person must enter the PIN in order to charge a credit card and make purchases. Enter Credit card or Paypal account information. You should ADD some channels such as YouTube next, although you can always add channels later on the ROKU. Enter link code from TV screen. The link code is generated for each bootup of ROKU and is different each time.
www.roku.com/link

ROKU setup without a credit card:
Don't have a credit card? https://owner.roku.com/signup-nocc

https://my.roku.com/signup/nocc
Just click on SKIP at the bottom of page to skip the credit card entry.

You can also sign up online at roku.com before ROKU purchase. Payment method can be added later. ROKU has a free app for iOS and Android smartphones.

STEP 10 - Setup is complete. Press OK on ROKU remote. You should see the ROKU screen on your TV which allows you to select channels, Netflix and other content. Press HOME button on ROKU remote if needed. Navigate using the arrow keys on the ROKU remote, then press OK. Skip up, down, right and left to make selections, then press OK.

Yes, there are ads but many can be skipped or fast forwarded.

SETUP for all ROKU models:

http://support.roku.com/entries/26409964-Select-a-Roku-player-model

ROKU step by step setup/install with pictures for the ROKU 3 with voice search




ROKU 2 internet player for 2011-2012


You will need the following to set up and use the Roku 2 internet player:


An HDTV (preferred) with an HDMI port OR a standard definition TV with A/V (yellow/red /white) connectors.
High-speed Internet service with a minimum download speed of 1.5 Mbps.
A wireless network (802.11b/g/n) or a wired network and an Ethernet cable.
An HDMI cable (not included) or an A/V cable (included).
A Roku user account (free).
See ROKU setup for more information.


º How to setup wireless internet at home

º How to setup wireless USB adapter for a Desktop PC

º Internet Media Players Compared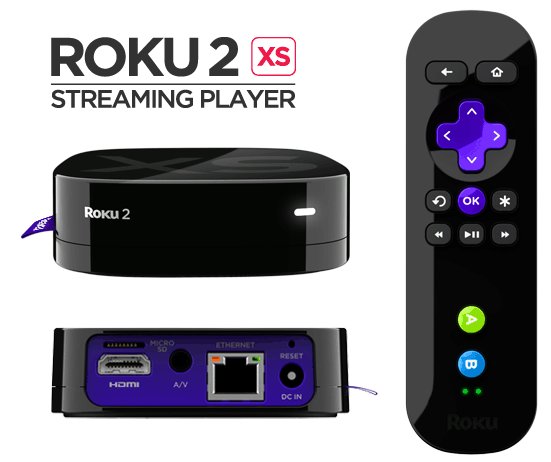 The 2011 ROKU boxes come in four models, from the LT model up to the XS model. All have built-in wireless Wi-Fi for internet connection to your home network. All have High-Definition video capability with HDMI for your HDTV and also an audio/video connection which works with virtually any TV set.



http://support.roku.com/entries/20565547-how-to-set-up-the-roku-2

See above link for ROKU 2 setup video

Also see the ROKU forums for more help
http://forums.roku.com




ROKU SETUP



INTERNET SERVICE

You need a broadband internet setup from your provider (local cable TV or telephone company), a home cable modem or DSL modem, router (wireless preferred) and a PC or Mac to best use the ROKU box. Although you do not need a PC to view internet content using the ROKU box, you do need a PC or Mac to setup your router and to setup your accounts on ROKU.com and Netflix, HULU and Amazon.com to view movies and video.

CONNECT ROKU TO TV

Basically you need to connect the ROKU box to your TV's video input using an HDMI cable or the supplied A/V cable (yellow, white, red) if you do not have an HDTV. An HDMI cable is available from Amazon.com



CONNECT TO ROUTER

Next, connect the ROKU box to your home network using either a wired ethernet cable or the wireless connection. You must have a wireless router for the Wi-Fi connection which is what most people use. Be sure to get the latest wireless N router (802.11n).

POWER UP

Plug in the power to the ROKU and power on the TV. Insert the batteries into the ROKU remote. Select the TV's input where you connected the cable from the ROKU box. Use the TV's remote to select proper input port.

CONFIGURE

The ROKU has a selection of on-screen menus to tell you about your player and allow you to change and configure your player as well as make choices for videos, movies and other internet content. The settings menu allows you to setup your player. Make selections using the ROKU remote control. See ROKU 2 Remotes to learn about ROKU remote controls.

BEGIN

If your TV and ROKU are plugged in and powered up and you have connected ROKU to your TV and selected the proper TV input, there should be an initial ROKU screen on the TV with a WELCOME message and indication to press OK on the ROKU remote to begin setup. Next, Select the SETTINGS box to get started.



ROKU PLAYER SETUP SELECTION




You can select the Network section to setup your router/home network or your TV display or sound or do a software update.



Setup your connection to your home router and enter your network password if you have one. Select wired or wireless (most select wireless)



See ROKU setup for more information.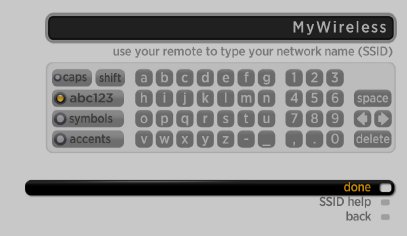 If you did not setup your router, ask the person who did to supply the SSID and any passwords required. This information is needed to establish the communications with your home network.

Then, online, setup your ROKU account. The account itself is free, but you will have to enter your credit card or Paypal information so that you can be charged for any optional channels you may purchase from the ROKU channel store. See FAQ below. You also need accounts at Netflix and other content providers so you can pay for any movies that are not free.

Roku Phone Numbers
Phone Support: 888-600-7658
Hours: Monday through Saturday (8AM to 8PM PST)
ROKU.com also offers online CHAT which gives you realtime help



The ROKU 2 XS model rear panel showing the HDMI port, standard definition Audio/Video port, Ethernet and power ports. You need to buy an HDMI cable if you do not already have one for an HDTV. For a standard TV, use the supplied audio/video cable to connect TV to ROKU.

ROKU 2 hookup diagram for HDTV and wireless router.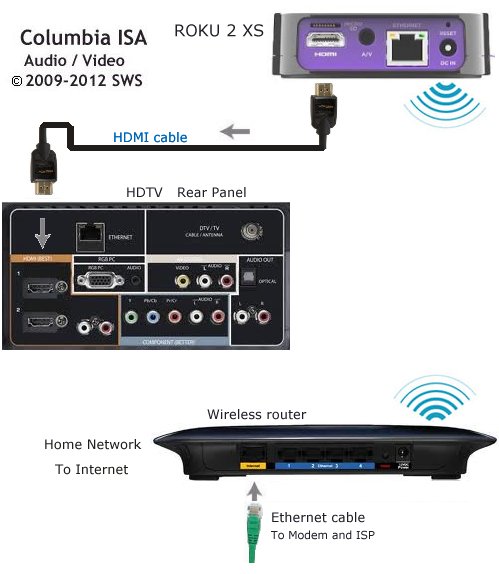 ROKU 2 Hookup Diagram for standard TV





If your TV only has a RF input jack (round silver single pin), you need to get an RF modulator and use it to connect the coax cable to the TV. See this diagram for hookup.

Once connected to your TV and powered up, continue with the setup process. Power on TV and ROKU box.

The Roku player will boot up and display the following sequence of screens:
Roku – starting, please wait.
Roku – launching home screen.
Welcome to the Roku player.
Settings - you will be given 2 options to connect the player to your router:

Wired (Roku XS model) – Use an Ethernet cable (not included) to connect your player to your router.

Click the "wired" option to continue.

Wireless (All models) – on the subsequent screens, you will select your wireless network name and enter security password for your wireless network.

Click the "wireless" option to continue.

Upon successful network connection, the Roku player will then automatically download and install the latest software. After the software update, the player will reboot.
Follow the on-screen instructions.
After the restart, you will be asked to select your time zone.
Change to your correct time zone then select "done."
The next screen will display a unique code to link your Roku player.
Open a browser session on a PC / Laptop or Mac.
Go to www.roku.com/link.
Enter the code displayed by your Roku player on your TV screen.
Log into your Roku account or create a new Roku account.
Follow all steps, including setting a payment method and selecting your initial channel lineup, to complete the linking process.
Once linked, your Roku player will refresh to a congratulations screen and be ready for use.

Press the HOME button on the ROKU remote.

See ROKU setup for more information.

ROKU FAQ:



Q: Is there a way to create a ROKU account without providing credit card information?

A: Yes. Call ROKU customer service or online CHAT and ask for a ROKU account to be created. If you only plan to use Netflix for example, a ROKU account can be created for you without any payment information. You can always enter payment information later.

Q: Why do I need to enter the code displayed by my player online?

A: The code will link your player to ROKU. If you have a second or third ROKU in the house, they can be linked thru their codes.

Q: My code does not work, what do I do now?

A: You can generate another code and try again by holding the reset button on the ROKU box for 20 secs. or by pulling out the power plug and plugging back in to the ROKU box. There is an option on the link screen to

Get a New Code

. If it still will not work, call ROKU customer support or consult the ROKU forums.

Q: How do I reset my ROKU box if I change routers/home network setup?

A: Follow these instructions:
Step 1
Turn on your television and set it to the correct input for the Roku.
Step 2
Press the "Home" button on the Roku remote control.
Step 3
Select the "Settings" option in the Roku menu displayed on your television screen. Once in the settings menu, select "Network," then choose "Repeat Guided Setup."
Step 4
Select "Wireless" and choose your new wireless network from the list of available options.
Step 5
Enter the WEP key or WPA password to access the wireless network.
Step 6
Select "Done" to allow Roku to connect to your new network.

Q: How do I know how fast my broadband internet service is for HD video?
A: Go to SPEEDTEST.NET run the test and see your download speed. 10Mbps or more is good.


Q: Can I get surround sound on ROKU 2 box?

A: Yes. Amazon Video and Netflix offer some movies in Dolby Digital 5.1 and if you have an Audio/Video receiver with Dolby Digital 5.1 decoding and HDMI you can connect the ROKU to the A/V receiver with HDMI cable and then HDMI cable from A/V receiver out to HDTV. Be sure your broadband speed is fast enough to handle the data. See ROKU setup for more information.

Q: How do I setup Amazon video on the ROKU?

A: On the ROKU select the Amazon box art then select YOUR VIDEO LIBRARY and get 5-digit code.
Visit http://www.amazon.com/gp/video/ontv/roku/ref=atv_faq_roku online
and click on BEGIN REGISTRATION. Sign-in using your Amazon userid and password. If you do not already have an Amazon account, you can create one for free. Enter your code and click CONTINUE. Follow the instructions from Amazon on each screen.

• How to hook up a Plasma or LCD HDTV
• How to hook up a Cable TV box
• Cable TV - Cable Box Setup
• How to Install a HD Cable Box
• Cable TV - Cable Box Setup Scientific Atlanta 4250HDC
• Surround Sound over HDMI
• Surround Sound - How to Hookup
• HDTV Antennas and Reviews
• HDTV Buying Guide 2010

• HDTVs for under $500

• See over 100 hookup diagrams

• Guide to DIAMOND Buying
• Guide to DIAMOND Wedding Rings
• How to tell if a diamond is real
• How to find your ring size

• Bluray Players, internet-enabled, Netflix movie streaming
• Cable Types, audio/video for TV, explanation
• Hookup diagrams, TV, VCR, DVD, Digital cable box
• DVD Players reviews and Guide
• VHS to DVD copy VCR tape to DVD disc
• How to Hookup an Audio Video Receiver



How to setup ROKU video set top box (older model)


• ROKU 2 Media Players for 2011-2012

ROKU Player Setup

ROKU, meaning six in Japanese, is a reference to the six companies ROKU founder and CEO Anthony Wood has created. Released in 2008, the ROKU digital video box is a way to get movies and other video content over the internet and displayed on your home TV, any TV, without using a computer **. The box has standard composite video and audio connections as well as HDMI and component video hookups for High-Definition video. You must have high-speed internet service (broadband) and an account with your content providers such as NETFLIX or Amazon video-on-demand. The box has both wireless and wired network capability for your home LAN. A remote control allows easy selections of content, all from your couch.

** Note: An internet connected computer is required for one-time device activation (Netflix account) and to manage your queue of content.

Costs involved are the following:

1) ROKU player - about $100
2) Internet broadband service - about $40 per month
3) TV or HDTV - depends on your choice of TV
4) Account with content providers - about $8.99 and up per month depending on your selections
5) Router, cable modem - depends on your choices but generally $70 or so for router and per month costs possibly for (Cable or DSL) modem. Depends on your internet service provider.
6) Cables such as Ethernet, HDMI or RCA audio/video - $15 to $45

Many people already have high-speed internet service and an HDTV. The on-going costs consist of the internet service and the content providers rates. Contrast these costs with the costs for cable TV service or buying DVDs or Blu-ray movies at the store. Plus there should be much more content in the future including sports, financial, weather and international news all delivered to your home. Some people have cut their cable-TV already in favor of internet-based content because they get what they want and only what they want.

With Wi-Fi and High Definition playback capability built-in, Roku HD Player is the easiest way to stream instant movies and shows directly to your TV - over 50,000 and counting, from Netflix, Amazon Video On Demand, and more. Works with any TV.

The Roku Player is a $100 set top box that streams movies and TV shows from Netflix and Amazon Video On Demand as well as live baseball via MLB.TV directly to your living room.

A Netflix, Amazon Video On Demand or MLB.TV account is required to use the box, but then you simply connect the box to the Internet via Wi-Fi or Ethernet, send a request to link the Roku player to the respective content provider and then the box is paired and you're ready to start streaming from a library of over 50,000 combined titles and live or on demand baseball.

Roku Setup






The diagram above shows how to hookup a ROKU box to your TV. The ROKU box has all the ports you need including digital audio, HDMI, ethernet and wireless LAN. Connect your router to the ROKU wirelessly or use an ethernet (CAT5) cable. See laptop to TV hookup for a complete network diagram. The ROKU just substitutes for the computer.

The Roku box will walk you through the process of registering the Player with your online Netflix account. You must have some kind of unlimited account with Netflix in order to use the player with them. Currently these plans start at just under $9/month.

You can register online with Netflix and try it out for free. www.netflix.com

Configuring the Player involves entering a Roku-supplied number into your online account using a URL the system provides for just that purpose. To activate and manage your Netflix ready device, both your device and your personal computer need to be simultaneously connected to the Internet -- your Internet connection must be equipped with a router to enable this.***

To activate your Netflix ready device:

* Navigate to the Netflix option on your device (ROKU) and select it
* Follow the on-screen instructions until you see a screen that displays your Activation Code. Write down the code.
* At your computer, go to www.Netflix.com/activate and enter the code.
* Your device will be associated with your Account, and the instant Queue that you create on the computer will be displayed on your TV via your Netflix ready device

*** Broadband Internet access services typically provide high-speed modems with built-in routers, so you can connect multiple computers to the Internet. If you do not have a router or are unfamiliar with this technology, your Internet Service Provider should be able to provide you with more information.

If a router is not an option for you, Netflix customer service can assist you in activating your device, but you will still need access to a Web-connected computer to manage your Instant Queue.

According to Roku and Netflix, you can have as many as six Netflix players in your home tied to a single account. You can always tack on another Netflix account if you want a Netflix player in every room.

Next you'll want to tell the Roku box what type of TV screen you have (4:3 is the default).




Remote Control

The remote for the Player is perfectly simple. It's only got 9 buttons. Nothing else is needed in order to navigate the system. You've got a Home button, four directional keys and a Select button in the middle. Below you have Play/Pause (single button), Rewind, and Fast Forward.






Selecting and Watching Your Movies

According to Netflix you can add up to 500 titles to your instant Queue. As you watch movies you can simply rate (optional) and delete them right then and there from your list. Your account on the Netflix website will be updated to reflect the deletion and you can add more movies at your leisure.




To watch any movies, you first need to dump those movies into your Watch Now Queue.

Browsing the Watch Now Queue is extremely intuitive. The title, duration and MPAA rating are given for each movie/show and it is very easy to navigate.

To select a show you simply hit the Select button on the remote control. At this point the system takes into account your network download speed and grabs the video at one of four video quality levels. While it is loading, a black screen appears with the show title, quality level, and a progress bar.

Once the movie begins you can Fast Forward, Rewind and Pause the picture.




REVIEWS:

Roku HD XR Review
Roku HD XR adds high speed WiFi (802.11n) to the popular HD streaming box. The upgrade gives consumers access to the fastest WiFi protocol so they can take better advantage of high speed Internet connections. This means consumers with an 802.11n router in their home and a fast broadband connection can expect the highest possible quality when streaming Netflix, Amazon on Demand and MLB.tv content.

Roku HD XR Setup
The Roku player comes with a pamphlet that has six steps to get set up. One of those steps is adding batteries to the remote and another shows how to use the play button. Plug the Roku into the wall and connect to the TV. If you're using a wireless router you'll configure that in the setup, there's also an option for a hard wired Ethernet connection. If you do not have an HDMI cable for the HDTV, you will have to buy that. ROKU does provide RCA A/V cables.

Getting setup though is simple. The configuration screens are very easy to understand and the unit even finds its own firmware updates for installation as part of the setup.

Using the Roku HD XR
Once you're powered on, the Roku will present three viewing options, Netflix, Amazon Video on Demand and MLB.tv. While these are currently the only channels available on the Roku; Roku has been indicating plans to add more content in the near future. To configure each of these services, you'll need to pair the Roku player with your existing accounts at Netflix or Amazon etc.

What happens is that when you select Netflix for instance, the Roku box will show you a code. Log into your Netflix account online to add the code to your profile. Within a few seconds of adding the code, the Roku will get the pairing message and you're ready to roll. Once paired, you'll have access to the content available by the channel. For Netflix, this means you'll have access to your entire instant viewing queue. Amazon will show you the movies or videos you have available either from purchases or rentals and MLB.tv offers streaming of baseball games and related content. Each of these services requires some level of subscription, all of which is managed outside of the Roku environment.

Testing the Netflix queue.
The interface is easy to use, just scroll through the movie/TV show cover art until you find the one you want to watch. Select the one you want and the Roku streamer will connect to the service, do a quick Internet speed test, and get started. From the point of selecting your show or movie to the stream starting took about 5 seconds each time, which is very fast.

The Amazon service and MLB content work roughly the same way – easily and quickly connecting and streaming to the Roku HD XR from your Amazon library or your selected out of market baseball game from MLB.

The controls for the Roku box are handled entirely by the included remote control. The remote is a sturdy 9 button unit that is intuitive to use and responsive to button presses. The home button takes users back to the main menu.

This box is a tremendous value; for $129 you get HDMI, 802.11n WiFi and it is reliable.

All three Roku systems are available from Amazon.com for purchase online. Ships right to your home.






Routers or access points that will work with the Roku digital video player.

Any router or access point that supports the 802.11b or 802.11g wireless protocol should work with the Roku digital video player.

Below is a list of wireless routers and wireless access points that have been tested to work with the Roku Player.

Linksys
BEFW11S4 Wireless B Router
WAP11 Wireless B Access Point (WEP only)
WAP54G Wireless G Access Point
WAP4400N Wireless N Access Point with Power Over Ethernet
WRT54GL Wireless G Router (opensource)
WRT54GS Wireless G Router
WRT300N Wireless N Router

Belkin
F5D6130 Wireless B Access Point
F5D6231-4 Wireless B Router
F5D7130 Wireless G Access Point
F5D7231-4 Wireless G Plus Router
F5D8231-4 Wireless N1 Router

D-Link
DIR-655 Xtreme N Gigabit Router
DWL-900AP+ Wireless B Access Point
DWL-2100AP AirPlus Xtreme G High Speed Wireless Access Point
WBR-2310 RangeBooster Wireless G router

Netgear
WGT624 Super-G Wireless Router
WN802T RangeMax NEXT Wireless N Access Point
WNR834B RangeMax NEXT Wireless N Router
WPN802 RangeMax Wireless G Access Point

Apple
M7601LL/B AirPort Base Station
M8799LL/A AirPort Extreme Base Station (wireless G)
M9470LL/A AirPort Express
MB053LL/A AirPort Extreme (wireless N)

Buffalo Technology
WHR-HP-G54 Wireless-G MIMO Broadband Router and Access Point
WZR-AG300NH Wireless-N Nfiniti™ Dual Band Gigabit Router & Access Point

Airlink 101
AP431W Super G™ Multi-function Access Point
AR525W MIMO XR™ 802.11g Wireless Router
AR680W 300N Wireless Router

Motorola
SBG940 Wireless Cable Modem Gateway


ROKU Digital Video Box

Specifications
Networking: Wi-Fi (802.11b/g) with WEP, WPA, and WPA2 support; 10/100 Ethernet (RJ-45)
Video Outputs: Composite video, S-Video, Component video (Y/Pb/Pr), HDMI
Video Modes: 16:9 HD (720p), 16:9 anamorphic (480p), 4:3 standard (480i)
Audio Output: Stereo (L/R RCA), Digital Optical (Toslink), Digital over HDMI
Remote Control: NEC protocol, supported by various universal remotes
Power Input: 5V, 1.5A provided by included AC adapter
Power Consumption: 5 watts peak, 3 watts in standby
Size: 5 x 5 x 1.75 inches (130 x 130 x 41 mm)
Weight: 11 oz (300 grams)

www.ROKU.com

http://www.amazon.com/gp/video/ontv/devices

See also:
• Plasma TVs - top ten things before buying HDTV
• PC stereo hookup
• Windows Sound Recorder
• VCR Recording


Contact:
columbiaisa@yahoo.com


Got a question? Audio Video Forum


• see over 100 Hookup Diagrams

• TV input select

• Timer Record Radio Shows on a VCR

• TV too loud?

• FM transmitter for TV sound

• Camcorder hookup to TV, DVD

• Camcorder Buying Guide

• Compare video editing software

• Audio Video Connections

• See over 100 Hookup Diagrams