ROKU SETUP - USING ROKU MEDIA PLAYER

• How to hook up a Plasma or LCD HDTV
• How to hook up a Cable TV box
• Cable TV - Cable Box Setup
• How to Install a HD Cable Box
• Cable TV - Cable Box Setup Scientific Atlanta 4250HDC
• Surround Sound over HDMI
• Surround Sound - How to Hookup
• HDTV Antennas and Reviews
• HDTV Buying Guide 2010
• Best HDTVs for Fall 2009
• HDTVs for under $500
• Samsung HDTV Fall 2009
• See over 100 hookup diagrams
• Guide to DIAMOND Buying
• Guide to DIAMOND Wedding Rings
• How to tell if a diamond is real
• How to find your ring size
• Bluray Players, internet-enabled, Netflix movie streaming
• Cable Types, audio/video for TV, explanation
• Hookup diagrams, TV, VCR, DVD, Digital cable box
• DVD Players reviews and Guide
• VHS to DVD copy VCR tape to DVD disc
• How to Hookup an Audio Video Receiver
• What do I need to view 3-D TV




ROKU 2 internet player for 2011-2012



º How to setup wireless internet at home
º How to setup wireless USB adapter for a Desktop PC
º Internet Media Players Compared
• Kindle Fire - newest e-book reader, tablet computer with Wi-Fi from Amazon



Highly rated, Awesome, LG 32LK450 32-Inch 1080p 60Hz LCD VA Panel HDTV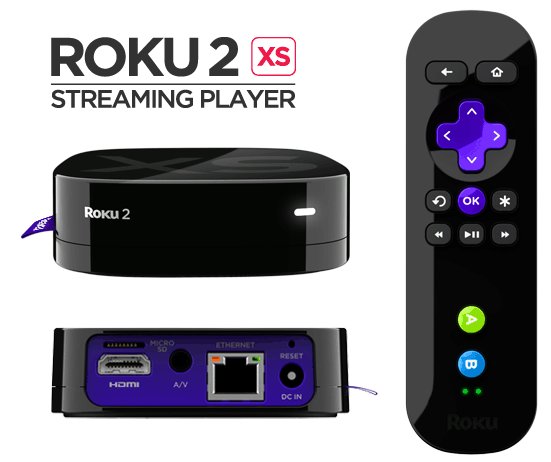 http://support.roku.com/entries/20565547-how-to-set-up-the-roku-2

See above link for ROKU 2 setup video

Also see the ROKU forums for more help
http://forums.roku.com


ROKU SETUP

Roku Phone Numbers
Phone Support: 888-600-7658
Hours: Monday through Saturday (8AM to 8PM PST)
ROKU.com also offers online CHAT which gives you realtime help



Company Information
12980 Saratoga Ave., Ste. D
Saratoga, CA 95070
Phone: 1-888-600-7658 (ROKU)
Fax: 408-446-1734

Email: sales@roku.com
International Callers: 1-408-556-9040
The Sales Hotline is available 8 a.m. - 4 p.m. PST, Mondays - Fridays.

Store: www.roku.com


Using the ROKU remote

The Home button on the top of the remote takes the user to the main menu. Navigation buttons and an OK button are used to control the menu system. The bottom three buttons (play/pause, forward and backwards) control playback of video.

There are three forward speeds and three backward speeds. The two dedicated game buttons (labeled A and B) allow Roku game developers to custom program these buttons.

There is content for everyone with both free and premium (paid) channels. Simply go to the Channel Store and add the channels to your lineup. Roku lists them by the following categories; Featured, Movies & TV, Sports, News, Music, Kids, Tech, Web TV, Lifestyle, Photos & Video, International, Spiritual, Free, and Premium.

ROKU HOME MENU




To Add a Channel, hilight and press OK




ROKU SETUP

SETTINGS MENU

Set the time, time zone




AUDIO
For standard stereo sound, select STEREO or for surround sound, select 5.1 surround.




The SETTINGS menu allows you to do many things including reset to factory original settings.





SETTINGS - NETWORK




Shows current network and allows you to repeat guided setup to reconfigure network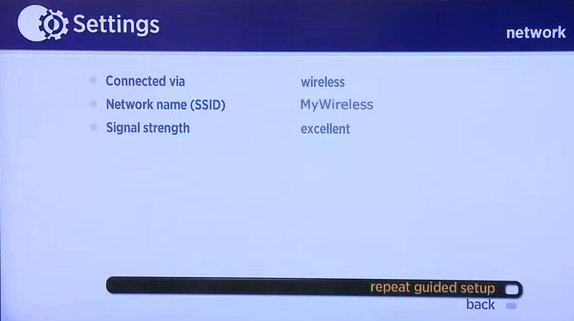 Network Configure





Choose a wireless network




Your wireless network should have the strongest signal, so select this one.


LINK ROKU PLAYER




Your code will be different so enter the code you see on your screen.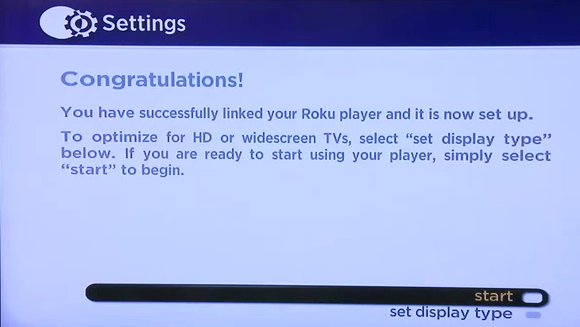 SET DISPLAY TYPE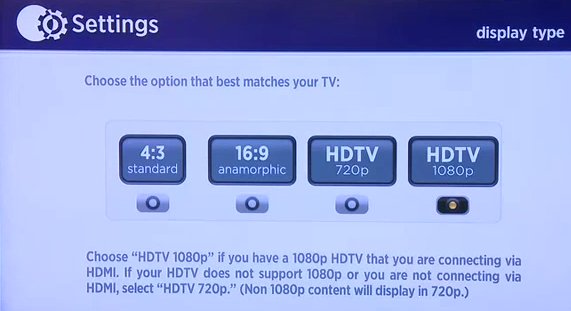 Select HDTV 1080p if you have a 1080p HDTV or select HDTV 720p if you have a smaller HDTV which typically has less capability. If you have a standard analog TV, select the 4:3 standard.





See ROKU player setup for more information.