STREAMING VIDEO - TV and Movies from the internet to your home

2011

• Audio Video Connections
• HDTV Basic Setup
• Internet Ready TV







Internet TV

Unless you want to be limited to a few local TV channels, which is enough for many people, you opt for pay TV of some kind such as satellite or cable TV. But now there is a new road to content, TV from the internet.

With a high-speed internet service, a computer or other net-enabled device and display, you can get an amazing array of video content from websites offering movies, TV programming and more. This capability is growing as more devices such as HDTVs, Bluray players and media streaming devices allow consumers to tap into the vast internet delivered video world. Much of this video content is free (except for the cost of devices and internet service) which raises the question, why pay for TV if the internet provides free TV?

• The average monthly cable TV bill in the U.S. is $60, more than $700 per year. Satellite TV generally offers a small savings compared to cable, depending on what equipment and channels you select. Some people today want to cut down on their cost of TV which has taken too large a portion of their discretionary expenses. But is there a way to get the wide array of TV content that typically comes from cable and satellite without the cost? Maybe, it depends on what you want and what is available.

Internet TV creates more of an active role for the consumer, choosing content you want, when you want rather than just sitting back and letting the cable company programs come to you on their schedule. Some people like the passive role. TV for them is a way to unwind and relax. Internet TV is for now, more for those tech-savvy types who can setup a local network, set-top-box, cabling and account creation. Still, for those looking to the future, internet TV seems to have all the right aspects of more freedom of choice, possibly less cost and instant gratification.

How do you get your TV content

Free TV and in High Definition - Local broadcast TV is free and comes to you over-the-air in standard and high definition. An ordinary UHF TV antenna and a HDTV is all you need. In fact, given the level of digital compression that cable companies use to squeeze ever more channels down the pipe, an antenna may deliver a better quality signal with hi-def content. Of course there are the ads to put up with but many people zip around the ads by recording their show and viewing it later, skipping over the ads with fast forward. This can save your time. A half-hour show is typically 10 mins. of ads, meaning the content you want to watch is only 20 mins. Multiply 10 mins. of time over all the shows you view and you've just given yourself a bonus of time to do more productive things than watch ads.

Cable and satellite TV - Local channels are fine but what about ESPN, CNN, HBO or video on demand? According to a 2007 Nielsen study, the average American household received 104 channels but watched only 15 of them regularly. One or two of them however may be important to you. This is really the issue to focus on, what TV content is important to you. Movies, news, sports, variety, classic TV shows, and most important, who is really providing this content. Those who want to "cut the cable" forget that the content providers determine who can get their product.

Your cable TV provider has to pay the content source for their product and then they pass the cost on to you. Your cable bill goes up from time to time as channels are added or the content source raises their charges to the cable TV company. Going to internet TV only, no cable or satellite, raises the question, can you get the same or better content over the internet than you could from cable or satellite?

Internet TV - A surprising amount of TV and movie content is now available over the Internet for free or for a nominal price. One prominent source of Internet video, is Netflix. This streaming video service is a freebie extra for anyone who subscribes to the company's DVD-by-mail service (any plan over $8.99 per month offers unlimited streaming of content). Browse through a library of 12,000 movies and television shows and you do not wait for the mail delivery. It is sort of like video on demand.

Most major networks and cable channels offer content that can be streamed over the Internet. CNN's site posts video feeds of breaking news, and ESPN has partnerships with various Internet providers around the country to offer its ESPN360 live sports streaming service. New episodes of popular TV shows are usually up on network sites within a day. NBC and Fox have teamed up to create hulu.com, which has tons of shows and movies available for streaming. Two of the most successful tech companies, Google and Apple, have joined the internet video fray with Google TV and Apple TV. It is interesting to note that some major TV networks have blocked their content from Google TV. Apple TV has been around since 2007 but has not enjoyed the same success as the iPod and iPhone.

Internet streaming video is great, but how do you get the content onto the big-screen HDTV? Many new digital TVs from manufacturers such as Samsung, Sony, Panasonic and Vizio come with Internet hookups that can link to sources such as Netflix and YouTube using your high-speed internet service. Also, Dell and HP offer computers under $500 with HDMI outputs that can be hooked up directly to a HDTV. In addition to full-featured PCs, there are a variety of Internet-enabled boxes that can offer some internet based TV. The Microsoft Xbox 360 can show streaming Netflix movies. The Roku video-streaming box has built-in Wi-Fi and connects to standard or digital TVs. Roku streams Netflix movies and video-on-demand from Amazon.com, which has both free and rentable content.

Fancy new HDTVs have Internet hookups built right in, but there are plenty of ways to get Web video to your existing set.

Video Game Systems




Microsoft's Xbox 360 streams Netflix and sells TV shows through its Xbox Live service. Sony's PS3 game console has movies and shows for rent. But both gaming consoles are limited to content approved by their parent companies.

Blu-Ray Players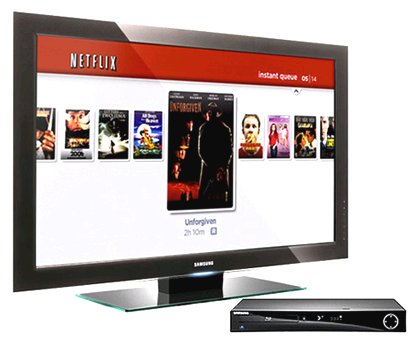 Players from Samsung, Sony and LG have integrated Netflix streaming. Other internet sources are being added but be aware of limitations. These Blu-ray players have built-in wireless LAN with RJ-45 ports as well for wired ethernet connection. So in addition to playing DVDs and Blu-ray movies, you can now have internet movies, thousands of them. Skip that trip to the store to buy movies on DVD or Blu-ray. Get movies and TV shows directly to your home from the net. You need a broadband (high-speed) internet connection from your local provider and a device such as an HDTV, Bluray player or video game with online connections. You can even buy a streaming device for about $100 and use an older TV set.

You need a 6 to 9Mbps high-speed internet connection for streaming high-definition video. Check your connection speed at speedtest.net and determine if you need an upgrade. In your home, a wired network is best, but Wi-Fi can be used with a wireless router.

Stand-Alone Players




Roku's video-streaming box plays content from Netflix and Amazon.




Apple TV users can purchase content from the iTunes Store online. But Apple content has DRM (digital rights management) and will not transport well. Apple TV is a digital media receiver sold, released and produced by Apple Inc. It was created to play digital media files from the iTunes store, Youtube, Flicker or to any computer that is running Mac OS X and iTunes, and it is connected to a high definition television. Apple TV can be used as either a television and video equipment designed to reproduce in the home, the experience of being in a movie theater, connecting it to an iPod or as a digital media receiving system.

Netflix, VuDu, Hulu, Pandora, Amazon video, Boxee, Roku, Bluray, PS3, Xbox and Wii

FREE TV used to be only local broadcast channels you pick up with a VHF/UHF antenna and this is still the case today, however, with the internet a whole new wonderland of content is opened up. Sites like HULU.com offer free TV shows and sites like cbs.com or abc.com offer TV network shows for free. You can view old TV shows from the past or current TV shows just broadcast on cable TV. Movies, old and new, even 3-D are available.




Netflix.com gives you a free trial for one month and if you like it, for less than $10 a month, you can start streaming video to your home.

NETFLIX SETUP

1) You need a video streaming box of some kind, Bluray player, TIVO Premiere, ROKU, XBOX or others to connect to your TV to stream the video files. (look for the Netflix compatible logo). All are hooked up to your television and connected to your home Internet connection either via an ethernet cable or your wi-fi network. Follow the instructions that come with your device.

2) Then you need a Netflix account. Once you've signed up, you'll need to go to the Netflix website and add movies/TV shows to your Instant Queue. Add everything you're interested in. If you don't have anything in your queue, you'll be staring at an empty screen. Unfortunately, not everything is available for instant download, so if you want to watch more current releases it might be best to sign-up for the account that also includes DVD shipping, instead of streaming only.

3) Turn on your device. If using a BluRay player make sure it doesn't have a disc in it. Using the onscreen menu, find the Netflix app logo and click on it. You will be prompted for your email address and password that you used to set-up your account. Once entered, everything you added to your Instant Queue should appear. Click on what you want to watch and enjoy. It works just like you're playing a DVD, you can pause, fast-forward or rewind. If you're watching a television series it will even remember which episode you're on. Everything stays in your queue until you remove it, so you can watch your favorites over and over again without having to re-upload them.

4) Your account should work seamlessly on all your devices, smart phone, iPad or computer.




Vudu.com offers on-demand streaming of movies the same day as their DVD release.

In May 2008, VUDU began displaying and selling its set-top box in Best Buy stores. On February 24, 2009, VUDU became the first on-demand service to offer high-definition movies for download to own. Prior to VUDU allowing users to purchase high-definition movies, studios only allowed their films to be purchased in standard-definition format. LG was the first to integrate VUDU into their HDTVs, with access beginning in August of 2009 though the TV's NetCast application. On Jan. 8, 2010, VUDU announced it was no longer shipping its set top boxes and would provide its service to select HDTVs and Blu-ray players from LG, Magnavox, Mitsubishi, Samsung, SANYO, Sharp, Toshiba and VIZIO. On February 22, 2010, Wal-Mart announced that it was acquiring the company.

Toll free phone support
1-888-554-VUDU (8838)
Email at support@vudu.com




HULU

• Browse HULU



ROKU PLAYERS $60, $80 or $100 - ROKU Player Setup

* What is a Roku streaming player? How does it work?

Roku is a small device that streams movies, TV shows, music, and other entertainment to your TV via the Internet. Since Roku streams (rather than downloads) video, it provides instant access to a huge library of entertainment without having to use a computer or store files locally on a hard drive.

Once you set up Roku, you do not need a PC to make it work. Roku connects directly to your TV and to your wireless (or wired) home network, then lets you access the streaming entertainment channels that you sign up for (like Netflix) right from your TV, using a handy remote.

* What can I watch on Roku? Are there monthly fees?

There are free and premium entertainment channels on Roku. Free channels include music services (like Pandora, RadioTime), major network news (Roku Newscaster), original programming on current events and culture (Revision3, Twit.tv), photo and video sharing (Flickr, Facebook Photos, Vimeo), and much more.

Premium channels include subscription movie, TV, sports, and music services (like Netflix, Major League Baseball, MP3Tunes, Hulu Plus) and on-demand services (Amazon Video On Demand). Many of these channels provide free trials or make parts of their service available for free. Some even enable you to use them on other devices like mobile phones and computers.

Roku does not charge extra to access any premium channel. For example, a Netflix subscription that provides access to a streaming library of over 20,000 movies and TV episodes starts at just $7.99 per month. Roku simply works with that subscription -- there is no extra fee.

* What do I need to hook it up?

Roku uses your Internet connection, so you'll need high-speed broadband for the best experience. Generally at least 1.2 Mbps, but for live events, like Major League Baseball, you'll want at least 3 Mbps or more. For HD viewing, 5 Mbps to 9 Mbps (go to www.speedtest.net to check out the speed of your Internet connection -- it's free and easy).

The cables you need to connect Roku to most television sets are included in the box. However, if you're going to be watching in HD, you'll need an HD-capable cable like HDMI.

* If I order, how will it ship and when will it get here?

*Ground Shipping uses US Postal Service Priority Mail, which takes 3-7 business days depending on your zip code.
*FedEx 2-Day shipping takes 2 business days and is delivered only Monday through Friday to residential and business addresses.
*FedEx Standard Overnight shipping: orders made Monday through Friday (excluding holidays) before 11 AM PST will be delivered to business or residential addresses the following business day.

Can I play 1080p video content on my Roku player?

Yes, if you have a Roku player that supports 1080p video playback. The Roku current XD and Roku XDS models are capable of 1080p playback, as well as the classic HD-XR via the most recent software release. You will need to use a HDMI cable to connect the Roku player to your TV.

Viewing 1080p video requires the following:
1. A 1080p capable HD television that supports 1080p24 and/or 1080p30.
2. A Roku XD, XDS or HD-XR player with the display type settings set to "HDTV 1080p."
3. A HDMI connection between the XD, XDS or HD-XR player and your television.
4. 1080p video provided by a channel that supports 1080p playback. To date, there is very little 1080p content available for streaming playback on the Roku player. Major partners, like Netflix, Amazon and MLB, do not stream in 1080p.

NOTE: Only 1080p24 and 1080p30 playback is supported on the Roku player. 1080p60 playback is not supported. Also, 1080p is supported on video playback only, the Roku user interface will be displayed at 720p. See internet TV media boxes compared for more information.




Amazon video-on-demand

Amazon.com has been very successful selling online. Now they offer video online. You can buy a movie or even get some for free and they have movie trailers you can watch for free using Adobe Flash Player. Over 90 HDTVs are compatible including specific models from Samsung, Panasonic, Sony and Vizio. Bluray players from Sony and Panasonic. ROKU streaming players. Some TIVO DVRs are also setup for Amazon VOD. Rent or Buy more than 50,000 Titles from Amazon Video On Demand. With Amazon Video On Demand, Samsung customers can now instantly watch more than 50,000 commercial-free movies and television shows, including hit new releases and the latest episodes available in HD.

Using an intuitive interface, customers can order movies right from their couch and enjoy instant playback without waiting for lengthy downloads or annoying commercials. Prices start as low as $.99 and no subscription fee is required.

Choose from thousands of movies and TV shows by browsing in the Amazon Video On Demand section on your Samsung TV. Access and add to your virtual library of purchases via Amazon Video On Demand's Your Video Library and re-watch anytime on your Samsung TV, your PC or Mac and other compatible devices.

Rent or Buy
Renting and purchasing titles is a snap with the power of Amazon's 1-click purchasing. Order new release movies and the latest TV shows right from your couch and you're watching within seconds. Prices start as low as $.99.

Watch
Videos playback instantly, without waiting for a download. Purchases and rentals are added to Your Video Library and stored online by Amazon so you can conveniently watch them on your television, PC or Mac, and other compatible devices.

How does Amazon Video On Demand work on a TV?
Amazon Video On Demand streams movies and TV shows directly to your TV over the internet. The easiest way to watch Amazon Video On Demand on your TV is to use one of the many compatible TVs, Blu-ray players, and set-top boxes (see compatible devices on Amazon.com). If you have a compatible device then all you need to do is connect it to the internet and register your Amazon.com account.

How do I connect my device to the Internet?
There are three ways to connect an Amazon Video On Demand compatible device to the internet.

* The simplest way is to connect your TV to your router or broadband (e.g. DSL/Cable) modem with an ethernet cable.
* If you have a wireless network and your device has wireless connectivity, you can configure your device to connect to your wireless network.
* If your internet is not easily accessible from your device you can extend your wired connection through a power line adapter.

How and why do I need to register my compatible TV or device with Amazon.com?
To access Amazon Video On Demand content you already own or to purchase new videos, you need to link your device to your Amazon.com account. If you don't have an Amazon.com account, you can create one free during the registration process.

The registration process is simple and straightforward.
Do I need to install any special software to use this service?
No. Once you've registered your TV or device, you're ready to order and watch videos instantly on your TV. (You can also shop online in the Video On Demand Store on Amazon.com).

What is the quality of the videos?
The video quality will depend on your internet connection. HD files are streamed in high-quality 720p resolution, or can be downloaded to TiVo at 1080i resolution.

Will I be able to watch videos in HD?
There are many HD movies and TV shows available to watch instantly. Viewing this content requires an HD capable set-up (including TV, device and wires, if applicable) and a fast internet connection. Many Amazon Video on Demand-compatible devices will let you sample a video in HD prior to buying it so that you can make sure you have the proper setup.

Can I watch content with 5.1 Dolby Digital surround sound?
Most HD movie rentals and HD TV shows are encoded with 5.1 audio. If you have 5.1 capable equipment and sufficient bandwidth you will be able to enjoy surround sound. If you do not meet the requirements for 5.1 audio, you will receive stereo sound.

How fast does my Internet connection need to be?
A connection speed of 1.5 Mbits/sec or (preferably) higher. To watch HD videos you need a fast broadband connection (3.5Mbits/sec or higher). 2.5Mbps HD files are streamed in 720p resolution.

How do I pay for Video On Demand Content on my device?
During the device registration process you set-up your Amazon.com digital 1-Click purchase settings and purchase PIN. These settings will enable you to purchase content on your device and it will be billed to your Amazon.com account.

To set or update your Digital 1-Click payment method:
1. Visit http://www.amazon.com/vod/paymentsettings.
2. Click the "Edit payment settings" link in the 1-Click payment settings section.
3. Follow the on-screen instructions to choose or add a payment method and select a corresponding billing address.
4. Click the "Continue" button to verify and save your changes. Any changes made to your payment settings will apply to future Amazon Video On Demand purchases, Amazon Digital purchases (such as MP3 and Kindle), and Amazon 1- Click purchases. It will also apply to any TV Passes in progress.

Due to licensing restrictions, the Service is only available to customers located in the United States.

Are there other ways to watch Amazon Video On Demand on my TV?
If you do not have a compatible device and you would like to watch Amazon Video On Demand content on your TV, you can connect many newer TVs to your computer or laptop, or use an Xbox 360, or a Windows Media Center PC.



BOXEE BOX

• Boxee.tv



TIVO




TiVo has been around for years and popularized the idea of digital video recording and, now, has added the ability to deliver Internet video content to your TV screen in addition to digital cable shows.

TiVo's new model, the TiVo Premiere, aims to blend programming from cable TV and the Internet. It has a slicker user interface and holds more recorded programming than earlier models—45 hours of high-definition programs, up from 20 hours in the prior model, the TiVo HD. A more expensive version of the Premiere, the XL, has the same new software and holds 150 hours of HD shows.

The TiVo Premiere is sold at Best Buy stores for $300, plus a monthly fee of $13, or an annual or lifetime payment plan ranging from $129 for a year of service to $399 for the life of the device. The Premiere XL costs $500, plus the same fees. You may be able to get the box for $100 if you happen to catch a special sale.

TiVo Premiere allows you to get movies, TV shows and videos from YouTube, Amazon video on demand, Netflix and Blockbuster, which are available on competing set-top boxes. It also includes a number of online music and photo services. But there are some big downsides to the Premiere. You can't watch videos on popular sites like Hulu (owed in part by News Corp.), CBS.com, blogs or news Web sites. This may be due to media-company restrictions, not TiVo's shortcomings, but it means the Premiere omits vast sources of Internet video. The new user interface is slow and the cost would have to be weighed against the DVR you could get for $8 to $10 per month from the cable company. Since the Tivo uses CableCard, your cable TV provider must offer and support this service.

• How to setup your TIVO Premiere DVR box

How much do you really save going internet vs cable or satellite

Now the big question. How much do you really save out of all this? To take full advantage of online content, you'll need to have an Internet connection of at least 3 to 6 megabits per second. Expect to pay at least $30 per month for that. And here is the irony, often your local cable TV company is the best provider of high-speed internet service. If you don't have a computer that hooks up easily to your TV, you can quickly find yourself stacking various set-top boxes at $100 to $300 each to get the selection of content you like. In addition, you may pay for content depending on which movies or shows you order. In the long run you could save some depending on your viewing habits. But be prepared for a learning curve and possibly some frustration. No single solution as yet will give you a complete offering of content.



• Wall Mounting HDTV - Companies, mounts
• How to upgrade SAMSUNG HDTV firmware


FAQ

Question: What is streaming and what is the difference between streaming video and downloading?

Answer: Downloading is when you get data from the internet and copy it to your computer's hard drive. Once the data is on the drive, you can view it without being connected to the internet and it will be fast, no waiting, no interruptions. It takes longer but in the end is better quality video. Streaming is when you are connected to the internet and you just view the data as it comes in, no writing to the hard drive. You can start viewing the video right away, no waiting because you view the video without waiting for the entire thing to be written to disk. With streaming you must be connected to the internet because the data resides on the server you are getting the data from, not your computer.



High-speed internet service is often available thru local cable TV or telephone operators. A cable modem can be used to connect your provider to your computer for internet access.




See also:
• Plasma TVs - top ten things before buying HDTV
• PC stereo hookup
• Windows Sound Recorder
• VCR Recording