• How to hook up a Plasma or LCD HDTV
• How to hook up a Cable TV box
• Cable TV - Cable Box Setup
• How to Install a HD Cable Box

• Cable TV - Cable Box Setup Scientific Atlanta 4250HDC
• Surround Sound over HDMI
• Surround Sound - How to Hookup
• HDTV Antennas and Reviews
• HDTV Buying Guide 2010

• HDTVs for under $500

• See over 100 hookup diagrams
• Guide to DIAMOND Buying
• Guide to DIAMOND Wedding Rings
• How to tell if a diamond is real
• How to find your ring size

• Bluray Players, internet-enabled, Netflix movie streaming

• Cable Types, audio/video for TV, explanation
• Hookup diagrams, TV, VCR, DVD, Digital cable box
• DVD Players reviews and Guide
• VHS to DVD copy VCR tape to DVD disc
• ROKU digital video player Setup Guide

• HDTV BUYING GUIDE in 9 EASY STEPS
• SAMSUNG LED HDTV Review

• How To Setup Wireless Internet at home

• United Kingdom TV SKY, Cable, HDTV
• How to connect iPhone to HDTV
• How to record sound in Vista and Windows 7 - missing stereo mix
• Sony PS3 connections hookup

• XBOX 360 Kinect motion sensing device
• All about Surge Protectors - Save your electronic devices from power spikes
• How to spot fake silver coins or bars

MacBook to TV Hookup
How to connect your MacBook computer to your home TV - Laptop to HDTV connection

Many people today want to display their laptop on their TV so internet videos like Netflix can be viewed on the big screen.

More and more video is available on the internet and the laptop screen is nice but the larger HDTV screen is better.

Plus you have options for better audio by connecting the laptop sound to better speakers.

For Apple MacBooks you need an adapter cable to go from the Mini Display port on the MacBook to HDMI on the TV.

These cables cost under $10. Most HDTVs today have two or more HDMI inputs. You could also do a wireless hookup.

Wireless involves buying an Apple TV box for around $99 which connects to the TV using HDMI.


What is HDMI?
HDMI, or High-Definition Multimedia Interface, is a compact audio/video interface used to transmit uncompressed digital data. The main advantage of HDMI is its ability to transfer HD video as well as up to 8 channels of digital audio over a single cable.



Mini DisplayPort | Thunderbolt® to HDMI® Adapter w/ Audio Support

MonoPrice.com

www.monoprice.com


Apple Store

store.apple.com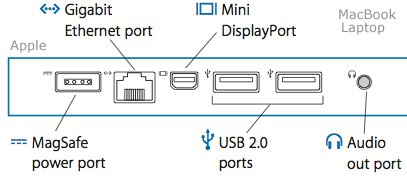 MacBook laptop ports. The Mini DisplayPort is where you connect the cable for TV.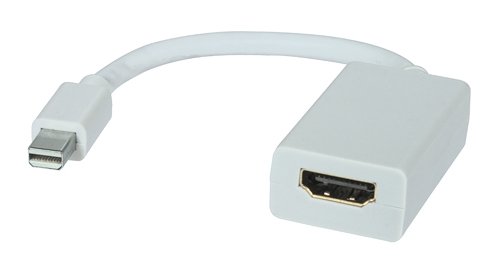 Cable to connect MacBook to TV using HDMI. Adapter cable cost is around $10 and a HDMI cable is also around $10.






DIAGRAM - MacBook to HDTV using adapter cable with Mini Display Port and HDMI




Note: If using HDMI connection, both video and audio can be carried over a single HDMI cable.



Also be sure to select on the TV (using the TV remote or button) the proper source, that is the laptop connection. The SOURCE button or INPUT Select is used to switch to the proper input to view the laptop screen.



If using an HDMI connection, select one of the HDMI inputs.




Many modern HDTV display panels such as plasma and LCD have a VGA input port built-in specifically for computer hookup. So you can see that there are many possibilities and options depending on what type of jacks your laptop has and what type of jacks your TV has. Depending on which video output jack(s) your computer has, you can make a direct cable connection or use one of several types of adapters.




Cable to connect laptop computer audio output to TV or stereo receiver's audio input.
Stereo 1/8" mini jack-to-RCA plugs Y adapter cable.
Available for less than $10 at local and online retailers. Radio Shack part no. 42- 2551 Y-adapter audio cable.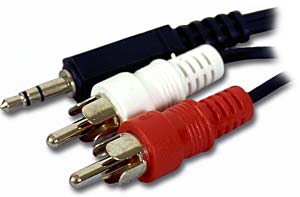 Audio Cable has 3.5mm stereo plug for computer connection and at the other end is the two RCA plugs for left and right stereo channels.

Most laptops utilize a 3.5mm (1/8-in) jack as the line output connector and most TV and hi-fi equipment uses RCA type sockets for connecting audio components.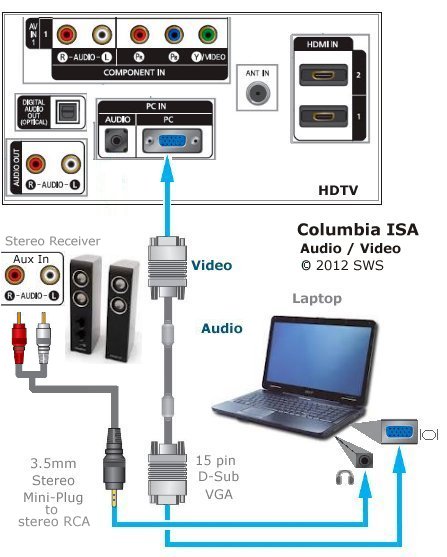 Mini Display Port for Mac Book, MacBook PRO to HDTV using HDMI adapter
http://www.youtube.com/watch?feature=endscreen&NR=1&v=kLgPwdb4BTM

How to connect Apple MACBOOK to HDTV with HDMI
There are at least two adapters with HDMI to choose from. The first one is short and has the Mini Display Port plug on one end and a HDMI female port on the other end. You use your own HDMI cable of chosen length. The second is a longer cable with HDMI male on one end and mini display plug on the other end. See the YouTube video above for step by step setup.




Wireless connection: Mac to TV





Apple OS X 10.8 (Mountain Lion) for Mac, introduced AirPlay for Macs made from 2011 and later. Buy an Apple TV box and setup both Mac and Apple TV to same network. If your Mac supports AirPlay Mirroring, an AirPlay Mirroring status icon appears in the menu bar when an Apple TV is on the same network as your Mac. OS X automatically detects an Apple TV when it's on the same network, and displays the AirPlay icon in the menu bar. When AirPlay Mirroring is active, the status icon is blue. Apple TV.

How to add great sound to HDTV
How to buy a prepaid phone
How to buy a wireless router
How to hookup audio/video receiver
How to hookup plasma HDTV

How to install cable/dsl modem
How to install HD cable box
How to install pci card in PC
How to setup surround sound DirecTV
How to setup wireless internet at home


HDMI cables:
HDMI cables should cost about $10 or so. The more expensive HDMI cables are nice but the cost is too much. Try buying HDMI cables at www.monoprice.com before going the $100 HDMI cable route.

See also:

• PC to Stereo hookup - how to play computer thru sound system
• Audio cassette to computer hookup - how to record audio cassettes to PC
• PC stereo hookup
• Windows Sound Recorder