Home
• How to hook up a Plasma or LCD HDTV
• How to hook up a Cable TV box
• Cable TV - Cable Box Setup
• How to Install a HD Cable Box
• Cable TV - Cable Box Setup Scientific Atlanta 4250HDC
• Surround Sound over HDMI
• Surround Sound - How to Hookup
• HDTV Antennas and Reviews
• HDTV Buying Guide 2010
• Best HDTVs for Fall 2009
• HDTVs for under $500
• Samsung HDTV Fall 2009
• See over 100 hookup diagrams
• Guide to DIAMOND Buying
• Guide to DIAMOND Wedding Rings
• How to tell if a diamond is real
• How to find your ring size
• Bluray Players, internet-enabled, Netflix movie streaming
• Cable Types, audio/video for TV, explanation
• Hookup diagrams, TV, VCR, DVD, Digital cable box
• DVD Players reviews and Guide
• VHS to DVD copy VCR tape to DVD disc
• ROKU digital video player Setup Guide


Laptop computer to CRT analog TV Hookup with an adapter
How to connect your notebook laptop computer to your home analog TV using a video adapter
REVIEW - Video Adapter

The adapter reviewed here will accept a VGA input and convert to composite video (yellow) or S-video output for a NTSC or PAL analog TV.

Personal Computers typically output to a monitor by using a VGA cable and VGA output port. VGA is a 15 pin port. You CANNOT simply connect a VGA cable to an analog TV. HDTV, yes, because digital HDTVs are designed to accept VGA signals. Analog TVs are not and NO you cannot use a cable with a VGA on one end and a composite video (yellow) or S-video on the other end. This will NOT usually work. You have to use a video converter to go from VGA to composite video or S-video when dealing with an analog TV.


The SEWELL (www.sewelldirect.com) video converter (VGA to RCA) SW-22050 sewelldirect.com/pc-to-tv.asp is a basic video converter used to display a computer screen on an analog TV. You could also hookup to a VCR or DVD recorder. The package contains the converter, a palm-sized unit, male to male VGA cable, composite video cable, S-video cable and a USB power cable. You also get a user manual. Cost is $30 plus shipping.



Quality of Video Conversion

As with all PC to TV video conversions, the image quality is not quite that of straight VGA pass-through. The PC to TV converter works well for picures and videos, but for small text and fine detail you will need a VGA to HDMI converter which is optomized to work with HDTVs.

Watch a video on YouTube showing how to install this video converter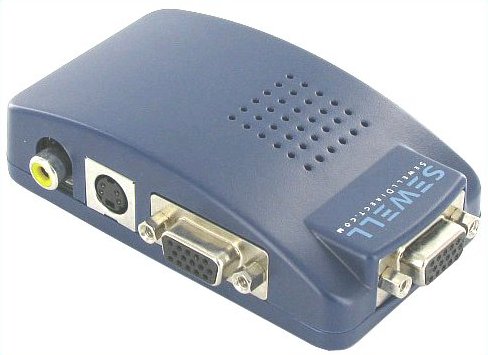 This adapter works by converting VGA to composite signals for a NTSC or PAL analog TV set. Supported resolutions are 640X480, 800X600 and 1024X768. You can get both TV and computer monitor displays together. Power for the adapter comes from the computer's USB port. Small and portable, the converter makes for a great travel adapter. Inputs include the power port and the VGA port. Outputs include composite video (yellow), S-video and a VGA port. The unit also has adjustment buttons for picture up, picture down, picture left and picture right. Select NTSC or PAL by flipping two small toggle switches on the unit. For USA North American NTSC analog TV sets, flip both switches down towards the bottom of the converter.

The display resolution on your analog TV is acceptable but do not expect crisp text unless you have a font size of at least 20. This means text with font sizes of 12 or 10 are going to be blurred because this adapter is not designed for high definition. Crisp detail appearing on your laptop screen is degraded somewhat on the TV screen. Nevertheless the TV screen quality is very good for an analog TV. Images are colorful and very close to the original but do not expect high detail such as can be rendered today on a top-notch laptop screen. For $30 you get a good visual on the TV but it is a $30 unit. Don't expect more than you paid for.

Sound requires an audio adapter cable (not included). Connect from computer's sound output port, usually a 3.5mm stereo output to your TV's RCA audio inputs.


AUDIO
Audio 3.5mm


Cable to connect laptop computer audio output to TV or stereo receiver's audio input.
Stereo 1/8" mini jack-to-RCA plugs Y adapter cable.
Available for less than $10 at local and online retailers. Radio Shack part no. 42- 2551 Y-adapter audio cable.



Audio Cable has 3.5mm stereo plug for computer connection and at the other end is the two RCA plugs for left and right stereo channels.

Most laptops utilize a 3.5mm (1/8-in) jack as the line output connector and most TV and hi-fi equipment uses RCA type sockets for connecting audio components.

35-mm-Mini-Stereo-to-Dual-RCA-Red-and-White-Cable









Connecting your laptop computer to your analog TV (CRT):


Hookup diagram for video converter - computer to TV

You could also run the sound to a stereo receiver for richer audio using loudspeakers instead of the TV speakers.

Connect the video out from the converter to a VCR or DVD recorder and record your computer screen.


See also:

• Laptop to TV hookup
• PC to Stereo hookup - how to play computer thru sound system
• Audio cassette to computer hookup - how to record audio cassettes to PC
• PC stereo hookup
• Windows Sound Recorder






Got a question? Audio Video Forum


• See over 100 Hookup Diagrams

• TV input select

• Timer Record Radio Shows on a VCR

• TV too loud?

• FM transmitter for TV sound

• Camcorder hookup to TV, DVD

• Camcorder Buying Guide

• Compare video editing software

• Audio Video Connections
• Hookup Diagrams




columbiaisa@yahoo.com


Laptop to TV hookup with pictures