See over 100 hookup diagrams : see also Cable hookup digital cable and TV


• How to choose a Smartphone

Wiring your RV for video - TV on the road

TV Choices/Options

• Satellite television is a good choice for an RV because you can tune in from many locations as you travel around the country. You need an antenna, satellite service from a provider, a satellite receiver and wiring to connect everything, including your TV.

• Cable TV is available at many RV parks.

• Over-the-air broadcast TV is available in the cities and surrounding areas.

• Your own sources for TV - VHS tapes, DVD movies and camcorder video you provide.

• Internet TV is popular (Netflix, Hulu, Amazon video, classic TV shows)


Broadcast TV - Over-the-Air (OTA) television channels

Since the 2009 switch to digital TV broadcasts, you need a digital TV or a digital to analog converter box for an older analog TV.

Traditional TV reception has been over-the-air using a VHF/UHF TV antenna. With the 2009 transition to all-digital broadcast TV, things have changed somewhat. Now you need a digital TV or a converter box for that old TV. With a newer digital TV, you get an ATSC tuner built in, so you get digital broadcast TV and you do not need a converter box. Older analog TVs with an NTSC tuner need a digital to analog converter box so that you can get the digital broadcasts on that old TV. One important thing to remember is that most of the TV broadcasts are now on UHF. Very few are on VHF. What that means is you should have a very good UHF antenna.

• Antennas

• TV Reception and Antennas


www.winegard.com Burlington, IA - 1-800-288-8094 or 1-800-788-4417

Winegard has been in business for over 50 years and offers many RV solutions for TV reception. Winegard has sold a roof-top antenna for over-the-air TV reception called the SENSAR. This antenna is mounted to the roof of the RV and folds down in the travel position. An elevating crank raises the antenna when ready to view TV. A coaxial RG-6 type cable connects the antenna thru to the inside of the RV using a weatherproof boot to protect the cable. The SENSAR 3 with WINGMAN accessory yields better UHF reception. The diagram below shows a basic wiring hookup with TV antenna, converter box and single analog TV. RG-6 cable connects antenna to converter box and converter box to TV. Select channel 3 (or 4) on the TV and tune channels on the converter box.






Digital to Analog TV Converter box



• RF input; RF Output
• Audio/Video Outputs

• Philco converter box

• Digital TV conversion 2009, DTV CECB boxes


Get continuous, automatic, wrist-based heart rate and simplified heart rate zones
Track workouts, heart rate, distance, calories burned, floors climbed, active minutes and steps
Monitor your sleep automatically and wake with a silent alarm
See call notifications, daily stats and time of day on the OLED display
Sync stats wirelessly and automatically to your computer and over 150 leading smartphones
Number 1 best seller Amazon.com - Over 3,000 customer reviews

Components:

o VHF/UHF Antenna for over-the-air TV
o DTV digital to analog converter box
o Analog NTSC TV set.
o Standard VHS VCR.
o DVD Player
o Video Switch box
o Audio/Video RCA cables (1-yellow, 1-red & 1-white audio).
o RF coaxial cables (RG-6).




Hook up DIAGRAM - TV, DTV Converter box, VCR, DVD Player



The DTV converter box will output your selected digital TV channel on VHF channel 3 or 4. The VCR therefore has to be set to channel 3 or 4. The VCR will output on channel 3 or 4 therefore the TV has to be set on channel 3 or 4.


TV Channels are selected on the DTV converter box using the remote control for the DTV box. The DTV converter box will output on channel 3 or 4 (VHF) using the RF cable connection. VCR must be set to channel 3 or 4 if using the RF coaxial connection.

ADD A VCR or DVD Recorder

For recording the channel tuned on the converter box, connect the RF ANT IN and OUT jacks on a VCR or DVD recorder with a tuner as shown in the diagram below. You can also simply play a VHS tape (or DVD) to your TV.




Two TVs -

For two TVs, use a splitter with RG-6 coax cable. You would need a second converter box to view different channels on each TV.




Combinations and more options

A Video Switch Box is essential for more complex wiring and more options.

RV Video Setup - Connect DTV converter box to TV Switchbox with DVD

These setups show how to connect a DTV converter box with a VCR and DVD Player using a video switch box for multiple TV.

Video Switch Box- A Video Switch Box is a standard device on most RV's and Campers. This box is used to allow the proper distribution of Coaxial Signals from equipment such as Antennas, Cable Service, DVD Players, and Satellite Receivers, through the selector switches to multiple TV's. The standard is a 5-to-3 box. This means it allows the user to distribute the signals from five signal sources to three different devices.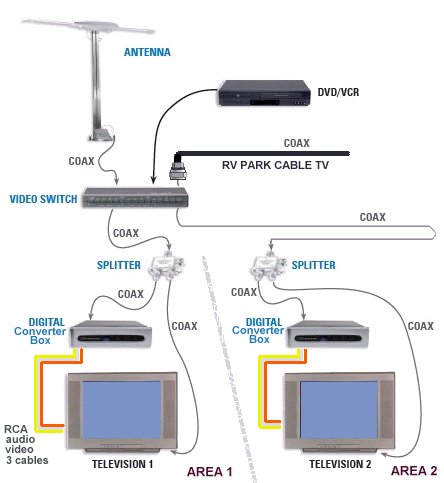 VIDEO SWITCH BOX




Winegard VS-5312A RV Camper Video Signal Selector Switch - DSS DBS Satellite Dish Off-Air HDTV Channel TV Antenna, 5 IN / 3 OUT Power Passing Audio Component Entertainment 12 Volt Distribution.

Winegard's Entertainment Select line of video switches makes selecting television programming easy. With a push of a button, you can watch different programming on two TV sets, whether programs are received from TV antenna, VCR , Satellite TV, Cable TV, or Auxiliary. In addition, you can be recording your favorite program on your VCR while you're watching another program. The power supply is incorporated into the video switch so no wall-mounted power supply is needed!

Features:

5 Inputs Include: Satellite Receiver, HD TV Antenna, Cable TV, AUX/VCR/DVD.
3 Outputs Include: Main TV, Second TV and VCR/TV3.
Built-In Channel 3/4 DVD Modulator allows independant veiwing of signals at 2 different TV's with an additional recording option to a VCR, or when Not using a VCR it allows a third TV output.

A special DVD Loop Through feature with a 1K/75oOhm slide switch allows easy hook-up to a Stereo TV or Surround System for enhanced audio and video performance.

Built-In +12 V power supply eliminates the need for separate wall-mounted TV antenna power supply.
Compact Size fits easily into overhead cabinets.

Over-the-air TV reception involves many components and factors. Getting a good picture on your TV means having a good antenna and a good tuner. TV reception over-the-air is only good for about a 60 mile radius from the broadcast tower. So you have to be close enough to the tower to get the signals. Broadcast TV is also somewhat directional. This means you should be able to rotate your TV antenna to pick up signals. Generally an outdoor antenna works better than an indoor antenna. One of the best aspects with over-the-air TV is you can get High-Definition video which is better than cable or satellite. Cable TV and satellite TV have High Definition also but usually these signals are compressed so much you lose resolution. Of course the other benefit of over-the-air TV is its FREE!

The problem with broadcast TV is once you travel outside the broadcast tower range, you get no TV reception. You can play a DVD or watch camcorder video on your TV but that is all. What you need is more coverage area. Enter satellite TV.



SATELLITE TV IN MY RV

Get many more channels and not be limited to metro area reception. Setup your satellite antenna at your stop-over location or get satellite TV on the road as you drive along.

There are several solutions from satellite providers for TV, including the DISH Network Tailgater and many more.

Carryout Portable Satellite TV Antenna - Winegard GM-1518




• Carrying Handle
• Lightweight 14 lbs.
• plugs into satellite receiver with coax cable
• 12VDC power
• View one satellite at a time
• Supports two receivers
• Stationary use only. Carryout antenna will not function while in-motion.
• Switch settings allow change to Dish Network, DirecTV or Bell with DirecTV the factory default.
• The Carryout antenna will toggle between the primary or alternate satellites for either DISH Network, BELL TV or DIRECTV. All have programming on more than one satellite. When a channel is selected on the remote control and it is not on the satellite currently selected, the unit will automatically toggle to the correct satellite.
• Use with Dish Network 110°, 119°, 129°, DirecTV 101°, 119°, Bell 82°, 91°
Will not receive DirecTV HD channels at 110° or Ka band 99° or 103°
• DIRECTV receivers must be set for oval dish 2 sat selection to enable toggling between primary 101°W satellite and alternate 119°W satellite

• Connecting the Carryout SAT Antenna to the Cable TV entry port on your RV:
Generally, the port on the side of an RV is designed for Cable TV and the cable from this port runs through the wall plate for the over-the-air antenna or through a video distribution system. Satellite signals will not pass through these circuits. The only thing that can be between the Carryout SAT antenna and the satellite receiver is coax. Therefore it is important to make sure that the cable from the external port by-passes everything and runs directly to the satellite receiver.
• There are certain areas within the U.S. where the Carryout antenna may experience limited or no coverage.
• Depending on receiver type and location, you can access satellites
DISH Network 129°, 119°, 110° or 61.5°
DIRECTV 119° or 101°
BELL TV 91° or 82°

See Lyngsat.com What programs are available on various satellites.

HD usually requires certain satellites from the provider to be receivable by your dish antenna and your satellite receiver must be able to tune and decode these signals. You also need an HDTV with 720p or 1080p video resolution. Plasma or LCD HDTVs usually have this resolution but always check. HD video requires an HDMI cable connection to your HDTV from the receiver box. You could also use the 3 cable RCA component video cable connection. The standard yellow video RCA cable is no good for HD. Also your receiver box must be HD not SD. HD receivers can process HD and SD but SD boxes can only process SD (standard definition).

• Audio Video Cables - Types

The new satellite receiver boxes have often eliminated the Coaxial Signal output connector on the box. If you have older TVs in the RV, pre-wired with coax cable connections, you may have a difficult job getting cable from the receiver box to your TV, particularly for HD video. This is something to consider. You also may need a video switch box with the newer connectors.

Satellite TV providers:
DirecTV,
Dish Network,
Bell, Shaw (Canada)



Dish Network Tailgater


Dish Network Tailgater



The Tailgater® is an automatic portable satellite HD TV antenna that lets you watch HD TV wherever you are—in the parking lot of the big game, on a camping trip, or in your RV.

Compatible Receiver Models: 411, ViP® 211, 211k, 211z

Price: $350 standalone Tailgater Antenna only (if you already have a compatible receiver)
$499 antenna with ViP 211z receiver bundle (if you

do not

already have a compatible receiver)




The Tailgater antenna is portable, lightweight (10 lbs.) and automatically points to satellites 110°, 119° and 129°. It all connects with RG-6 coaxial cable. The Tailgater Antenna draws power from the receiver through the coax cable. The receiver requires 110VAC power. Some people use a portable generator outside like the Honda EU2000. Call 1-800-333-3474 for programming plans. Typically $45 per month for 120 channels with options up to $105 per month for 250 channels. High Definition adds $10 and Premium channels add $15 per month. With Pay-As-You-Go TV, there is no contract required, so you pay only for the months you use. When the season is over, simply stop your service without penalty. For RV customers, no credit card is required, no SSN and no activation fee.



The bundle from Amazon.com includes Tailgater (Model VQ2500) Tailgater antenna; 50 feet of RG6 coax cable; user's guide; quick-reference guide. HD Solo Receiver (Model ViP 211z) ViP 211z HD receiver; infrared (IR) remote (with batteries); HDMI cable for TV connection; RCA composite audio/video cable; RG-59 coax cable; user's guide.

Search Columbia ISA
SEARCH *** Columbia ISA Audio/Video


Google

• DVD Recorders with built-in digital TV Tuner



See more...

• Input Select on TV and other devices
• Cable hookup digital cable and TV
• Audio Video Connections and cables
• HDMI Versions
• HDTV hookup options
• HDTV basic setup
• See over 100 hookup diagrams

Columbia ISA - Empowering consumers thru information.
Contact: columbiaisa@yahoo.com